New Delhi:
The illustrious and much adored former Prime Minister Atal Bihari Vajpayee was cremated with the highest state honours on Friday as politicians across the spectrum were joined by leaders of foreign nations at the Smriti Sthal for the last rites of the tallest statesman of India. In a departure from tradition, Vajpayee's foster daughter Namita Bhattacharya lit the funeral pyre as other family members accompanied her, including her daughter Niharika, who broke down into tears as her grandfather's mortal remains went up in flames.
Bugles sounded the last post, uniformed soldiers clicked their heels and a sombre silence fell over the crowd as Vajpayee's mortal remains were consigned to the flames. The sun set on the life of a poet-politician who combined accommodative politics with graciousness.
Namita Kaul Bhattacharya lit the pyre as cries of "Atal Bihari Amar Rahe" reverberated and the Army performed the 21-gun salute. The tricolour draping Vajpayee was folded and handed over to his granddaughter Niharika.
President Ram Nath Kovind, Prime Minister Narendra Modi, Amit Shah, LK Advani, Congress president Rahul Gandhi and former Prime Minister Manmohan Singh were among the thousands of people who attended the funeral at Rashtriya Smriti Sthal on the banks of the Yamuna.
Several foreign dignitaries, including the king of Bhutan Jigme Khesar Namgyel Wangchuckand, Bangladesh foreign minister Abul Hassan Mahmood Ali and former Afghanistan President Hamid Karzai were also present at the event to pay their last respects to Atal Bihari Vajpayee.
Earlier, PM Modi, Amit Shah and a host of other BJP leaders and ministers walked alongside thousands of mourners leading the funeral procession to Smriti Sthal from the party headquarters on Deen Dayal Upadhyay Marg.
A sea of supporters attend the funeral procession of Atal Bihari Vajpayee as his mortal remains are taken for cremation to Smriti Sthal. (PTI Photo)
Thousands walked the 7-km stretch along with the BJP leaders to pay their last respects to the 93-year-old stalwart who passed away on Thursday at AIIMS after a prolonged illness.
His body was taken to his official residence on Krishna Menon Marg on Thursday night, where several politicians, including PM Modi and others, dropped in to pay their respects.
Despite a sultry weather in Delhi, thousands gathered on the streets to accompany the hearse while PM Modi, too, surprised many by joining the procession.
Many among these thousands travelled by trains and buses and took pains to reach Delhi in time to pay their last respects to Atal Bihari Vajpayee.
Prime Minister Narendra Modi and Amit Shah walk along the mortal remains of Atal Bihari Vajpayee at BJP headquarters. (PTI Photo)
It was a sea of white, with most mourners dressed in the colour of mourning to remember the man who wove together pragmatism and his vision for an inclusive India. Some could be seen wiping their tears. The intensity of the moment and the heat led to some mourners fainting.
Aakash Kumar, 25, rode his scooter from Baghpat in Uttar Pradesh, covering a distance of around 70 km. He said Vajpayee's "Kaal ke kapaal pe likhta aur mitaata hoon" is his favourite poem. "I was probably in Class 3 or 4, when I heard one of his speeches and got drawn towards him. I really liked his poems," Aakash Kumar told PTI.
Chinnaiah Nadesan (45), along with his friend Ganesan (38), had taken a flight from Chennai last night to reach Delhi. After he landed at the airport at around 4.30 am, he headed straight to 6A Krishna Menon Marg - Vajpayee's residence where his mortal remains were kept for people to pay their last respects.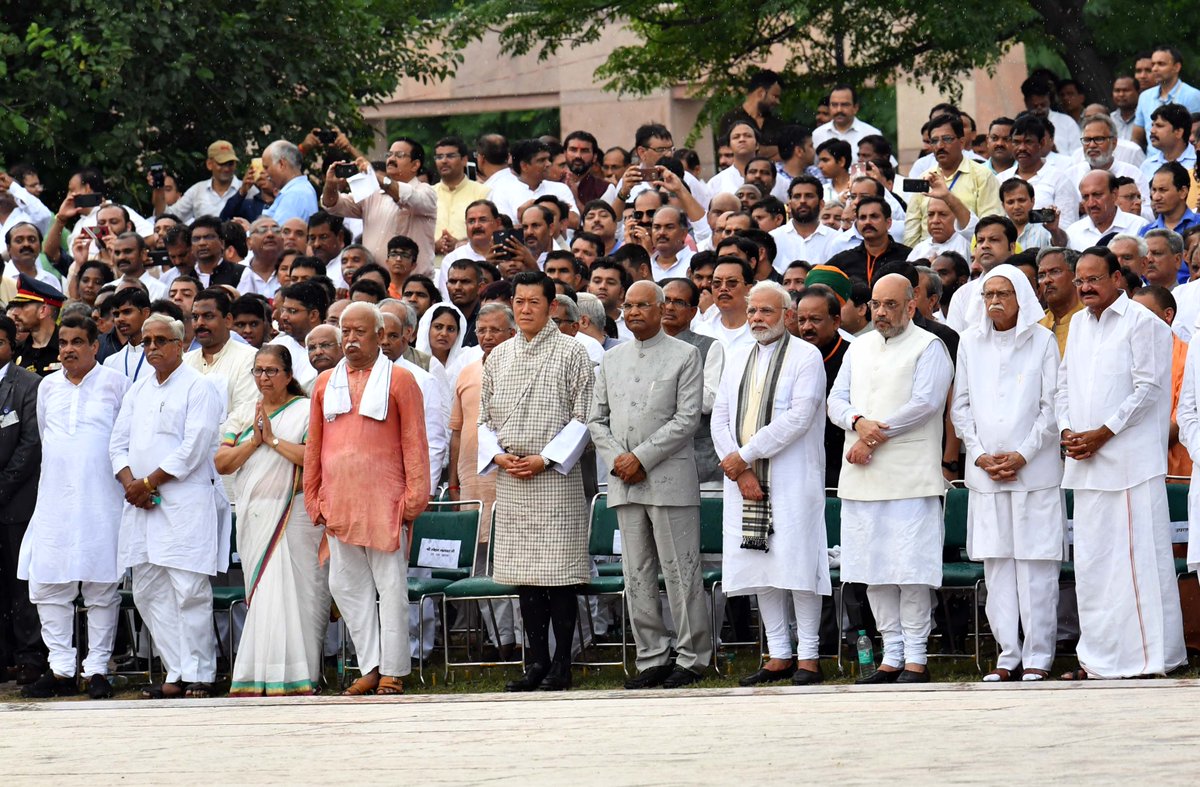 Foreign dignitaries and politicians attend Vajpayee's funeral at Smriti Sthal. (Image: Narendra Modi/Twitter)
Thousands of mourners jostled and some clambered on trees to capture the moment on their phones as Vajpayee's cortege left the BJP's headquarters for the last rites of the poet-politician. People from across the country gathered outside the BJP office and hundreds lined up inside to pay homage to the former prime minister.
Seen as a moderate face of BJP, Vajpayee first became prime minister in 1996, leading a shaky coalition whose members were suspicious of the BJP's right-wing politics. It lasted for 13 days and collapsed after losing a vote of no-confidence. His second stint as prime minister was in 1998 when the National Democratic Alliance again came to power but that lasted for just 13 months. Finally, the NDA with Vajpayee as PM returned to power in 1999 and was voted out in 2004.