Ayodhya and South Korean First Lady Share a Bond That Goes Back to 2,000 Years
Kim Jung-sook reached Ayodhya on Tuesday to participate in Diwali festivities and witness ground-breaking ceremony of a memorial for a Korean queen.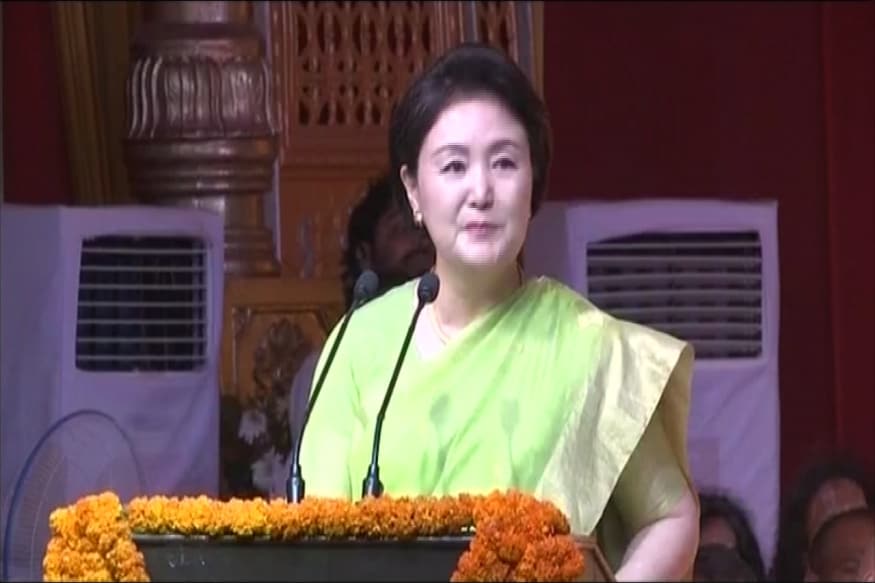 South Korean First Lady Kim Jung-sook addresses an audience in Ayodhya on Tuesday.
New Delhi: This may be her first visit to Ayodhya but First Lady of South Korea, Kim Jung-sook, shares a deep connection with the ancient city that goes back to over 2,000 years.
Kim, who arrived in India on Sunday on a four-day visit, on Tuesday morning reached Ayodhya to participate in Diwali festivities and witness the ground-breaking ceremony of a memorial for a Korean queen.
According to Korean legends, princess Suriratna from Ayodhya had travelled to Korea, married king Kim Suro and became queen Heo Hwang-ok some 2,000 years ago. Today, there are over 60 lakh people in South Korea who claim their ancestry to the princess of Ayodhya. Kim Yoon-ok, the wife of former President Lee Myung-bak, and former President Kim Young-sam also trace their ancestry to the royal couple.
The First Lady of South Korea will attend the Deepotsav event in Ayodhya on Tuesday evening and leave for Agra on Wednesday for a visit to the Taj Mahal, before flying back home.
From a dazzling riverfront at Ram Ki Paidi to illuminated streets and heritage buildings, Ayodhya has been decked up to welcome South Korean First lady Kim Jung-sook.
An artistic statue of Lord Ram along with Lord Hanuman has been installed at the historic ghats of the Saryu river, while an iconic ceremonial gateway has been erected near the site of the main function.
The old temples facing the ghats of the river have been bathed in colourful lighting and lakhs of 'diyas' (earthen lamps) are being set up on the steps of the ghats.
The lamps will be lit up Tuesday to welcome Kim, the chief guest of the main function, while also aiming for a Guinness Book of Record. The main streets wear a scintillating look with illuminated lamps and special decorations.
Many buildings have been lit up for the occasion, including the facade of the Raj Sadan and the residence of royal family of Ayodhya.
"About 3.35 lakh 'diyas' are planned to be lit up tomorrow on both the banks of the river and students from various colleges of the Avadh University have come to lit them up, along with other people to light them up.
"Many students of the university are also preparing colourful rangolis on Ramayana theme on the banks of the river," a member of the event management team said.
(With PTI inputs)
Read full article
Countdown To
Elections Results
To Assembly Elections 2018 Results