GET Stock

Quotes


'Baba Ramdev's Story Shows Nexus Between Money, Religion and Politics in India'
Ramdev's successful transition from a Baba who taught Yoga on TV to the man behind world's fastest growing FMCG company calls for a deeper analysis.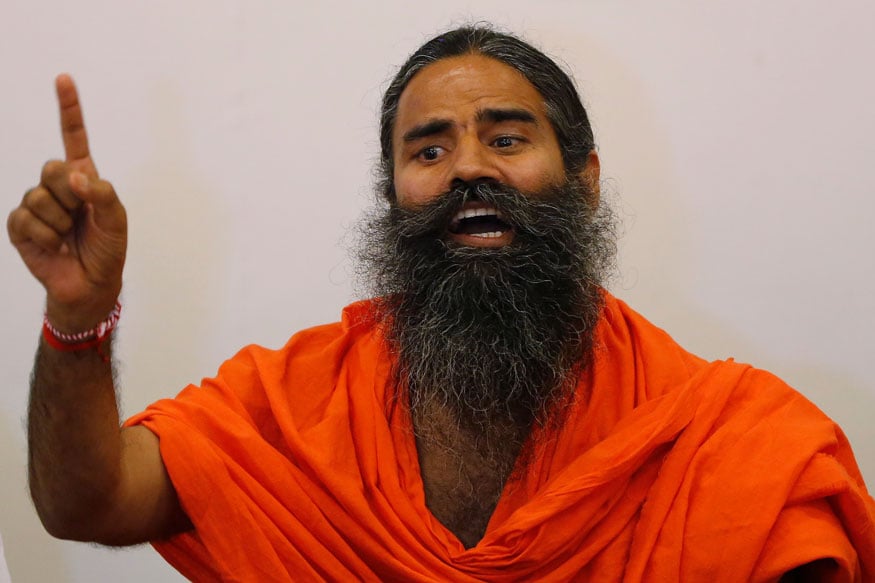 File photo of Baba Ramdev.
Originally published on August 5, 2017, News18 is republishing the story after a Delhi court ​lifted an ex-parte injunction restraining the sale and publication of journalist Priyanka Pathak-Narain's book, "Godman to Tycoon: The Untold Story of Baba Ramdev," published by Juggernaut Books.
Journalist Priyanka Pathak-Narain has been covering Patanjali and Baba Ramdev for about a decade. As her book titled
'Godman to Tycoon: The Untold Story of Baba Ramdev'
clears past roadblocks, Narain shares some behind-the-scenes stories. Ramdev's successful transition from a Baba who taught Yoga on TV to the man behind world's fastest growing FMCG company calls for a deeper analysis. "At heart, like most showmen, Baba Ramdev likes to be liked," says Narain.
Edited excerpts:
Ramdev never received formal training to run an FMCG empire. Who takes business decisions in Patanjali?
Former Patanjali CEO SK Patra told me that it is Baba Ramdev who is running the organisation. He has hired people with required degrees, but he is a fast learner and retains a lot of decision-making powers. He tends to make these decisions based on instinct, without much market research. He is personally involved in pricing. He doesn't seem to care about market prices and margins as his aim is to sell.
You recently said Ramdev was able to recognise the consumer segment at the bottom of the pyramid. Many MNCs in FMCG sector have struggled to do this. How do you think he was able to reach them?
He peddled 'natural' products 'full of ancient wisdom' and kept the prices low. He appealed to the Indian sense of patriotism to woo the buyers. It was a magic formula bound to succeed in these times.
Do you think Ramdev could have been possible without the politics of his time? Also, there are allegations of tax evasion and land grab against Patanjali.
Baba Ramdev has thrived in all kinds of political climates and has been close to all kinds of political leanings and parties, whether it's the Congress or the BJP. From his early days, befriending the people in power was a part of his growth strategy.
I would say his story is more reflective of how our country works – the nexus between money, power, religion, and politics.
Ramdev's story is not complete without the mention of his ally Karamveer, guru Shankar Dev, a mentor in politics Rajeev Dikshit and colleague Balkrishna. How do they contribute to the Brand Ramdev?
Shankar Dev provided him with an ashram, a small one but an important one because it provided a base to begin the work. Karamveer taught him how to teach yoga to groups of people. Rajeev Dixit shaped his economic and political messaging, while Acharya Balkrishna has been his loyal deputy throughout the journey.
Ramdev inspires satire and humour for almost every business move, whether it is noodles or jeans. What makes him one of the favourite targets of cartoonists?
No one can accuse Baba Ramdev of not having a sense of humour.
From the start, being on television every day, teaching yoga to millions of viewers, has forced him to be creative with his content and be willing to laugh –at others and himself.
A lot of the satire comes from the inherent contradiction of being a swami as well as a business tycoon. People find it hard to comprehend how these two roles can coexist. The startling pace of Patanjali's success combined with Ramdev's polarising personality make him a natural subject of such ridicule.
Could you please take us through your journey of covering Ramdev as a journalist?
Well, I first covered him as a reporter at Mint about 10 years ago. It's been quite a ride since then for him – full of ups and downs.
I think it would be impossible for anyone to say they truly know Ramdev. Every time I met him, I found him earthy and self-deprecating, generous with his time and also very good at steering conversations to what he wanted to say. But I never felt that I had really got to know him. Beyond his carefully cultivated public persona lies a masterfully guarded person of tremendous will.
At heart, like most showmen, I think Baba Ramdev likes to be liked.
What has been his contribution to strengthening the heritage of India — Yoga and Ayurveda?
He has definitely made a lasting contribution to Yoga and Ayurveda in this country. While interest in Yoga was already reviving at the turn of the century, there were not enough yoga teachers around.
Baba Ramdev took the stage and made Yoga accessible to millions of people who could not find or afford yoga teachers. He reminded Indians that their heritage offered health solutions that were cheap and gave lasting benefits.
What Baba Ramdev has done to remind Indians of their heritage in a country with appalling healthcare is quite phenomenal. Some of the deep, diaphragmatic breathing, for instance, is being hailed by researchers as the powerful 'new' tool to manage and prevent chronic diseases such as diabetes and blood pressure.
Brand Ramdev was established by religious channels like Aastha and Sanskar. How did this help him in navigating his way in the business world?
I don't think what he did was as much religious posturing as it was harnessing his expertise in healthcare methods drawn from ancient India. Millions of families who could not afford to hire a personal yoga trainer and did not even possibly know where to find one woke up early to greet Baba Ramdev – the swami who came to teach them at home on the television.
He made ancient teachings accessible again. He steered clear of religious controversy or recommendations and focused instead on the power of a healthy body.  Such healthcare positioning naturally plays well into the business of organic, natural, healthful food products.
What is it about Patanjali that ticks with educated and brand conscious middle class?
In a world where nationalism is on the rise, well-placed and well-priced products appeal not only to middle-class India's wallets but also to their sense of patriotism.
What lies ahead for his brand?
He has all the ingredients to propel his brand into a lasting company. But with Baba Ramdev, you can never know anything for certain.
Why have other godmen not been able to achieve that Ramdev has?
Other godmen have now recognized the opportunity that only Baba Ramdev saw earlier. They are already moving in, following his lead. Whether they will succeed as spectacularly as he is something that remains to be seen.
| Edited by: Puja Menon
Read full article