Ban Bajrang Dal, says national minorities panel
Ban is recommended for Bajrang Dal's alleged role in attacks on churches.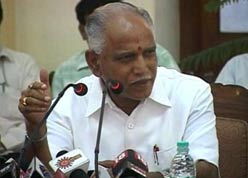 Ban is recommended for Bajrang Dal's alleged role in attacks on churches.
New Delhi: The National Commission for Minorities has recommended a ban on the Bajrang Dal for its alleged role in the attacks on churches in Karnataka. "The attacks on Christians and their institutions appear to have been well-planned. The state (Karnataka) must keep a close watch on the activities of all such organisations that have contributed to the breakdown of communal harmony. Remedial action, including a ban and prosecution, should be initiated. Communal harmony should be maintained at all costs," the commission has said in a report to Prime Minister Manmohan Singh. The commission led by chairperson Md Shafi Qureshi visited Mangalore, Bangalore and Udupi between September 16 and September 18 after attacks on Christians and churches. The report says the District Magistrate and the Senior Superintendent of Police of Udupi have told the commission that all 17 people arrested in the district for violence against Christians belong to Bajrang Dal. Authorities in Bangalore told the commission that 36 of the 83 people in judicial custody in connection with communal clashes belonged to the Bajrang Dal. The commission recommended the arrest Bajrang Dal's Karnataka unit chief Mahendra Kumar, who has allegedly issued statements claiming that he had damaged prayer halls in Karnataka. The commission "desires to know why he had not been arrested so far. He should be arrested and serious action must be taken against him as well as other persons responsible," the report said. The commission has called the violence against Christians as "a gross human rights violation" and demanded that an inquiry commission headed by a sitting high court judge probe the attacks on them. It sought action against policemen who allegedly beat up 25 Christian women in Mangalore. "Immediate action should be taken against the police officers who were involved in this incident. Twenty-five women were brutally beaten up by the policemen," the NCM said. The commission recommended a probe into the origin of a pamphlet, which denigrates Hindu gods and which is said to have acted as the immediate provocation to the violence. The report rejected allegations that large-scale conversions of Hindus into Christianity had sparked violence in the state. "Attempts by the Commission to ascertain the number of conversions recorded in the state were not successful. Although allegations of large-scale conversions were made, evidence of even a single conversion could not be found," it said. UNI reports another team of the commission visited to probe attacks on Christians in Orissa, particularly in Kandhamal district, after the murder of a Vishwa Hindu Parishad leader and two of his aides on August 23. Commission members met the Chief Ministers and Home Ministers of both states during their investigations.
Read full article
Countdown To
Elections Results
To Assembly Elections 2018 Results