Bangalore Metro Corporation Blames Centre for Hindi in Metro Sign Boards
The Bangalore Metro Rail Corporation Limited has stated that it was the Union Urban Development Ministry instructed it to use 3 languages – Kannada, Hindi and English
File photo of the Underground Cubbon park metro station in Bengaluru . (PTI)
Bengaluru: The Bangalore Metro Rail Corporation Limited (BMRCL) in reply to the Kannada Development Authority (KDA) has stated that it was the Union Urban Development Ministry that instructed BMRCL to use 3 languages – State official language, Union official language and English.
Earlier, in 2016, when BMRCL inaugurated the first few underground metro stations in Phase-1, only two languages – Kannada and English were used. Immediately, a letter was sent to the BMRCL by Union Urban Development Ministry that BMRCL should implement the three language policy in the upcoming metro stations.
The newly inaugurated Phase-1 stretch duly followed instructions from the Centre and used Hindi in its metro boards.
However, the KDA is not happy with BMRCL's reply. KDA President, Professor SG Siddaramaiah is hopeful that Karnataka Chief Minister Siddaramaiah will act immediately and get the Hindi letters removed.
"We have to see the legal aspect of the reply. Can a Ministry issue instructions or should it come from the Parliament? The Centre says it funded the metro project, but the money paid from the state in form of taxes to centre were used here," said SG Siddaramaiah.
Meanwhile, the Karnataka BJP has taken a stance against the Centre and its senior leaders. State leaders feel that Hindi should not be imposed and that the Centre should understand local sentiments.
"We are against Hindi imposition. If the CM removes all Hindi signage from the boards, we will support the government," said BJP MLA Dr Ashwatnarayana.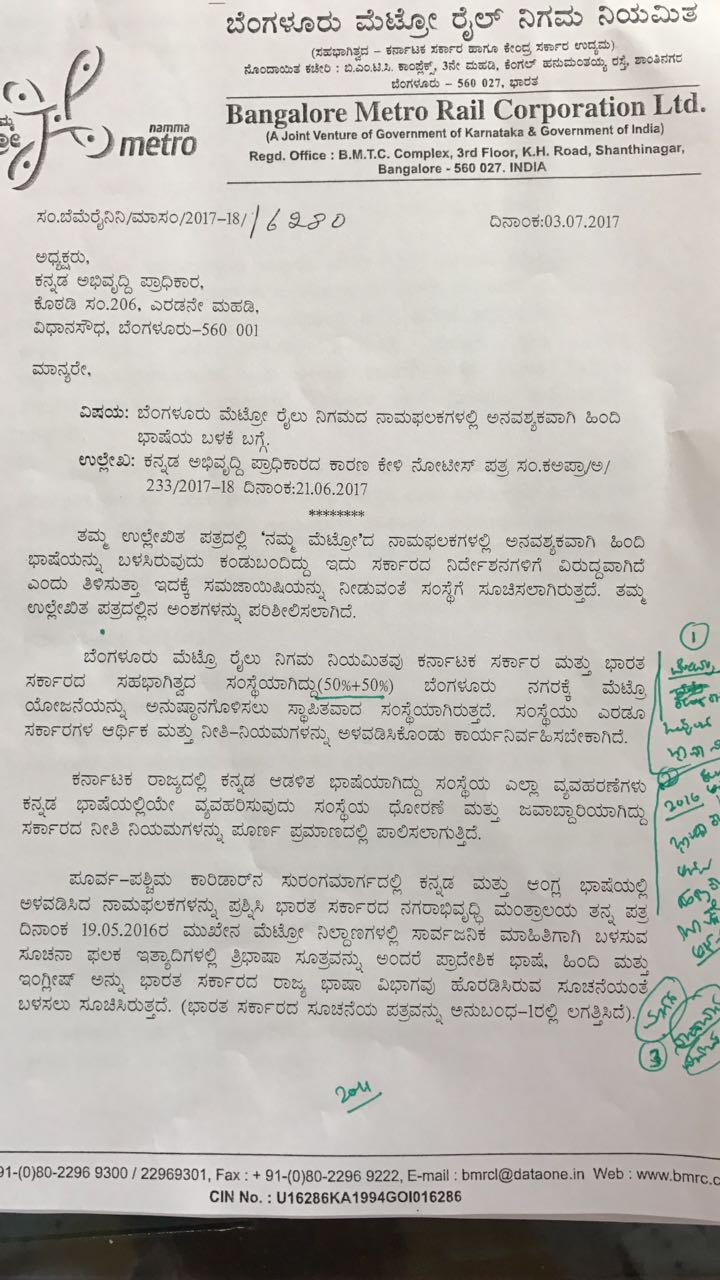 The Karnataka BJP blames the state government for letting the issue turn into a crisis.
"The state government from the beginning should have rectified the mistake. The Congress Party is playing politics with people's sentiment," added Dr Ashwatnarayana.
Get the best of News18 delivered to your inbox - subscribe to News18 Daybreak. Follow News18.com on Twitter, Instagram, Facebook, Telegram, TikTok and on YouTube, and stay in the know with what's happening in the world around you – in real time.
| Edited by: Aditya Nair
Read full article