Bangladeshi Islamists rally against 'atheist' bloggers
The Islamists, under the banner of newly emerged 'Hafazat-e-Islam', also called for a nationwide general strike on April 8.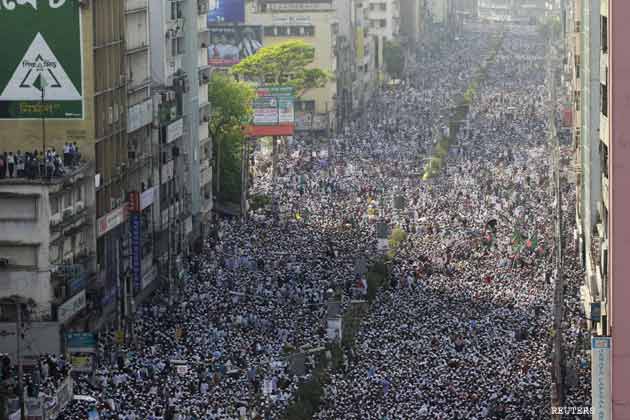 The Islamists, under the banner of newly emerged 'Hafazat-e-Islam', also called for a nationwide general strike on April 8.
Dhaka: Members of a hardline Muslim group in Bangladesh on Saturday held rally across Dhaka demanding enactment of anti-blasphemy laws to punish people who insult Islam. The massive rally in Dhaka took place amid heightened security. The protestors targeted bloggers who have held street protests demanding execution for convicted war criminals.
In a separate incident, a ruling party supporter has been killed and 15 others injured in the clashes between members of a Muslim group, police and pro-government activists.
The Saturday's rally came amid months of violence stemming from a bitter political rivalry between Prime Minister Sheikh Hasina's government and the Zia-led Opposition. PM Hasina initiated the war crimes trials in the year 2010. Ten of the defendants convicted or on trial are from Jamaat-e-Islami, while two others belong to Zia's party.
In February 2013, the tribunal sentenced a senior Jamaat-e-Islami party leader to death, but the decision sparked violent clashes between Opposition activists and police that left more than 70 people dead. Hifazat-e-Islam said it would enforce a daylong shutdown across the country on Monday to protest against the alleged obstruction of their supporters' attempts to reach Saturday's rally.
The Islamists, under the banner of newly emerged 'Hafazat-e-Islam', also called for a nationwide general strike on April 8 and issued a one month deadline to the Prime Minister Sheikh Hasina's government for accepting their 13-point demand.
They threatened that if the demands are not met, they would lay a siege to capital on May 5. The demands included enactment of an anti-blasphemy law and arrest of five prominent people they called "atheist" and ban on mingling of sexes in public. During the rally, people shouted, "God is great, hang the atheist bloggers".
"A tough hartal will be observed across the country on April 8," a spokesman of the group announced on behalf of the group's elderly chief Allama Shafi, as he sat on the makeshift stage at the city's Shapla Chattar Square at Motijheel.
The Islamists rally came as 23 cultural and left leaning groups, backed by 1971 Liberation War veterans waging a campaign for toughest punishment for the 1971 war criminals, enforced a nationwide shutdown to prevent the radicals from
rallying in the capital.
Transport and ferry operators and the state-run railway suspended their services towards Dhaka carrying the Islamists fearing violence but several thousand arrived Dhaka beforehand as ordinary passengers while several thousand others preferred to walk miles to reach Dhaka.
Dhaka was virtually cut off from the rest of the country from Friday afternoon. The radical activists assaulted four newsmen near their protest scene and tried to attack a counter rally of several thousand youngsters at the makeshift Ganajagaran Manch at Shahbagh where they were staging a protracted campaign for the war criminals trial.
An activist of ruling Awami League was killed in clashes with Hefazat workers in southwestern Faridpur while another died on Friday in identical violence in Dhaka. After their Saturday's Shapla Chatar rally, several hundreds of Hefazat activists marched from their rally towards Shahbagh where youths and demonstrators of the Ganajagaran Mancha are set to hold a rally to resist the radical group's programme.
The Ganojagaran Mancha, a forum of youngsters mainly led by the bloggers and different left-leaning student groups meanwhile erected blockades at the main entrances of the capital while security officials said adequate steps were
taken fearing "acts of sabotages" during the planned rally.
"We have taken the security measures keeping all aspects in the mind... it will not be wise to ignore the possibilities subversive activities by vested quarters during the rally," Inspector General of police Hasan Mahmud Khandker said.
The Hefazat-e-Islam was floated two months ago in Chittagong to protest alleged defamation of Islam by bloggers as they were waging a campaign for toughest punishment for the 1971 war crimes accused, mostly belonging to fundamentalist
Jamaat-e-Islami had opposed Bangladesh's independence from Pakistan.
The government in the past one week arrested four bloggers on charges of defaming Islam, visibly to appease the Islamists ahead of their planned Dhaka march. The government also announced it constituted a cyber crime tribunal while works are underway to toughen related laws as part of a series of steps to prevent both exploitation religion and defamation of Islam in the internet.
The secular youngsters repeatedly rejected the allegation calling it an effort to thwart the ongoing war crimes trial and criticised the bloggers arrests.
(With Additional Inputs from PTI)
Get the best of News18 delivered to your inbox - subscribe to News18 Daybreak. Follow News18.com on Twitter, Instagram, Facebook, Telegram, TikTok and on YouTube, and stay in the know with what's happening in the world around you – in real time.
Read full article