Bangladesh: Miscreants burn 38 polling centres ahead of elections
<p>Ahead of Bangladesh parliamentary elections scheduled for January 5, miscreants on Saturday burnt 38 polling centres in at least 28 districts.</p>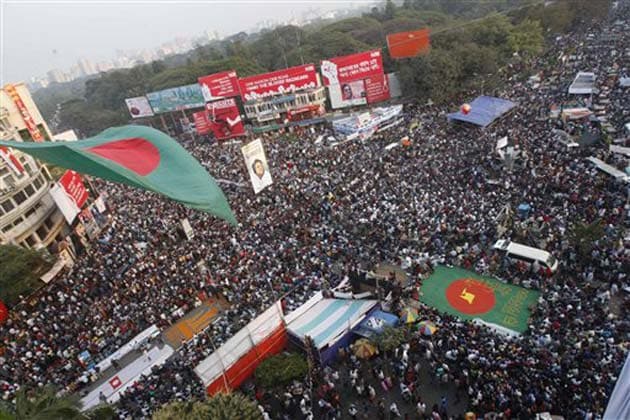 <p>Ahead of Bangladesh parliamentary elections scheduled for January 5, miscreants on Saturday burnt 38 polling centres in at least 28 districts.</p>
Ahead of Bangladesh parliamentary elections scheduled for January 5, miscreants on Saturday burnt 38 polling centres in at least 28 districts.
The violence was reported from Rajshahi, Nilphamari, Narsingdi, Kishoreganj, Feni, Kurigram and Natore districts, among others The Daily Star reported.
Police said the acts of arson appeared to be a clear attempt to thwart the 10th parliament elections slated for Sunday.
A school teacher told media that Bangladesh Nationalist Party (BNP)-Jamaat activists set fire four rooms of the school by using gunpowder.
Many schools, converted into polling centres were also burnt in districts including Jhenidah, Netrakona, Bogra, Brahmanbaria, Kushtia, Pirojpur and Barguna.
Calling the polls "farcial", BNP vice chairman Tarique Rahman on Saturday urged people to boycott the election at any cost.
"Now is the time to forget differences. Unite and join in the movement against the government. Wait no more for orders," Tarique said in video message.
His video message was sent from London, a day after BNP chief Khaleda Zia called upon countrymen to fully boycott the elections, terming it a "stigmatised farce".
"No one at home and abroad will recognise it as elections and through this the Awami League government will appear anew as an illegal structure," Zia, who also heads the BNP-led 18-party opposition alliance said in a statement.
Zia has not been seen coming out of her home since last week, while her party leaders have been arrested by police when they tried to enter her residence, fanning speculation that she was under house arrest.
The 10th parliamentary election is going to be held in just 147 out of 300 seats in 59 out of 64 districts of the country amid boycott by the main opposition BNP, and its allies.
Since November 26, the BNP-led 18-party opposition alliance has enforced nationwide blockade for 22 days in phases, demanding the cancellation of the elections. It wanted the polls to be held under an independent caretaker government, a demand the ruling Awami League has declined.
Get the best of News18 delivered to your inbox - subscribe to News18 Daybreak. Follow News18.com on Twitter, Instagram, Facebook, Telegram, TikTok and on YouTube, and stay in the know with what's happening in the world around you – in real time.
Read full article