Bangladesh: Protesters clash with police over blasphemy law
Hundreds of thousands of Islamists demanding a new blasphemy law on Sunday blocked highways and fought running battles with police.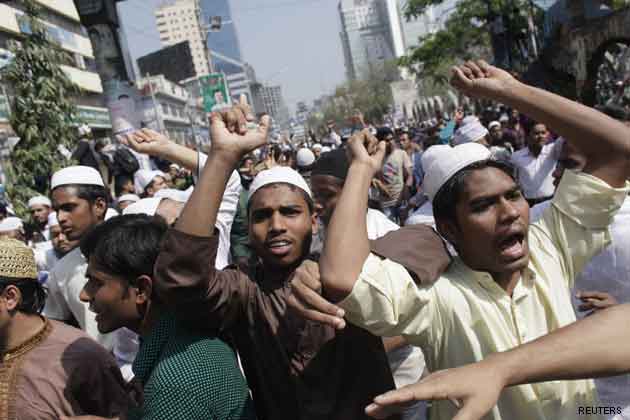 Hundreds of thousands of Islamists demanding a new blasphemy law on Sunday blocked highways and fought running battles with police.
Dhaka: Bangladesh's police and paramilitary troops on Sunday night dispersed a huge demonstration by thousands of Islamist protesters after violent clashes in Dhaka left seven people dead and scores injured.
"The Motijheel is now under our control...Hefazat-e-Islami has quit the area," a police spokesman told newsmen after a combined force of some 10,000 riot police, elite anti-crime Rapid Action Battalion (RAB) and paramilitary Border Guard Bangladesh (BGB) troops carried out the operation on Sunday night.
"Three bodies were recovered yesterday while four more bodies were found last night which were wrapped in clothes as they raided Hefazat activist in Motijheel. Bodies were later sent to state-run Dhaka medical college hospital morgue for autopsy," a RAB official has said.
The newly-floated Hefazat-e-Islam or "Protectorate of Islam" enforced their "Dhaka siege" programme to mount pressure on the secular Awami League-led government to implement their 13-point demand, including the enactment of a blasphemy law to punish those who insult Islam and the Prophet.
At least 15 crude bombs were exploded in front of the ruling Awami League's headquarters at the Bangabandhu Avenue when several Hifazat processions were heading towards Motijheel to join the group's rally.
Clashes soon erupted at the Bangabandhu Avenue and quickly spread to surrounding areas. "Quit Dhaka immediately after your so-called rally or face stern punitive action," local government minister and Awami League general secretary Syed Ashraful Islam said late on Sunday.
The government warning came after Prime Minister Sheikh Hasina held a meeting with senior party colleagues after the widespread violence was reported.
The elderly top leader of the organisation Allama Ahmed Shafi, however, did not appear at the scene citing security reasons but issued directives upon his followers from undisclosed location asking them not to quit their position without his orders.
Main opposition Bangladesh Nationalist Party (BNP) chief and ex-premier Khaleda Zia who is leading an anti-government campaign over electoral system, meanwhile, issued a statement asking party leaders and activists to stand by the Hefazat in their mission to "protect Islam".
But the political scenario witnessed further tensions as the Awami League said their workers would also take to the street on Monday to stage counter protests against Hefazat actions.
Get the best of News18 delivered to your inbox - subscribe to News18 Daybreak. Follow News18.com on Twitter, Instagram, Facebook, Telegram, TikTok and on YouTube, and stay in the know with what's happening in the world around you – in real time.
Read full article