Bastar Votes Amid Fear that Leadership Change in CPI Maoist Could Mean More Violence
CPI Maoist has given call for boycott of these elections and by carrying out multiple attacks since October 27 has made its intentions clear.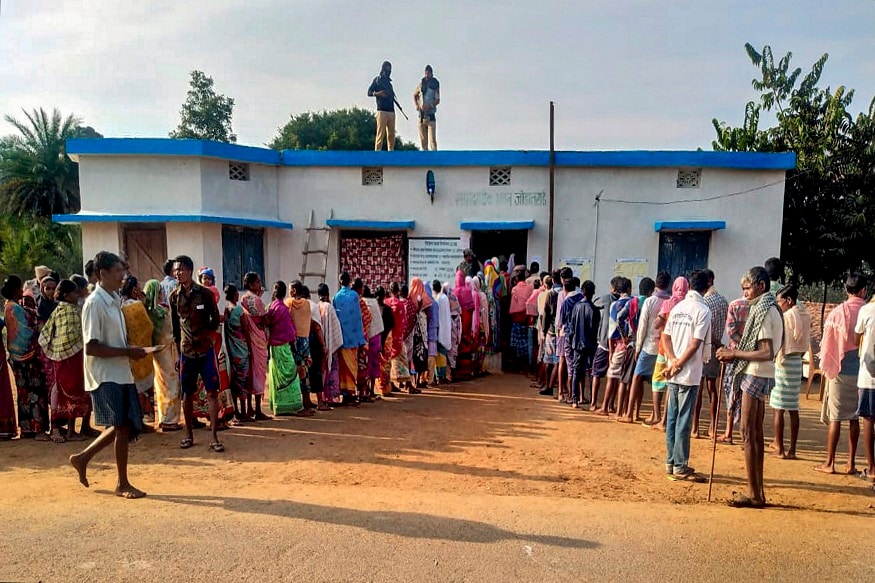 Security personnel stand guard as voters wait in queues to cast their votes during the first phase of Assembly elections in Chhattisgarh . (Photo: PTI)
Raipur: Around 31 lakh voters will decide the fate of 18 Assembly constituencies in Chhattisgarh on Monday. Hanging in balance is not just the fate of two principal challengers—Congress and BJP— but also the Election Commission and the security forces.
Added to the mix is the change in leadership of CPI (Maoist) which is making the administration worried about more violence by the Naxals on the day of the polls.
Out of the 18 seats which will vote on Monday, 12 are in Naxal heartland of Bastar and 6 in Rajnandgaon from where Chief Minister Raman Singh himself is in fray.
CPI Maoist has given call for boycott of these elections and by carrying out multiple attacks since October 27 has made its intentions clear.
The Election Commission on its part has taken extra measures to promote voting. Banners of the poll panel asking people to exercise their franchise are as visible as that of political parties canvassing for their candidates. Sweep rallies by women students in interiors of Bastar is also a new phenomenon. 1600 booths have been declared sensitive and EC Officials have been flown in at some locations to avoid the risk of getting targeted on road.
"In Sukma, in 39 out of 40 sensitive booths MI-17 choppers were used to fly in the polling team. A similar exercise was carried out in 12 out of 37 seats of Jagdalpur," an Election Commission official told News18.
But the big challenge is to ensure safety of voters in the interiors. Nilabhaya would have seen voting for the first time in 20 years but post the attack on Doordarshan crew a big question mark hangs on the fate of voters here.
Intelligence inputs suggest huge mobilization of CPI (Maoist) in Dantewada, Sukma, Bijapur. Sources indicate that a change in guard in CPI (Maoist) has also lead to a more aggressive and ruthless enemy on the ground. Reports suggest that the powerful general secretary Ganpathy has handed over charge to Basawanna in mid-October. Namballa Keshava Rao alias Baswaraj was the head of the central military commission of the CPI (Maoist) and since his reported takeover Naxal attacks have taken 14 lives in Bijapur, Dantewada and Kanker.
In its latest release, CPI (Maoist) claims 1 lakh security forces have been spread in Bastar but even then villagers in the interiors have decided to not participate in the "farce of elections."
Videos have also emerged from interiors of Dantewada which show villagers carrying out rallies for boycott of polls. Dantewada superintendent of police, Abhishek Pallav confirmed to CNN-News18 that one of these videos is from Nilabhaya, a village near which DD camerman Achyutanandan Sahu was shot dead. The video shows villagers wearing red scarves dancing to the beat of dhol and sloganeering against the elections. They also carried banners against government. CPI (Maoist) claimed that 3,000 villagers participated in the march but Dantewada police put the figure to less than one thousand.
"We had information about CPI (Maoist) 'Andar Chetna Natya Manch' organising the rally. We had information about Maoist mobilization but since an incident (attack on DD crew ) had already happened and elections are round the corner, we refrained from taking action," a senior police officer in Dantewada said.
The Maoist boycott interestingly is not generic this time. It appears to be more specifically targeting the BJP in the interiors of Bastar.
A press statement issued by South Zonal Committee of CPI (Maoist) says that police has been mandated to fraudulently ensure votes for the BJP.
Several local journalists have reported seeing posters and pamphlets against the BJP in the interiors. There were posters targeting the Congress candidates too.
Prime Minister Narendra Modi has accused the Congress of hobnobbing with Naxals. The PM, while addressing a rally in Jagdalpur, had said, "Naxalites kill our jawans and the Congress calls them revolutionaries. The nation will never forgive such politicians."
Congress MP Raj Babbar had earlier called Maoist misguided revolutionaries.
Voting on Monday could well seal the fate of Chhattisgarh. Since 2003, three years after Chhattisgarh was carved out of Madhya Pradesh as a separate state, Bastar has decided the rulers of Raipur. But in 2013 that changed. The Congress won 12 of these 18 seats and yet Raman Singh formed government for the 3rd time.
In the last Assembly election, the BJP won 49 of the 90 seats. The Congress won 39, the BSP got one while the other seat went to an Independent candidate.
This time the Congress is trying to set that anomaly right while the BJP is trying hard to win both Bastar and Raipur. Other than the Maoist threat, the BJP is also battling a very strong anti-incumbency.
The BJP has given tickets to many sitting ministers and MLAs. The Congress hopes this will help their cause and the party's projections are that in seats which have 50% or more Schedule Tribe population, it will be victorious. This internal assessment gives the party hope of bettering its numbers in Naxal-affected constituencies. The BJP on the other hand hopes to win back seats in Kanker where OBCs had voted against the party in 2013 and also retain the seats of Jagdalpur and Bijapur.
Former CM and now chief Janta Congress Chhattisgarh, Ajit Jogi is unlikely to be a factor in the first phase. His party and alliance partners BSP and CPI will however be keenly watching the contest. If these 18 seats don't throw up a clear winner, Jogi will be hoping to play the kingmaker.
​
Get the best of News18 delivered to your inbox - subscribe to News18 Daybreak. Follow News18.com on Twitter, Instagram, Facebook, TikTok and on YouTube, and stay in the know with what's happening in the world around you – in real time.
Read full article