GET Stock

Quotes


#BeingADalit: In UP's Saharanpur, Caste Discrimination Begins from Classrooms
Multiple government schools in Saharanpur have accepted the practice of children from minority communities cleaning school premises and toilets, while the upper caste students look on.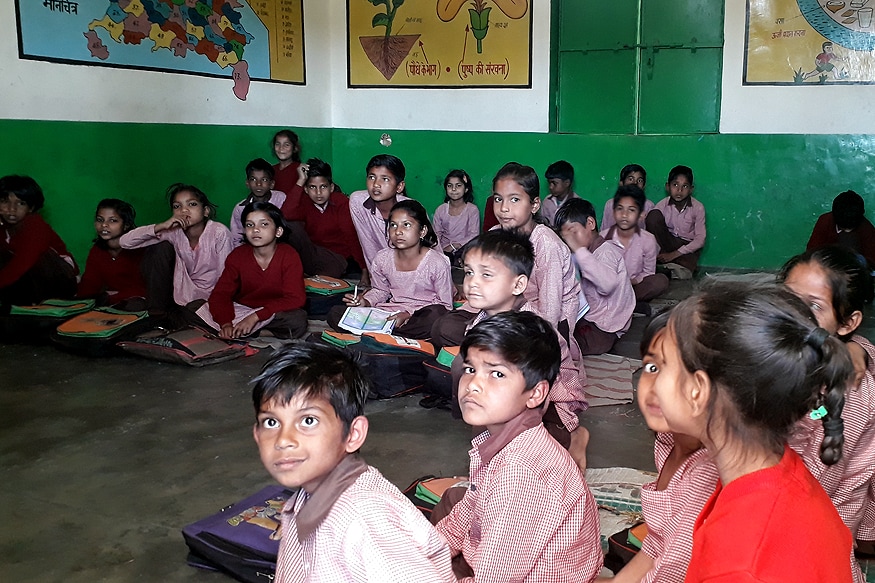 School students in Saharanpur are too young to understand caste principles but the idea is being doctored into them. (Credits: News18)
Saharanpur:
Semi-urban and rural India have perennial issues that their urban counterparts choose to ignore. Caste discrimination is one such issue that becomes evident when one crosses over to villages bordering Saharanpur district in Uttar Pradesh.
Brijesh Devi, one of the rare scheduled caste principals, is one of the three teachers in a school which has over 200 students from classes one to five in Baliyakhedi village. The principal claimed 71 of her students are from the scheduled caste, while 121 of them belong to other backward classes.
"We have no other option but to make children clean the campus and sometimes toilets as well. However, upper caste parents have strictly told us not to involve their children in the process. The upper caste students come in at 9 am and leave around 3 pm. The other children come early to tidy up the school," said Brijesh Devi.
When News18 visited the school, two girls belonging to the scheduled caste community walked out of their classroom to offer water. "How can you expect the teachers to teach as well as clean and then attend visitors," said the principal, who claims to hail from a government school herself where caste discrimination was more than evident.
While children are very young to understand caste principles, this discrimination is being doctored into their tender minds. "The entire class is my friend. I play with everyone," said 10-year-old Shikha Devi.
The student then went on to name three boys who, regardless of the time they enter the class, are made to sit close to the teacher every day. The child doesn't exactly understand the reason but was aware that it had something to do with their family. "I don't know why this happens. Maybe they are weak students and their
Maa–Bapu
(mother-father) want them to sit close to the teacher," she said laughingly, her innocence clear.
The principal decided to not address the practice and began talking about how the government has turned a deaf ear to their pleas for better facilities.
Just 15 kilometres away, further into the rural landscape, discrimination became a graver reality.
The government school in Bani Kheda village has two cooks who prepare lunch for the mostly upper caste students. The school's principal, Rajpal, confirmed that one of the employees was from a scheduled caste. The principal, himself, belongs to a scheduled caste community.
"I cook for the kids and wash the utensils. Earlier, I used to wash the children's plates but with the new principal coming over, students have been told to do so themselves. The other cook is my friend, we have been working together for quite some time now, but he does not wash any utensils. I do not have a problem with it, I think this is normal," said Sajjan, who has accepted dual treatment as a part and parcel of life. The other cook had left for the day after preparing the meal.
The separation between students based on their caste does not just stop there. Although all students sit together to eat their meals, the plates provided are different.
"There are a few lower caste students in the school and we have different plates for them. The upper caste parents have asked us not to mix plates and belongings, if any, between both sets of children. While I have no problem with this, I find it funny as the cooking and the washing of utensils is done by our cook from the scheduled caste community. What will happen by keeping plates separate, I don't know," Rajpal said with a laugh.
The school has a total of 63 students with the majority belonging to the Saini community, who are traditionally land-owners and farmers but are suffering financially due to deteriorating livelihood and farming conditions.
THE FLIP SIDE
A couple of wooden cots, an exasperatingly long hookah stand, a dominating tractor and a large expanse of cemented patch housing cows and buffaloes — the example of a typical upper caste house in the villages of Saharanpur.
"Just because we cannot afford expensive private education doesn't mean we will let our children mix with the lower caste. We are an upper-class family. We were born with this supremacy and we need to maintain that," said Amrish Sharma, a farmer by profession residing in the semi-urban areas of Saharanpur.
Sharma lives away from his family for several months during the ploughing and reaping seasons. He has handed the responsibility of his children to his wife and parents.
"We are planning to shift our children to private schools. Most of our relatives send theirs there. Till the time the children don't transfer to their new school, they need to maintain a distance from the scheduled caste kids. I have specifically told my sons and daughter not to mix with those kids as they are dirty and will teach them wrong things. As they grow up, they will understand the difference between us and them," said the Sharma household's daughter-in-law.
Parents of the 'other' caste children have also accepted the treatment meted out to them as a norm in their day-to-day life.
"This has been going on for years. It is nothing new. We do not have enough money to send our wards to private schools and even if we do, they are discriminated there as well. They are not allowed to sit on first benches and are purposely given low marks," alleged Shivpal, whose daughter studies at the local government school.
REPORT CARD
Ministry of Human Resource Development defines Right To Education (RTE) as every child's right to free and compulsory education till completion of elementary teaching in a neighbourhood school. It clarifies that 'compulsory education' means an obligation of the appropriate government to provide free elementary education, ensure compulsory admission, attendance and completion of elementary teaching of every child in the 6-14 age group. The RTE Act, 2009, makes it compulsory for the government to provide free textbooks within the first week of admission.
The ground reality, though, is different. Braj Bala, principal of Prathmik Vidyalaya for girls, said, "The admission process ends by April second week and the books from government offices come by October-November. Till then, the children study with old textbooks."
News18 visited eight other schools and confirmed with the principals that this was not just a one-off.
"Yes, this is true. We are trying to get in touch with government officials concerned to sort the matter out but it takes time. I have seen schools using old textbooks until the time they get newer ones. Which is good, isn't it?" said PK Pandey, Saharanpur District Magistrate.
A survey conducted by an NGO called the RTE Forum in 2014-15 across 457 schools in 10 states, found that textbooks were not available on time in 50% of the schools.
Books are not the only concern in the setup. The condition of school toilets, classrooms and campuses (if any) has been brought up numerous times over the years, only for the government to accept but not act on the issue.
A bus conductor, who works on the Saharanpur-Delhi route, perfectly summed up the scenario. "People in the city will read, remorse and forget about this by the end of the day. How will the situation improve? We don't know."
(#BeingADalit is a series by News18 to understand what it takes to be a persecuted minority in India.)
| Edited by: Aditya Nair
Read full article
Countdown To
Elections Results
To Assembly Elections 2018 Results