After GI Tag Win For Rasogolla, Bengal Govt Panel to Make Sure Sweet Makers Maintain Its Softness
As desired by the Bengal government, the committee will make sure that all 'rasogollas' in the state live up to its catch line: "One Is Not Enough".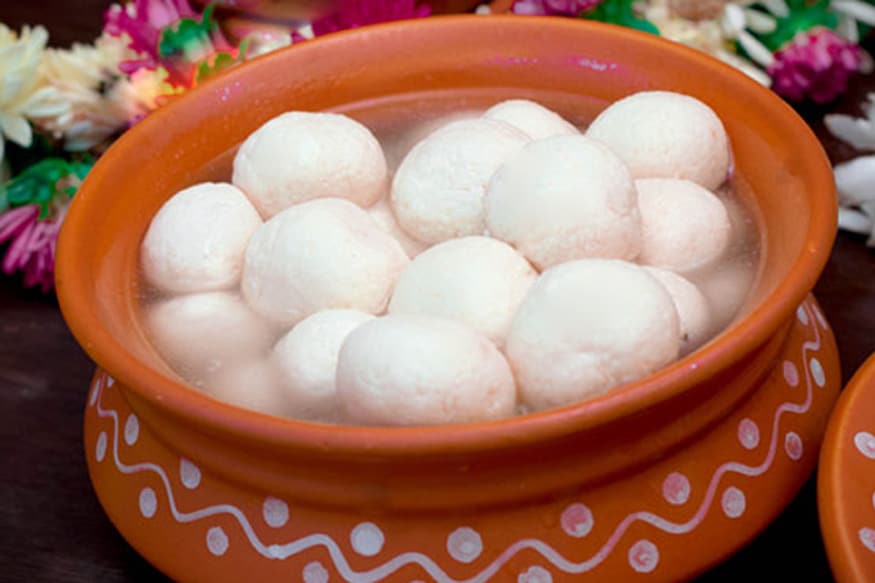 The members of self help groups based in Fulia said the sweet was also their tribute to the legendary sweet maker Haradhan Mondal, whom they called the actual inventor of the the enticing sweet dish,
Kolkata: With a production volume of over 2 crore 'rasogollas' everyday and the newly acquired precious GI tag, the West Bengal government doesn't want anything about this quintessential Bengali sweet to fall short. Thus, the government is now looking at forming a panel to monitor quality control of 'rasogollas' made in the state.
The committee will ensure that those who wish to make the branded 'Banglar Rasogolla', also manage to get the very essential "softness, cohesiveness, springiness and chewiness" that make 'rasogollas' synonymous with the Bengali identity.
As desired by the Bengal government, the committee will make sure that all 'rasogollas' in the state live up to its catch line: "One Is Not Enough".
Days after 'Banglar Rasogolla' was handed the GI (Geographical Indications) tag after a two-year bitter legal battle with neighbours Odisha, the state government moved to ensure that all 'rasogolla' makers abide by the government specifications.
The state government will soon apply for the 'Banglar Rasogolla' brand before the Ministry of Commerce and Industries.
With 2 crore 'rasogollas' being made every day, the state earns a yearly revenue of Rs 3,600 crores from this very simple sweet.
Assistant Registrar of Trade Marks and GI, Chinnaraja G Naidu said, "As per our specifications, the 'Banglar Rasogolla' has to be made of pure channa, white flour is just not allowed in the recipe. The concentration of sugar should be between 30-40% and weight of each sweet should be around 10 grams. The syrup should be transparent in texture. There should be no microbes and hygiene standards should be very high."
State secretariat sources said, officials of the West Bengal State Food Processing & Horticulture Development Corporation Limited (WBSFP), Horticulture Development Corporation Limited (HDCL) and West Bengal State Council of Science and Technology (WBSCST) would check the quality.
"Those who want to use the 'Banglar Rasogolla' tag will have to meet all these parameters. If found selling inferior quality rasogolla using the GI tag, then on behalf of the association, we will take action against the sellers and also report the matter to the state inspection committee," Ram Chaurasia, President of Paschim Banga Mistanna Byabasayee Samity said.
It was learnt that after rasogolla, the state government is also planning to get GI tags for other delectable sweets from Bengal like 'Kheer Singara', Pantua, Sarpuria and Jal Bhora.
On November 14, the Geographical Indications (GI) Registry under Ministry of Commerce and Industries announced that the origin of 'rasogolla' was in West Bengal and not Odisha.
The battle over rasogolla had turned worse when Odisha's Science and Technology Minister Pradip Kumar Panigrahi set up several committees to trace the origin of rasogolla in 2015 and claimed that it was in Odisha. They also declared July 30 as 'Rasagolla Dibasa' to celebrate its origin.
Then Bengal government too set up a committee in retaliation and decided to fight it legally. Then Mamata Banerjee government, while referring to 19th century origin of rasogolla, established that it was created by Nabin Chandra Das, a famous sweetmeat maker in 1868.
Get the best of News18 delivered to your inbox - subscribe to News18 Daybreak. Follow News18.com on Twitter, Instagram, Facebook, Telegram, TikTok and on YouTube, and stay in the know with what's happening in the world around you – in real time.
| Edited by: Sanchari Chatterjee
Read full article