Bhim Army to Take to Delhi Streets Over Burning of Constitution, Chandrashekhar's 14-Month Imprisonment
Bhim Army founder Chandrashekhar Azad was arrested in June last year. After getting bail in five cases, NSA was slapped on the Dalit leader and he continues to remain in jail ever since.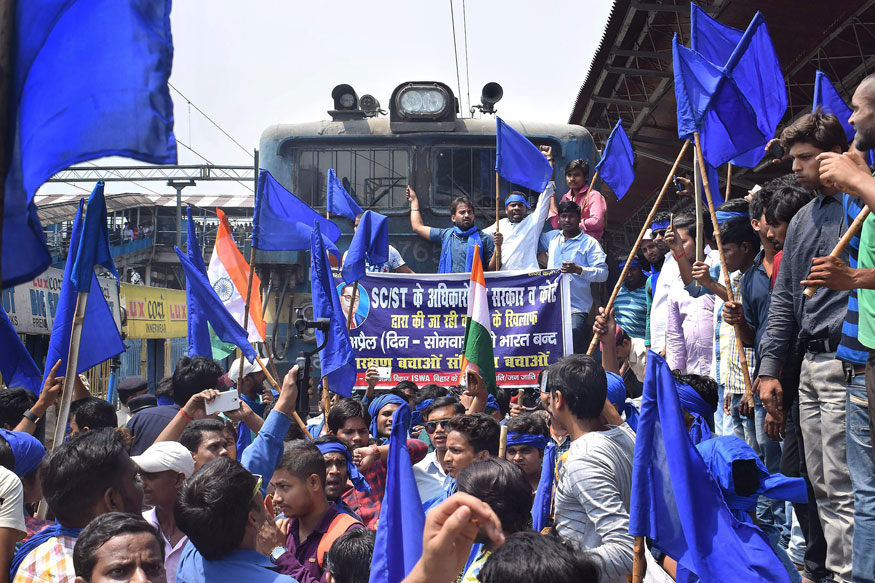 Representational image of Bhim Army.
New Delhi: The Bhim Army will take to the streets of New Delhi on Sunday to protest against the arrest of Dalit activists across the country, founder Chandrashekar Azad's imprisonment and the burning of the copies of the Constitution in Delhi earlier this month.
Vinay Ratan Singh, President of the Bhim Army, said, "The burning of the Constitution in Delhi on August 9 is a blot on the government. From the government to opposition, everyone is silent. If the 'manuwadi' system returns to India, women, Dalits and adivasis will lose their place in society. We will not do anything that the Constitution doesn't allow. We will fight this system by remaining within the bounds of the law."
Singh, who has held the reins of the Dalit rights outfit ever since its founder Chandrashekar was arrested in June last year, spoke about the continued imprisonment of the organization's leader.
"Keeping Chandrashekhar in jail for 14 months is a violation of justice and human rights. Opposing this is necessary, because otherwise governments will become fearless. Other governments used to inject poison, this government has hastened it. We oppose Modi, BJP and the RSS. Their motto is, if you find a Muslim, kill them and if you find a Dalit, throw them in jail. We are willing to die to protect India's Constitution."
Balak Ram, another Bhim Army leader, said, "Our activists are being arrested and harassed by the UP Police. Half of our Bhim Pathshalas, tuition centers we run for underprivileged children from the community, have been shut over the last four months since our teachers are being threatened with arrest related to the April 2 bandh. We will give a copy of the Constitution to our Bhim Sainiks as a token of gratitude. Because we believe in this country."
A lawyer appearing for Chandrashekhar said the case was now being heard in the Supreme Court.
He said, "The matter was heard in the SC on August 10, which sent a notice to district administration. NSA is a weapon, which is used against people who pose no threat to national security. This is used for political persecution. Chandrashekhar was chargesheeted in only 5 out of 23 cases. He was granted bail in all 5. The day he got bail, NSA was imposed. Essentially, the judicial custody of Chandrashekhar is over. But now, he is only in preventive custody. It's almost as if the state was preparing for it in advance. We are expecting another hearing in the next four weeks and have full faith in the apex court."
| Edited by: Sanchari Chatterjee
Read full article
Countdown To
Elections Results
To Assembly Elections 2018 Results