BHU Claims Vedas Can Help Clear Air Pollution, Purify Sewage Water; Proposes Centre for Research
Banaras Hindu University professor said that the varsity has proposed Center for Vedic Sciences to investigate evidence that show the prevalence of scientific and technological knowledge in ancient India.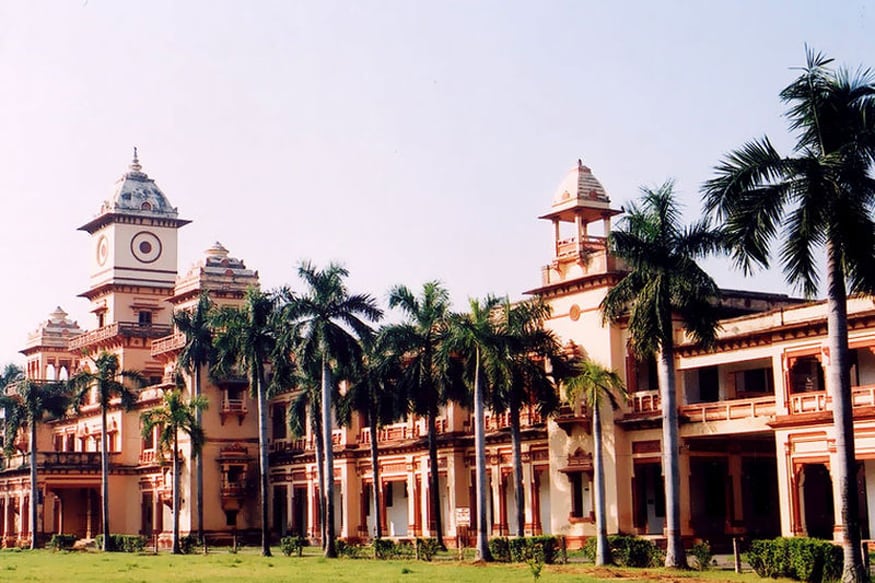 A picture of the campus of Banaras Hindu University (Wikipedia)
Varanasi: After UP deputy chief minister Dinesh Sharma claimed that modern technology existed during the time of Mahabharata, Banaras Hindu University has proposed a centre to explore Vedic sciences and use it to purify sewage water and treat air pollution.
Claiming that the Vedas have a solution to the problems, BHU Vedas department head Upendra Kumar Tripathi said, "Ancient wisdom can develop indigenous technique to purify sewage water with the help of Vedic sciences and treat air pollution by Vedic recitation and yajna. This includes the setting up of Vedshala, Nakshatra vatika, which will showcase the relation of plants and constellation, and establish multimedia lab and a studio to record path parampara of various recensions (sakha) of Vedas."
Tripathi said that the varsity has proposed Center for Vedic Sciences and has prepared a Detailed Project Report highlighting the objective and outcome of the proposal. The professor further said that the move has been initiated to investigate evidence that show the prevalence of scientific and technological knowledge in ancient India.
Banaras Hindu University, which is a Central varsity, is being supported by the Uttar Pradesh government and has been granted Rs 12 crores for its development, he added.
The proposal has been approved by the Executive Council, Niti Nirdharan Samiti and submitted to the Vice Chancellor Rakesh Bhatnagar. It will be forwarded to the Uttar Pradesh government for grants. The university is expecting to start research work from this session in the Center of Vedic Sciences.
"There is work on Vedic Literature but nothing significant has been done on Vedic Sciences - a gap we want to fill through this center. We would study and research the Vedic corpus to enrich the modern knowledge," he said.
The mandate of the Center for Vedic Studies demands deeper interactions between existing departments of the university in areas of Science and technology, which have not yet been explored.
"The center would attempt to find out what led to the loss of contact with the past glory of Vedic Sciences and popularize scientific approach and vision of Vedic seers through insights based on new leads arising from ancient literature," he added
Objectives
The idea is to establish this center of Vedic sciences as a premier institution in the domain of Vedic studies. The world community of scientists, mathematicians and doctors recognize the contribution seers - Pravacanakaras, Bharatmuni, Dattalia and Matanga, Lagadha, Aryabhatta, Bhaskara - not only in the domain of science and technology but also in the facet of knowledge. "We would set up modern state of art research laboratory to study and research laboratory the effect of Vedic mantras rituals yoga and meditation on human mind through neuro-psychological studies – or brain mapping," he said.
He added that the center of Vedic Sciences will research and represent different subjects of Veda such as Yogic Sciences, mathematics, astronomy, padarth vigyan, agriculture, environmental Sciences, sciences of engineering, linguistics, phonetics and astronomy with scientific view keeping the present scenario in mind.
The center will have various divisions for this as well as Vedic Sanghralaya (museum) and establish multimedia lab, "under the multimedia laboratory we may be able to prepare multimedia of various rituals as well as Vedic architecture."
Rationale Behind the Proposal
Despite the fact that Indian culture had long intellectual tradition, "the academic courses in India taught us about Democritus, Archimedes, and Newton, Plato to name a few. But nothing about Manu Patanjali, Baudhayana, Kanada, Aryabhata, Bhaskara, Varahamihira, Brahmagupta, Chanakya and many others, the Neo-academic literature on this glorious Indian intellectual tradition is also missing," he added and also mentions in the report on starting the center.
The center will focus on investigating how India lost touch with its ancient Science and Technology and lost much of its hold on the precious Vedic Scientific Knowledge. "The aim is to restore the past glory and this could be achieved by undertaking the inter-disciplinary study," he added.
| Edited by: Sumedha Kirti
Read full article