BHU Founder Was Against Campus Politics, Outsiders Maligning Varsity: VC
The protesting students have claimed that BHU guards didn't help the victim and instead questioned her for roaming outside the hostel after 6 pm. Tripathi spoke to News18's Eram Agha about the entire incident and why, according to him, it is an "attempt to malign the university."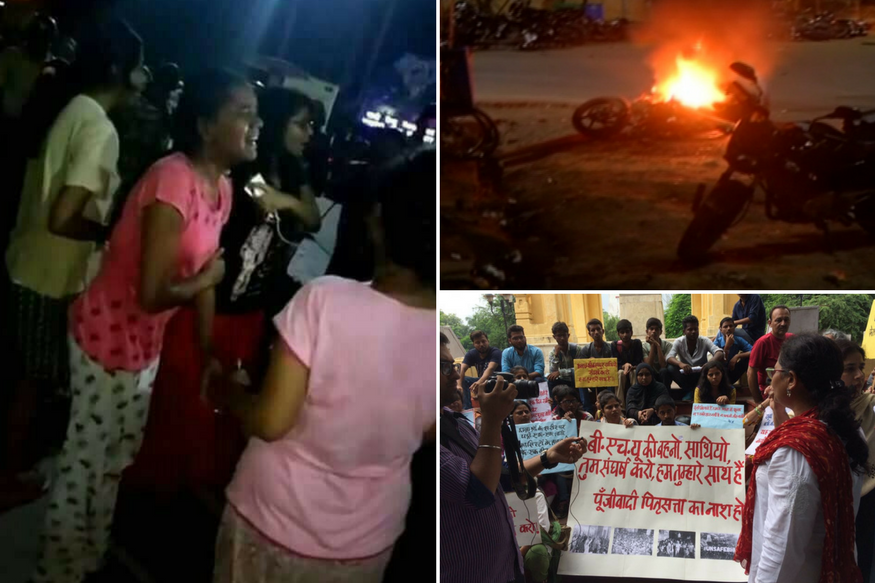 Clockwise from left: Visuals from violence outside the BHU campus on September 23, mediapersons sit on a dharna the next morning.
Benaras Hindu University vice-chancellor Girish Chandra Tripathi has been in the eye of a storm ever since girl students at the university staged a protest demanding security after a girl was allegedly molested by a group of men. The protesting students have claimed that BHU guards didn't help the victim and instead questioned her for roaming outside the hostel after 6 pm.
Tripathi spoke to News18's Eram Agha about the entire incident and why, according to him, it is an "attempt to malign the university."
Excerpts
1) The protesting girls complain that force was used to disperse the crowd. There is a lot of criticism coming your way for not being able to look into the demands of these students.
It is wrong to say lathi-charge took place on campus against the students of BHU. The force was used against those who were targeting innocent people with petrol bombs, and they are not the students of our varsity. Those people are outsiders who are trying to malign the name of the university and disturb the peace on campus. There are 30,000 students on campus and at a time one lakh people are present here. Just a handful of them presents anywhere cannot be called BHU students. Let me tell you that even if there were some students protesting, not a single class was disturbed.
With just a few people present, it cannot be called BHU protests. Those students who are present at protests are playing into the hands of those with ulterior motives. I don't accept this. Universities are not the ground for practicing politics.
2) Your campus doesn't even have student union bodies or any other democratic form of representation. Does this go with the idea of a university?
We have formed a committee to look into the form of student representation we can have in BHU. We will come up with an alternative. We have to see things differently, as we are a different campus. We value Madan Mohan Malviya's principles, our founder, and he was against politics on campus.
3) What are the principles of Madan Mohan Malviya that you endorse?
His idea of a university was that it was for nation-building and not career-building. This university was set up with cooperation from all quarters and communities – it was for the people and not for politics. Let me narrate this to you. When Mahatma Gandhi gave a call for Satyagraha, he met Madan Mohan Malviya, but our founder expressed his differences with the call. He told Bapu that these are young minds. If you call them, they will join you, but tomorrow, if someone calls for something wrong, they might go for that also.
What do you see on campuses today? These students are going to every party. There are various student wings functioning in universities… Shiksha ka swaroop bigad raha hai. Samaj ko sudharna hai and responsible people have to come together.
4) The girl students we spoke to alleged blatant gender bias on campus.
Show me the evidence. There is no single rule on campus that applies to girls but does not apply to boys. This is a propaganda of few against our university. If girls are not allowed to take part in political events, then even boys are not allowed to do that. In fact, I am looking towards revisiting the security plan of my campus. I am going to look into the shortcomings and involve my university girl students in it. They will be a part of the plan.
5) The university is going on a semester break, what are you going to do next in the alleged sexual harassment case?
We have formed a high-powered committee to probe the entire incident. Once the findings are out, we will bring it in public domain. As a Vice-Chancellor I take the moral responsibility for what happened, but I will also make sure that the probe is conducted, also to investigate if there was any a need to give this unfortunate incident a political turn. A girl suffered and others used it as a weapon for politics. This is not acceptable.
6) What evidence do you have to corroborate that this was the work of outsiders on campus?
Two days ago, there were people who painted with black ink the statue of Madan Mohan Malviya. I can say it with confidence that no BHU student will ever do this. Students are young and as the youth, they are in search for truth and justice, but some people are trying to exploit them for their own political benefits.
Get the best of News18 delivered to your inbox - subscribe to News18 Daybreak. Follow News18.com on Twitter, Instagram, Facebook, Telegram, TikTok and on YouTube, and stay in the know with what's happening in the world around you – in real time.
| Edited by: Mirza Arif Beg
Read full article