GET Stock

Quotes


Bhubaneswar Hospital Fire: Four Employees Arrested
Four officials, including the Superintendent, of a private hospital were arrested and four employees suspended on Tuesday, a day after a massive blaze there claimed 20 lives and left many injured.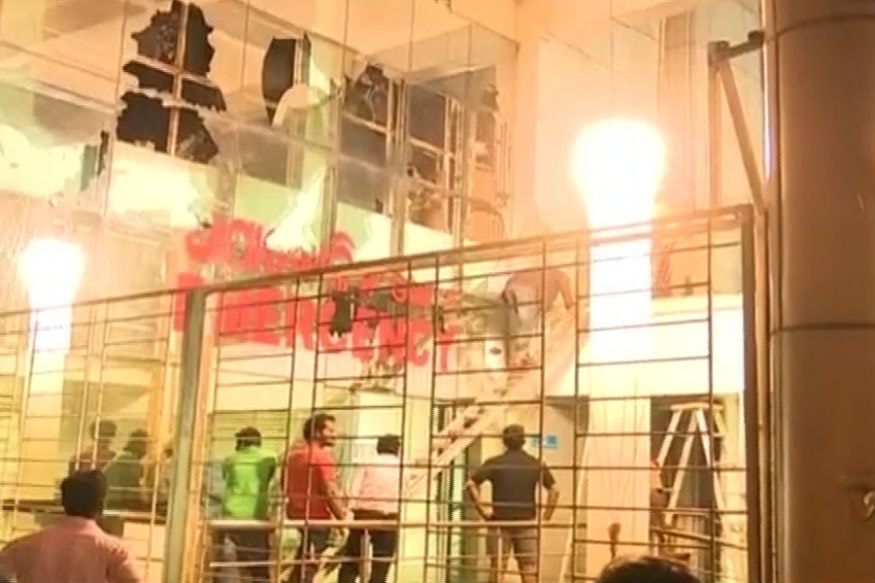 Fire rages at the hospital in Bhubaneswar on Monday. (TV GRAB)
Bhubaneswar: Four officials, including the Superintendent, of a private hospital were arrested and four employees suspended on Tuesday, a day after a massive blaze there claimed 20 lives and left many injured.
Meanwhile, over 100 patients, mostly from the ravaged ICU and dialysis units were shifted elsewhere for treatment.
While 20 deaths were officially confirmed, authorities of different hospitals where the injured were shifted on Monday night put the toll at 22 after the devastating fire broke out in the Sum Hospital here.
The arrests were made shortly after Odisha government filed two FIRs alleging negligence in conduct and safety against Sum Hospital.
Two separate FIRs were lodged by Joint Director of the Directorate of Medical Education and Training (DMET) Umakanta Satpathy and Fire Officer (Central Circle) B B Das with Khandagiri police station.
Those arrested were Superintendent of Sum Hospital, Pushpraj Samantsinghar, Electrical Maintenance Engineer Amulya Sahu, Fire Safety Officer Santosh Das and Junior Electrical Engineer Malay Sahu, Commissioner of Police YB Khurania said.
Khurania said the four officials were arrested on the basis of preliminary inquiry report of the fire officer and the FIR filed by Fire Services department at Khandagiri police station where a case in this regard has been registered on Tuesday.
The four were booked under Sections 304 (culpable homicide not amounting to murder), 308 (attempt to commit culpable homicide not amounting to murder), 285 (negligent conduct with respect to fire and combustible materials) and 34 (common intent) of the IPC, the police Commissioner said.
Meanwhile, Director General of Fire Service, Binay Behera submitted a report to the state government on the fire that ravaged parts of the private hospital last night in which 20 people died and many were injured.
Behera in his report has mentioned that the fire safety norms as per the 2013 guidelines were not followed by the hospital authorities, an official said.
A senior police official said more arrests in the case cannot be ruled out.
Health and Family Welfare Minister Atanu Sabyasachi Nayak said the Joint Director of DMET also lodged FIR against the hospital for alleged violation of provisions under Odisha Clinic and Establishment Act, 1992.
DMET Prof P C Mohapatra, who has been leading an inquiry team, this afternoon visited the hospital and spoke to different people, including the staff. He said the guilty would definitely be punished.
"DMET had earlier issued guidelines to hospitals and clinical establishments across the state asking them to put in place fire safety measures. Licenses of those found flouting these guidelines will be cancelled," he said.
The authorities of Siksha 'O' Anusandhan (SOA) University, which runs the Institute of Medical Sciences and Sum Hospital, suspended four staff members and announced an ex-gratia of Rs 5 lakh each to the victims' families.
Those suspended were one fire officer, two engineers and one hospital manager, SOU vice-chancellor Amit Banerjee told reporters here, rejecting allegations that there was any irregularity in the management of the hospital.
"We have suspended four officials as part of the hospital's bid to maintain transparency. Tomorrow no one should accuse that evidence was tampered with."
As many as 106 patients, who were shifted from Sum Hospital following the blaze last night, are now undergoing treatment at different hospitals in the city, Health Secretary Arti Ahuja said, amid reports that some of them are in critical condition.
Most of them were from the ICU and the dialysis unit, an official said.
Ahuja said the ICU and dialysis unit of the hospital have been sealed to ensure a proper investigation.
The blaze was suspected to have been triggered by an electric short circuit in the dialysis ward on the first floor which spread to the nearby ICU.
Read full article