Bhullar, Lahiri target victory at SAIL-SBI Open
The talented duo enjoyed memorable seasons last year with Bhullar securing 2 wins and Lahiri won the SAIL-SBI Open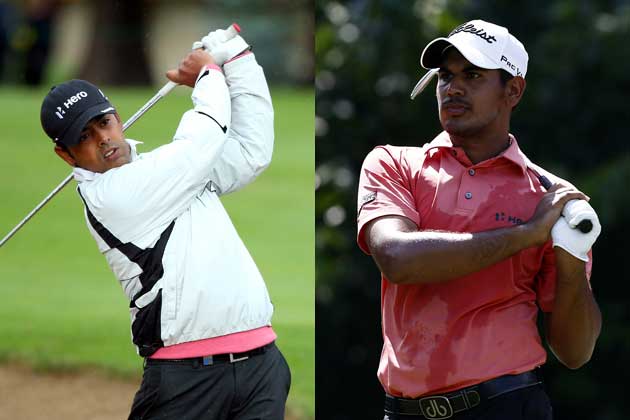 The talented duo enjoyed memorable seasons last year with Bhullar securing 2 wins and Lahiri won the SAIL-SBI Open
New Delhi: India's rising stars Gaganjeet Bhullar and Anirban Lahiri will be targeting a home victory when they make their 2013 Asian Tour debuts at the USD 300,000 SAIL-SBI Open next week. The talented duo enjoyed memorable seasons last year with Bhullar securing two victories at the Venetian Macau Open and Yeangder Tournament Players Championship in Taipei en route to finishing a career high fifth on the Order of Merit while Lahiri won the SAIL-SBI Open and also produced an outstanding Major debut at the British Open where he was tied for 31st.
Lahiri, 25, hopes that time spent working on his putting and short game will produce the birdies when he defends his title at the venerable Delhi Golf Club from March 6-9 in what will be the second tournament of the new Asian Tour season. "I have had a good relaxing off-season. I worked especially hard on my putting and short game. I feel that it will help improve my scoring this season and get me into contention more consistently," said Lahiri, who defeated Prom Meesawat of Thailand in a play-off for his triumph last year.
Lahiri is in a hurry to get his season off to a strong note as he is aiming to break into the world's top-100 in 2013, the year which will see the Asian Tour celebrate its milestone 10th season. "I would definitely want to get off to a good start with a win early in the season, like the last couple of years," he said.
"I think as the Olympics approaches, all eyes will be on the world rankings. The Indians are doing well globally so I would definitely like to break into the top 100. I'll then look to kick on from there. Obviously it would mean playing solidly in the bigger events," added Lahiri, who is currently ranked 224th in the world. Big-hitting Bhullar, a year younger than his close friend Lahiri, has already accumulated four career victories on the Asian Tour but has surprisingly not won in front of his fans.
He finished tied sixth in the SAIL-SBI Open and equal second in the Panasonic Open India last year at the Delhi Golf Club, results which will give him the confidence when he steps into his first tournament next week. Bhullar hopes last season's success will be the springboard to more victories in 2013. "It was a great season.
I had a couple of top-10s, top-fives and two victories. There're still a lot to learn but I have a lot of positives from last season," he said. He was especially pleased with his mental strength throughout 2012. "I've been trying to stay patient for a long time and I think I handled it well. Patience will definitely help me over the years," he said.
The SAIL-SBI Open will be celebrating its sixth edition next week where it is one of four Asian Tour events which feature prominently in India. Other leading Indians who will compete in the SAIL-SBI Open include C. Muniyappa, Himmat Rai, Digvijay Singh, Shiv Kapur and Jyoti Randhawa, all winners on the Asian Tour.
Who do you think will win the SAIL-SBI Open this year?
Get the best of News18 delivered to your inbox - subscribe to News18 Daybreak. Follow News18.com on Twitter, Instagram, Facebook, Telegram, TikTok and on YouTube, and stay in the know with what's happening in the world around you – in real time.
Read full article