Bigg Boss 7: Asif flirts with Gauhar, makes Kushal jealous
Is Asif seriously fond of Gauhar or is he doing this to grab everyone's attention?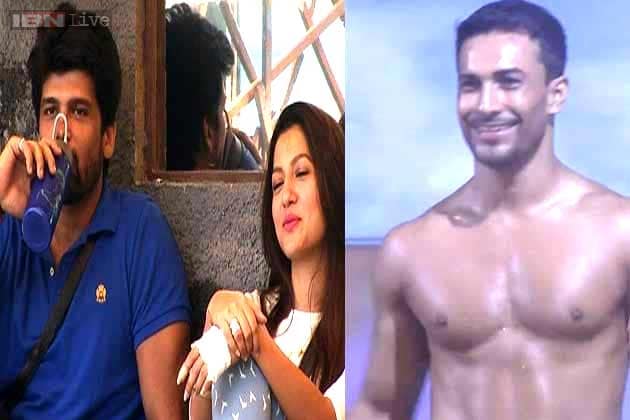 Is Asif seriously fond of Gauhar or is he doing this to grab everyone's attention?
New Delhi: Day 19 in the Bigg Boss kicked off with a spat between Sangram and Andy. While Apurva, Ratan, Andy and Sangram were busy chatting, Sangram begins to mock Andy. Annoyed with his irritating remarks, Andy warned Sangram of the dire consequence he would face if he continued with his offensive behavior. Later, Andy complains to Shilpa about his nasty conduct.
While the heaven mates were seen enjoying their stay, hell inmates Armaan, Tanisha and Anita continued to gossip about the bond Kushal and Gauhar share.
Following Bigg Boss' announcement for captaincy by informing the inmates that he'd keep the confession room open for 10 minutes, and the interested contestants could give their names, Kamya, Sangram and Andy decide to stand for the aforementioned post. After Bigg Boss holds open elections, Kamya, who had bagged maximum votes, is elected as the captain for this week.
Andy, who had thought he'd be elected for the post, was understandably upset with the decision. While conversing with Gauhar, Andy felt no qualms in talking about the hypocrite nature of the contestants. In her bid to pacify Andy, Gauhar is heard telling him that he shouldn't pay much attention to such issues.
Kushal Tandon looked irked when Asif tried to flirt with Gauhar. When Asif asked him if disliked his conduct, Kushal said ,"Yeh meri biwi thodi na hai jo mai bura manu. Agar tu meri biwi ko check out karta toh mai tujhe check out kar deta."
In the evening Bigg Boss had asked the inmates to perform a task, wherein scooters are placed in the garden areas of jannat and jahannum and all the contestants excluding Kamya from the heaven side and Gauhar from the hell side are asked to balance themselves on the bike. Kamya and Gauhar, who had monitored the task, are also asked to board the scooter. Since Gauhar was quick to stand on the bike, Bigg Boss declares hell inmates as the winners.####
Get the best of News18 delivered to your inbox - subscribe to News18 Daybreak. Follow News18.com on Twitter, Instagram, Facebook, Telegram, TikTok and on YouTube, and stay in the know with what's happening in the world around you – in real time.
Read full article