GET Stock

Quotes


Bigg Boss 8, Day 27: Salman Khan shows his interest in promoting Shah Rukh Khan's 'Happy New Year'
Here's what happened in the Bigg Boss house on Day 27.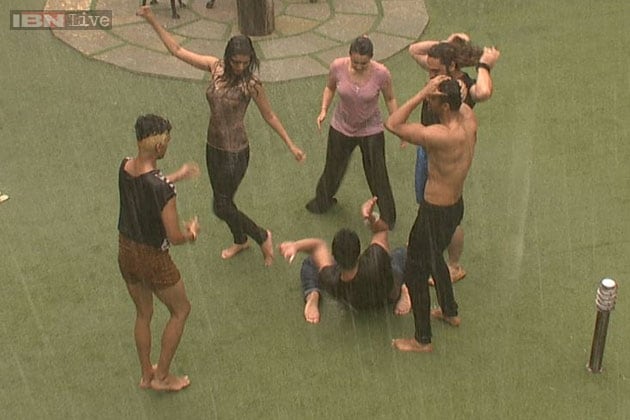 Here's what happened in the Bigg Boss house on Day 27.
After a notorious week of surprises, fights, and obsessive cleanliness spree the housemates are, for a change, having a relaxing day in the Bigg Boss house. Captain Ali too is seen to be relatively cooler even though his love for rules and obedience continues to bother contestants. But eventually, it is the weather that charms the contestants and soothes their senses.
As the rain gods bless the Bigg Boss house with some much needed respite from the October heat, the contestants cannot help but let their stress and troubles wash away. Ali and Sushant, whose voices have been appreciated by the contestants, chose to sing some relaxing songs. But, soon, the contestants let the rains change the entire mood. What started with Aarya's fun dance moments in the rain soon became like a rain dance party of sorts as all the contestants doused their worries and focused on enjoying the weather with their friends.
While the contestants initially danced in the rain, they soon decided to let go completely as they jumped in the pool and the rain dance turned into a full-fledged pool party! While some contestants jumped into the pool voluntarily, others showcased a little hesitance before partaking in the merriment. Puneet was seen picking up Karishma and dropping her into the pool while Gautam and Sonali were seen holding hands inside the pool! But the 'well-behaved' and disciplinarian captain Ali maintained some self-control as he chose to change into shorts before jumping into the pool! While an unwell Soni decided to stay away from the rains lest her health get worse, Diandra and Natasa also stood in the bylines and danced away without giving in to the temptation of the rain. The trio, instead, took up the responsibility of poking fun at those contestants who jumped into the pool and shed all their inhibitions.
As the weekend looms, the contestants all came together while forgetting their interpersonal relationships and let their hair down. We believe it was those last moments of fun before they lose another friend to the evictions. Which contestant will bid goodbye on this Weekend Ka Vaar with Salman Khan?
Also Watch
Read full article