BJP Neta Tries to Shove Stick in Disabled Man's Mouth for Supporting Akhilesh Yadav, Victim Sent to Jail
After a video of the assault went viral, BJP leader Mohammad Mian said he is ready to apologise to the victim in public.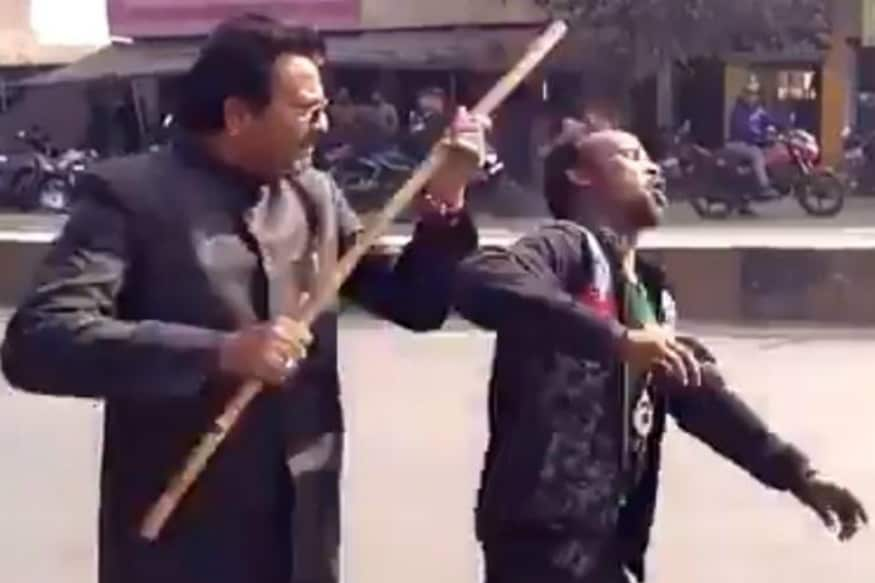 A grab from the video that went viral.
New Delhi: A BJP leader has been caught on camera assaulting a differently-abled man and trying to shove a stick in his mouth when the latter declared that he would vote for Samajwadi Party chief Akhilesh Yadav. The victim was also reportedly arrested for breach of peace.
According to a report in Times of India, the incident unfolded when BJP leader Mohammad Mian accompanied Sambhal district president Rajesh Singhal and other BJP workers to meet sub-divisional magistrate Dipender Yadav at the collectorate.
On seeing the BJP workers, the victim, identified as 22-year-old Manoj Gujjar, started raising slogans against Prime Minister Narendra Modi and Chief Minister Yogi Adityanath, and in favour of former CM Akhilesh Yadav. "Vote Akhilesh ko hi dunga (I will vote only for Akhilesh)," he said.
Angered, Mian reportedly took a stick out of his vehicle and started assaulting Gujjar. When SDM Singhal heard about the incident, he ordered the arrest of Gujjar for breach of the peace and sent him to jail, Times of India reported.
Sambhal SP Yamuna Prasad said Mian is a "known history-sheeter". "During the preliminary investigation, it was found that Mian has criminal antecedents and is a known history-sheeter at Asmoli police station. Gujjar has been sent to jail because the incident took place inside the collectorate."
Since the video went viral, Mian has been staying at the house of a family friend in Rampur district. "Gujjar was using abusive language against senior BJP leaders. After hearing this, I lost control and scolded him. I am ready to apologise to him in public for this," Mian told TOI.
However, speaking later to news agency ANI, the BJP leader denied shoving the stick in Gujjar's mouth.
"He was abusing Modi ji and Yogi ji. I tried to explain things to him first but he was drunk. It was a conspiracy to malign the BJP. I was just trying to make him leave the place. I didn't shove a stick in his mouth," he said.
Get the best of News18 delivered to your inbox - subscribe to News18 Daybreak. Follow News18.com on Twitter, Instagram, Facebook, Telegram, TikTok and on YouTube, and stay in the know with what's happening in the world around you – in real time.
| Edited by: Nitya Thirumalai
Read full article