'BJP Shielding Brutality': Rahul Gandhi Leads Midnight March Over Kathua, Unnao Rape Cases
Rahul Gandhi, who was joined by Priyanka, said he hopes BJP wakes up to its commitment to the people of the nation and ensures stringent punishment is meted out to the perpetrators of the crimes.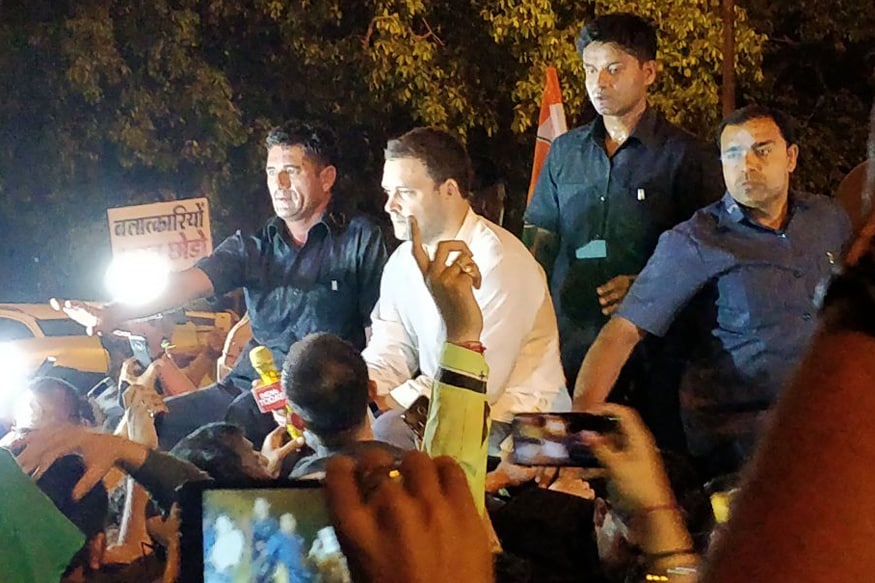 Rahul Gandhi leads the midnight march at India Gate on Thursday. (Photo: News18)
New Delhi: Congress chief Rahul Gandhi led a candlelight vigil at India Gate on Thursday night to protest the Kathua and Unnao rape cases, saying the country cannot continue to treat its women the way it does.
Speaking to reporters, Rahul said the protest march was not a political fight but a signal to the government that it must resolve issues of women safety. "People are here protesting for the safety of women. Atrocities against women are rising. Women are frightened now. They can't even walk on roads," he said.
Calling what happened in Kathua beyond humanity, Rahul said that an 8-year-old innocent was kidnapped and brutally raped by many men and tortured till she died.
"This defies all human values we have grown with as a society. This brutality instead of being punished is actually being shielded. We absolutely condemn this and hope BJP wakes up to its commitment to the people of the nation and ensures stringent punishment is meted out to the perpetrators of the crime," he said.
He said that what happened in Unnao was similar. "Instead of ensuring justice, the victim's family has been threatened and silenced by the accused. The father of the victim was beaten to death in judicial custody. Only an outrage led to action from Adityanath government. In both the cases we seek immediate action against the accused and allowing justice to prevail even if it involves those who hold positions of power," he added.
A usually reticent Priyanka Gandhi too joined the march along with husband Robert Vadra and her kids, sending the message that she was ready to come to the forefront when it comes to an emotive issue involving women's safety.
Also present were Nirbhaya's mother and brother and Bollywood personalities like Nafisa Ali, representing the growing outrage over the brutal gang-rape of the 8-year-old in Kathua and the police inaction against the BJP MLA, who is accused of raping an 18-year-old in Unnao and conspiring to kill her father in police custody.
Several senior Congress leaders like Ahmed Patel, Ashok Gehlot, Digvijaya Singh and Ajay Maken also took to the streets alongside 3,000 people as the party tried to counter criticism for remaining silent on the heinous rape and murder cases.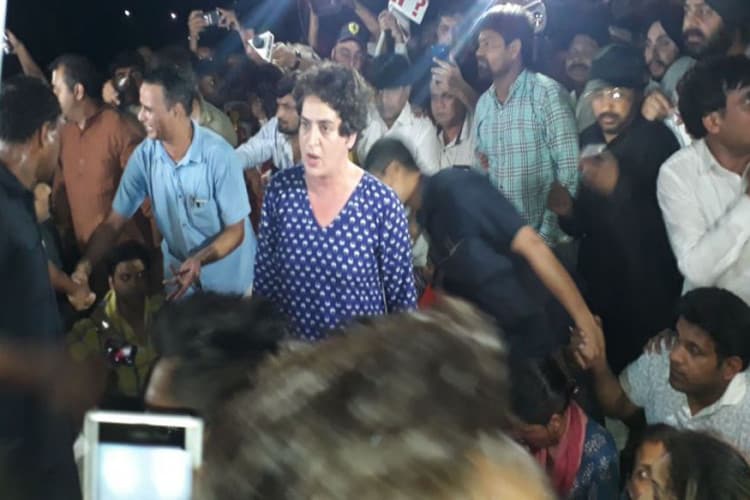 Priyanka Gandhi at the midnight march on Thursday. (Photo: News18)
"Like millions of Indians my heart hurts tonight. India simply cannot continue to treat its women the way it does. Join me in a silent, peaceful, candlelight vigil at India Gate at midnight tonight to protest this violence and demand justice," Rahul had tweeted.
He had broken his silence on the gruesome incidents earlier in the day, expressing anguish and shock on the brutal rape and murder in Kathua. He also attacked the BJP government in Uttar Pradesh for failing to act against its MLA.
"How can anyone protect the culprits of such evil? What happened at #Kathua is a crime against humanity. It cannot go unpunished. What have we become if we allow politics to interfere with such unimaginable brutality perpetrated on an innocent child?" he wrote on Twitter.
Congress leaders were at pains to emphasise that the march was an apolitical one, but that did not stop party workers from chanting slogans against Prime Minister Narendra Modi and the BJP.
"The government is sleeping and so at this time the Congress will have to wake them up. PM had given a slogan 'Beti Padhao, Beti Bachao' and it is in his regime that our girls are being raped," Congress' Ghulam Nabi Azad said.
The PM has so far been mum on the Kathua rape and murder case, which has been controversial in Jammu because of the support the accused has received from Hindu groups who even sought to prevent a chargesheet being filed in the matter.
The abduction, rape and killing of the girl from the minority Bakherwal community had taken place in January, but the anger has boiled over now as the chilling details of the brutal crime were revealed in a chargesheet filed on Monday.
Minister of state for external affairs, VK Singh, was the first from the Centre to add his voice to the growing outrage. "We have failed her as humans. But she will not be denied justice," tweeted the former army chief.
Jammu and Kashmir Chief Minister Mehbooba Mufti, who is under fire for not acting against BJP ministers who rallied in defence of the accused, said the "law will not be obstructed". She said that the case would be fast-tracked and minor rape would be made punishable by death so that another girl does not have to suffer the same fate.
The Yogi Adityanath-led BJP government has also faced flak for not arresting its MLA Kuldeep Singh Sengar. On Thursday, it defended the inaction in Allahabad High Court, saying that an arrest would be made after sufficient evidence is found. The MLA has been booked under POCSO act, which mandates immediate arrest.
Get the best of News18 delivered to your inbox - subscribe to News18 Daybreak. Follow News18.com on Twitter, Instagram, Facebook, Telegram, TikTok and on YouTube, and stay in the know with what's happening in the world around you – in real time.
| Edited by: Aakarshuk Sarna
Read full article