BJP Sticks to Ram, SP Picks Vishnu, Congress Bets on Shiva for Luck in 2019 Polls
Congress president Rahul Gandhi, fresh from his Mansarovar Yatra, was greeted in his Lok Sabha constituency Amethi this week by hundreds of 'bol bam'-chanting party activists.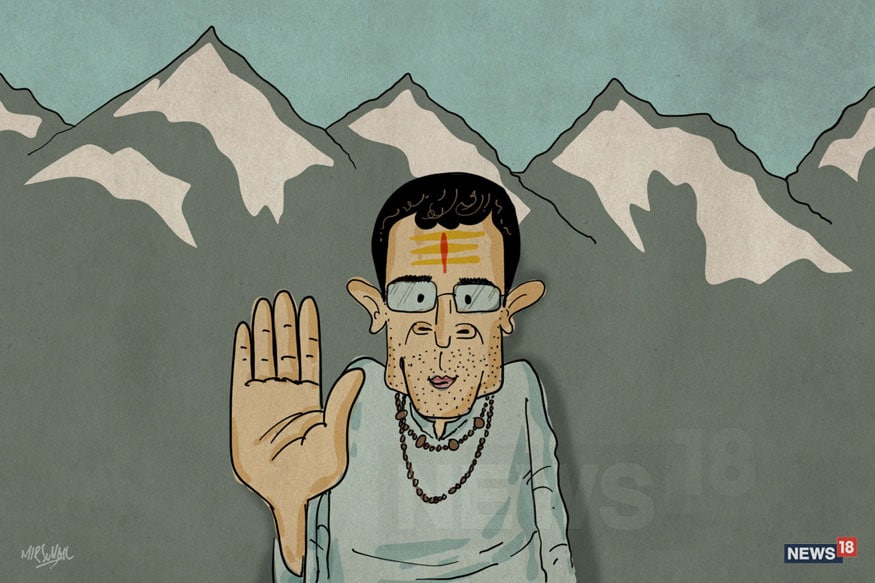 News18 Creative by Mir Suhail
Lucknow: Ahead of the 2019 Lok Sabha elections, the key political parties of Uttar Pradesh seem to have chosen their favourite gods.
With the BJP apparently sticking to Lord Ram, the Samajwadi Party seems to have chosen Vishnu and the Congress Lord Shiva to spur their poll fortunes, if remarks by their leaders are any indication.
Congress president Rahul Gandhi, fresh from his Mansarovar Yatra, was greeted in his Lok Sabha constituency Amethi this week by hundreds of 'bol bam'-chanting party activists, all dressed up as "Kanwariyas", the devotees of Lord Shiva.
The BJP's UP chief Mahendra Nath Pandey's reiterated the saffron party's backing for a Ram temple on the disputed site in Ayopdhya. He said the party is trying to ensure that the temple is built in Ayodhya through consensus.
Samajwadi Party president Akhilesh Yadav, on the other hand, has pledged to develop a grand city named after Lord Vishnu, complete with a spectacular temple in it on lines of Cambodia's Angkor Wat, in the state, if voted to power.
Uttar Pradesh sends 80 MPs to the Lok Sabha. In the 2014 parliamentary elections, the BJP won 71 seats, its ally Apna Dal got two, while the SP bagged five and the Congress remaining two.
Fresh from his recent Kailash Mansarovar pilgrimage, the Congress chief Monday was presented a portrait of Lord Shiva by Shiva devotees at Fursatganj.
In a video footage that went viral on social media, Gandhi is seen with his forehead smeared with sandalwood paste with a prominent red 'tilak' in the centre.
With a scarf around his neck, he is seen taking part in a 'puja'.
He was greeted with posters hailing 'Shiv bhakt Rahul Gandhi' on his first visit here after undertaking the arduous 12-day pilgrimage in August to Kailash, the abode of Lord Shiva.
The Congress chief had announced his intention to undertake the pilgrimage after a mid-air scare when his plane had plunged hundreds of feet down during one of his flights during the Karnataka poll campaign in April.
The pilgrimage was aimed at seeking the blessings of Lord Shiva for the country's prosperity, Congress chief spokesperson Randeep Surjewala had said earlier.
In the run-up to the 2019 Lok Sabha polls, the entire spectacle is being seen by some as the Congress bid to woo Hindu voters.
UP BJP chief Mahendra Nath Pandey, meanwhile, said Sunday, "Ram temple is the centre of faith and devotion for us. It should be built as per the law and we are committed to this."
The BJP is making efforts to build the Ram temple through consensus, he had said.
"The people know Lord Ram was born in Ayodhya and they want a Ram temple there. The feeling of every Indian is the feeling of the BJP," Pandey had said.
SP chief Akhilesh Yadav has declared his intent to "develop a city in the name of Lord Vishnu over 2,000 acres of land near Lion Safari (Etawah)."
"We have a lot of land in Chambal ravines and the city will have a grand Vishnu temple akin to the famous Angkor Wat temple."
Yadav's comments had come in the wake of BJP leader and UP Deputy Chief Minister Keshav Prasad Maurya raking up the Ram temple issue and suggesting a legislative route for it.
Yadav, however, has promised that, if voted to power, he would develop a city after the name of Lord Vishnu, with both Lord Ram and Lord Krishna being his incarnations.
A team of experts will be sent to Cambodia to plan the city, which will be a centre for culture and knowledge of our ancient times, the SP chief said.
Angkor Wat in Cambodia is one of the largest religious monuments in the world which was originally a Hindu temple dedicated to the Lord Vishnu but gradually transformed into a Buddhist shrine.
Read full article
Countdown To
Elections Results
To Assembly Elections 2018 Results