BJP's Slow But Steady Rise in Kashmir and How PDP was the 'Unwitting Facilitator'
BJP claims it has around 3.5 lakh active workers in the Valley alone. What's more surprising is that the party is making inroads in south Kashmir, considered to be a hotbed of militancy.​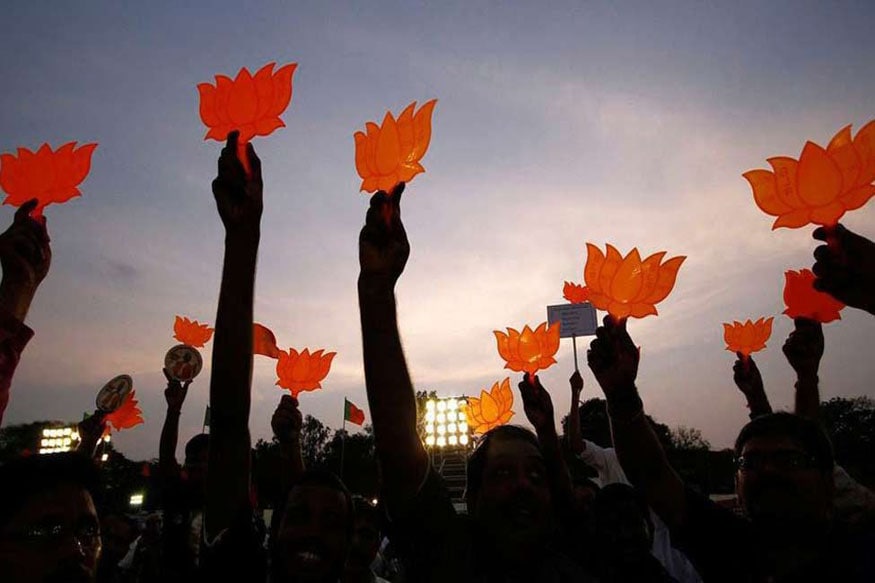 Representative Image. (Reuters)
Srinagar: On the morning of August 15, the valley was, as usual, under a lockdown. Severe restrictions were placed in Kashmir to avoid unseemly incidents. Except for the heavy presence of armed security force personnel, the roads were empty. The streets were dead silent.
But just 60 kilometers away from Srinagar city, in a government housing colony in south Kashmir's Anantnag district, a group of Kashmiris was standing around the Tricolour, saluting it as the national anthem played in the background. There were over 50 of them: all dedicated workers of the Bharatiya Janata Party (BJP).
Just moments before, donning a black waistcoat over a spotlessly white kurta, Sofi Yousuf, a BJP leader and member of state's Legislative Council, had unfurled the Tricolour. Sofi saluted the flag. One among the audience yelled on top of his voice: "Bharat Mata ki…" — the compound walls resounded with "Jai".
Everyone in the compound settled in the red plastic chairs. Yusuf held the microphone and the murmurs in the audience dropped to silence.
Sofi yousuf in meeting with workers (Photo: Mohammad Abu Bakar)
"Pakistan celebrates Independence on August 14, India on August 15. Today is our Independence Day. We have been independent for the last 75 years," Sofi began, often employing long pauses in his speech to good effect, perhaps emulating the recently deceased BJP stalwart and former prime minister Atal Bihari Vajpayee.
"For most of this period, our country has witnessed Congress Raj. They destroyed the country. Here, in Kashmir, they committed atrocities and left people hopeless. When Narendra Modi became the prime minister some people used to say that Muslims will have to go elsewhere now.
But have a look around today, there are no riots. Twenty-five crore Muslims and people from other faiths are taking benefit of more than 160 schemes launched by Modiji," he addressed the crowd.
Sofi's speech was acknowledged with applause. In the audience, some people were waving party flags – the lotus on saffron backdrops; others had put on BJP party caps.
This was at the Anantnag office of the BJP. The Tricolour wasn't just unfolded here. In every party office in each district of the valley, BJP workers saluted the Tricolour, played national anthem and recalled the contributions of the prime minister.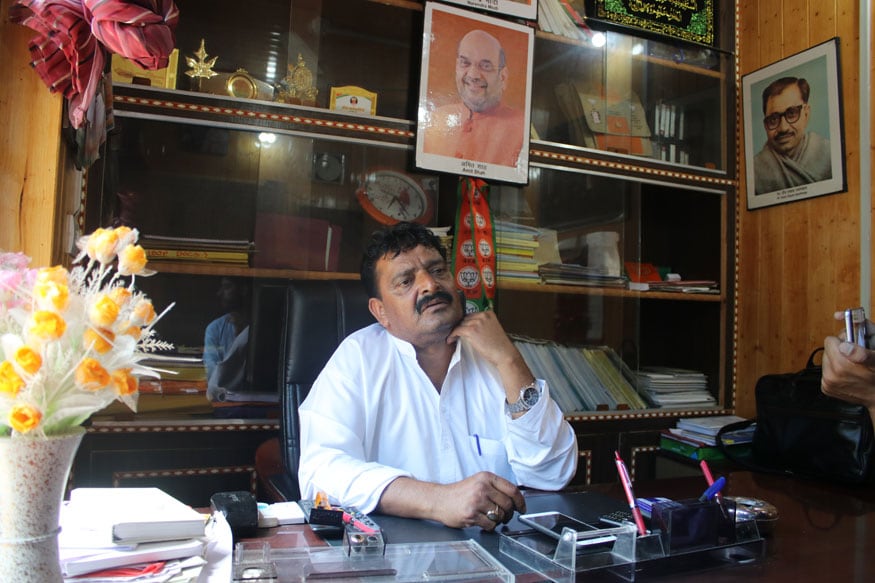 Sofi Yousuf in the BJP'S Anantnag office. (Photo: Mohammad Abu Bakar)
As the crowd dispersed, Sofi moved towards his two-room party office while telling his workers, four among who were women, to "start work on the ground". He elaborated a pause later.
"I will make sure the party works for you. But do know that you owe something to the party as well? Go into your villages. Tell people there is a leader in Delhi (Narendra Modi) who wants development and can change your life." His directives were clearly aimed towards helping his party make a mark in the upcoming Panchayat polls.
The party workers, its foot soldiers who have reached here defying restrictions and shutdown calls, responded in the affirmative.
He then took a seat in the adjacent room. The workers came in one by one. They put forth their grievances and Sofi listens. The walls of this wood-panelled room are lined byportraits of BJP top leaders — Deendayal Upadhyaya, Atal Bihari Vajpayee, LK Advani, Narendra Modi and Amit Shah.
Pervez Parray (name changed) is one of the party workers close to Sofi.
Parray is a 27-year-old postgraduate from Kashmir University. Parray works for the party covertly. "I go to the villages and disseminate the message of our party. I go to villages find out the problems they are facing. That is the only way that people will start listening to us," Parray explained. "We try to address their day-to-day issues — from electricity to road. That is what people here need."
He shows pictures from his mobile phone where he is interacting with a group of youth in some rural area of south Kashmir. "There are dozens of youth like me who work for the party without making any hullabaloo."
Kashmir today finds itself gripped again by fear. Particularly in south Kashmir, the mainstream political parties hardly have a presence on the ground. Some political workers have been killed. Others, facing threats, have fled their constituencies for safer havens. Many political workers have taken asylum in government accommodation.
Parray and his colleagues think there could not have been a more opportune moment to spread BJP's message across the valley.
The alliance stitched in 2015 between BJP and PDP came to an abrupt end after BJP withdrew its support in June. It was for the first time that BJP had come into power in Jammu and Kashmir.
A month later, top BJP state leaders and the people in charge of the Kashmir districts met in the Srinagar office.
For the first time in decades in Kashmir, where polls have often been marred by violence, a parliamentary bypoll had to be cancelled. However, BJP is surprisingly upbeat. Its workers are full of confidence and hope.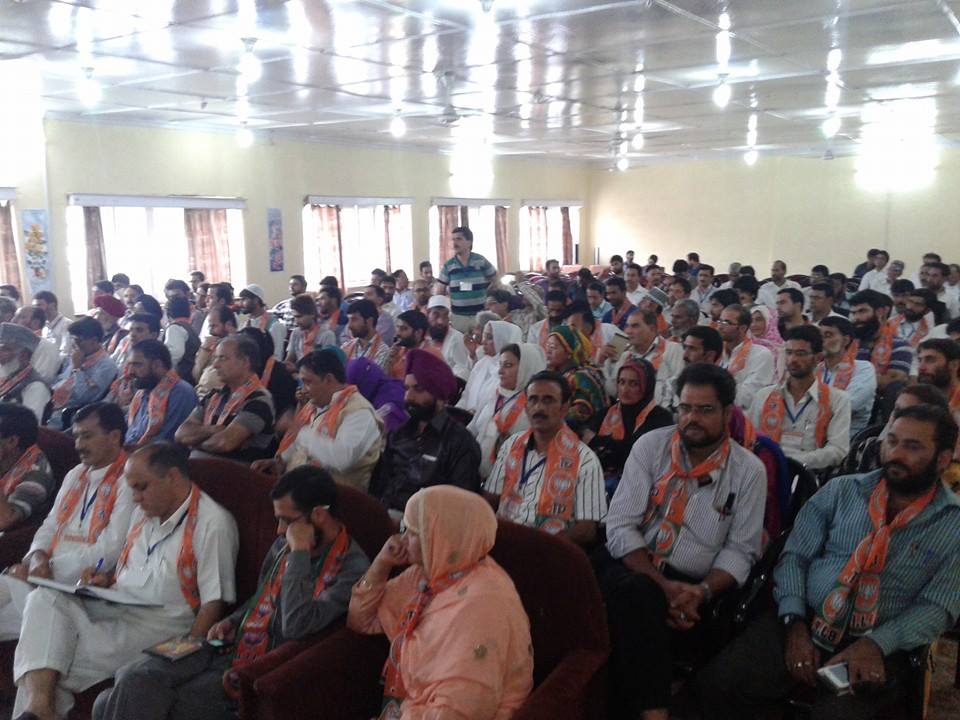 A party function of workers.
"Our formation of the government with PDP is the most positive thing that has happened for our party in Kashmir," Sofi Yousuf tells News18.
"It has eradicated all the lines of resistance for our party. Now for the masses BJP is no different than other parties — PDP, National Conference, Congress. What will matter now is the work that we put in for our party and for the public."
The claims of BJP workers seem to be at odds with the situation in Kashmir right now. Since July 2016, when militant Burhan Wani was killed, Kashmir has faced an unending cycle of violence.
Thousands have been injured and hundreds killed. Militancy is witnessing a spike. More local boys are picking up arms than at any other time in last several years.
There is a palpable anger among the masses against mainstream political parties, particularly the PDP — the party which asked for votes to keep BJP at bay, only to join hands with it after the state polls.
"Tariq Hameed Karra put it in the right perspective," says Altaf Thakur, BJP's Kashmir spokesperson, referring to the statement of former PDP leader who joined Congress.
"The BJP-RSS have now entered in every single part of the Valley, even in our bedrooms and for that, PDP was the unwitting facilitator," Karra had said recently.
According to the records at the BJP's Srinagar office, the party has some 3,50,000 active workers in the valley alone.
"Our stronghold is in south Kashmir," says Altaf.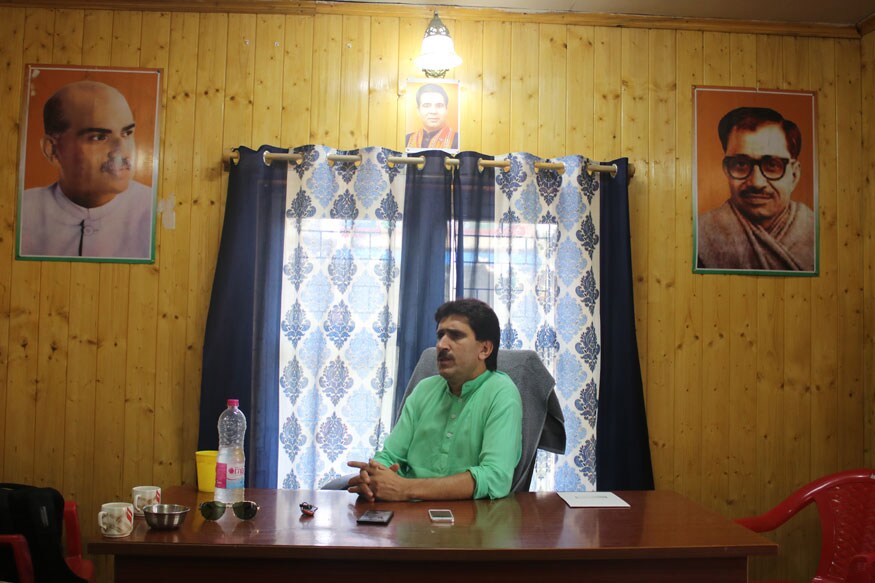 Altaf Thakur in Srinagar office of BJP (Photo: Mohammad Abu Bakar)
Since Burhan's killing, no mainstream party has been able to hold a public rally in south Kashmir. MLAs hardly visit their constituencies. When they do, under heavy security, their cavalcades are pelted with stones.
The situation might not be feasible but BJP is working silently with the upcoming elections in mind.
"I visit Pahalgam constituency twice a month, from where I am going to contest. I hold two to three meetings with my workers every month," says Sofi Yousuf, who is party's deputy-in-charge of the Kashmir and an old hand. "We don't believe in hue and cry. What matters is the work on the ground."
Pahalgam is one of the constituencies that the party is working very determinedly for.
"Those people who are well-off, they don't vote. But those who have been neglected, whose basic demands have not been fulfilled will come forward to vote," says Yousuf.
"I am an MLC and I am utilising my funds for these poor people. Why will they not vote for me?" he points.
In office, Yusuf shows list of active workers in his constituency. "I have 15,000 ground workers for whom development really matters."
In Anantnag district alone the party claims they have enrolled services of more than 40,000 active workers.
Mohammad Anwar, from Pahalgam, who is in his mid-forties joined BJP in 2014.
Anwar says he was earlier a worker of another party but joined BJP after looking at the work they were doing.
"They are working for us honestly. When our leaders talk with us they tell us about roads and other developmental works. How is this party wrong? There is corruption in other parties. We hardly get to see their leaders," he says.
When asked if he feels threatened, Anwar says if working for the people amounts to the threat to life, he is ready to face it.
In Kashmir, the BJP has opened offices in the unlikeliest of places. Recently, a party office was inaugurated in Tulail area of Gurez valley that falls near Line of Control (LoC).
Altaf and other local leaders are optimistic that in these situations they can win seats.
Javed Qadri, 34, is another leader from the Shopian area of south Kashmir. Most of the top leaders of the party have left their homes after facing threats while continuing to work for their party. But Qadri is among those who continue to work for the BJP while living at his home.
Javed Qadri during a rally.
"I am living under a huge security threat but then if everyone chickens out who will work for the people?" asks Qadri. His confidence, given the murder of a BJP worker in south Kashmir's Pulwama district just a few days ago, is remarkable.
One of his main tasks is to help youth arrested by police, to reclaim mobile phones snatched by security forces.
"People need someone who will work for them. I am confident that I am doing work of people and no one will harm me," he says, sitting in his house surrounded by 20 feet high compound walls.
In 2014 state elections, Qadri contested from the Shopian seat on a BJP ticket and came third. Not a mean feat.
"I got just two weeks before the election, but still managed to secure 12% votes. This time I have no doubt about my victory," says Qadri.
In the BJP's Srinagar office, party leaders seem to have set themselves a target of securing at least eight seats. "We are working on 20 seats right now. We are hopeful of bagging at least eight seats this time," says Altaf Thakur.
(This story is part of News18 special series on BJP's growing footprint in Jammu and Kashmir)
Get the best of News18 delivered to your inbox - subscribe to News18 Daybreak. Follow News18.com on Twitter, Instagram, Facebook, Telegram, TikTok and on YouTube, and stay in the know with what's happening in the world around you – in real time.
| Edited by: Sana Fazili
Read full article