Bodies of Two Missing Trekkers Found in J&K's Pahalgam
KAS officer Naveed Jeelani and Adil Shah of Alpine Group had fallen into the crevice while returning from a trek to the Kolahai glacier in Pahalgam following a rockfall.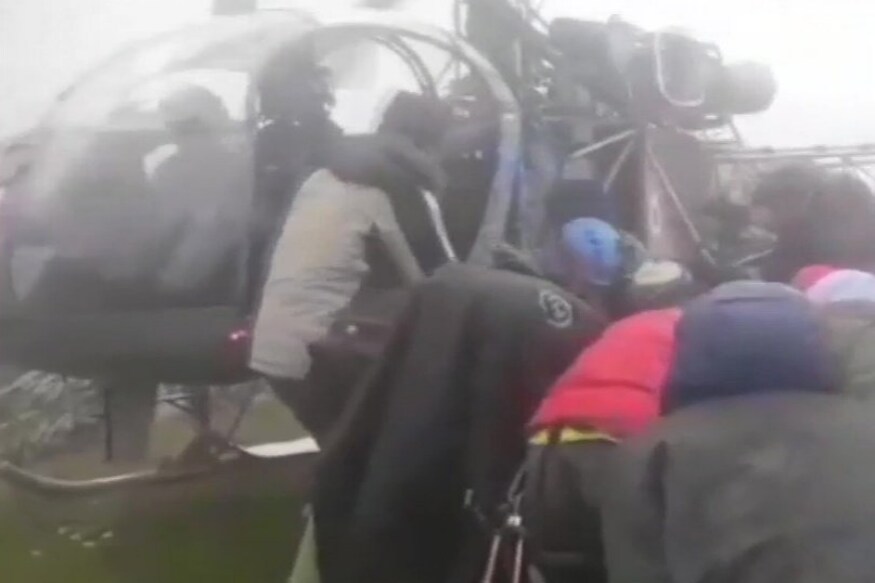 IAF along with local administration rescued a trekker who was injured after a trekking team was hit by rocks while descending from Kolahoi Glacier, Pahalgam. Two trekkers were killed in the incident. Image: ANI
Srinagar/New Delhi: The bodies of two trekkers who died after falling into a crevice at Pahalgam in Jammu and Kashmir's Anantnag district, were recovered on Sunday, officials said.
Two members of a group of trekkers had fallen into the crevice while returning from a trek to the Kolahai glacier in Pahalgam, following a rockfall on Friday, they said.
Naveed Jeelani, a junior-scale Kashmir Administrative Services officer, and Adil Shah, of Alpine group, were missing since then.
An operation to trace them was launched Saturday but had to be halted due to bad weather, officials said.
The operation resumed Sunday morning, following which the bodies were recovered and handed over to the families of the deceased, they said.
Another trekker, Hazik Mushtaq Beigh, who was injured, was undergoing treatment at a hospital here.
According to a statement issued by the Defence Ministry, Hazik was rescued in an operation involving two cheetah helicopters of the Udhampur based Hovering Hawks unit, overcoming inclement weather and inhospitable terrains.
The leader of the mission was Wing commander Vishal Mehta with flight lieutenant Mittal as the co-pilot.
"Upon reaching the site Wg Cdr Mehta realised that Hazik could not be winched (lifted) due to his serious injuries, so both helicopters flew to Awantipur and removed the side doors, picked up a guide enroute Lidru and reached the spot once again," the statement said.
The elevation of the place is 12,000 feet which added to the piloting difficulties of the helicopter.
Wing commander Mehta decided to find a small spot of flat land nearby and touchdown. After picking up Hazik, both the helicopters flew back to base.
| Edited by: Naqshib Nisar
Read full article