Bolly buzz: Tusshar, Celina get cosy; Bebo on promotion spree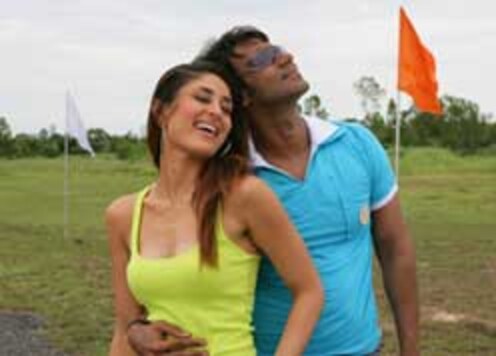 Kareena has been in regular touch with producers on the film's promotion.
Last Updated: October 15, 2008, 13:36 IST
FOLLOW US ON:
Celina Jaitly plays Mira Nair in Golmaal Returns
The hot Celina Jaitly is playing Mira Nair in the keenly anticipated Golmaal Returns! Not literally though!
Turns out that her character in the film is christened Mira Nair - she essays the role of a sizzling South-Indian to whom Ajay Devgan's character is attracted on a yacht!
Laughs Celina, "It's only my character name in Golmaal Returns and has absolutely nothing to do with Mira Nair, the filmmaker. On another note, I'd love to work with Mira! She's stunning and eloquent, and a marvelous film-maker!"
Golmaal Returns is out in cinemas worldwide on Wednesday, October 29. It is an Indian Films - Studio 18 release.
Kareena charged up about Golmaal Returns!
It's heartening to see actors taking a personal interest in the well-being and promotion of their films. Kareena Kapoor is surely going down the illustrious Aamir Khan route in ensuring that Golmaal Returns, her first release after Jab We Met, does not fall short of creating the magic it promises to create at the Diwali box office.
According to industry sources, even while shooting for Kambakth Ishq in Venice with Akshay Kumar, Kareena was in regular touch with the film's producers on the promotion of Golmaal Returns, which, in her opinion, is an out-and-out commercial family entertainer.
In fact, Kareena was very keen to have Pritam (her Jab We Met music director) compose the score of Golmaal Returns, which she voiced to the producers at the very outset. She even took an incredible amount of interest in listening to the songs after their recording and voicing her opinion. The result was a chartbusting soundtrack, including her Tu Saala Kaam Se Gaya number, which has become an overnight hit.
Upon her return to Mumbai from Venice on October 15, Kareena is said to have made herself available for the publicity of Golmaal Returns.
We're confident that her passion and sincerity will pay off when this keenly anticipated mega-comedy hits the cinemas on Wednesday, October 29.
It is an Indian Films - Studio 18 worldwide release.
Tusshar, Celina get cosy on the sets of Golmaal Returns
Another "good friendship" is said to have developed between two co-stars on the sets of the forthcoming comedy, Golmaal Returns.
Tusshar Kapoor and Celina Jaitly who met on the sets of the film in Goa and Bangkok appear to have hit it off so well that industry insiders are speculating whether there's more than what meets the eye!
Shortly after the two met, Tusshar approached Celina to do a sensuous item song for his home-production, C Kkompany. The two even came together to the premiere of Welcome To Sajjanpur and were spotted at the fashion show of Manish Malhotra, who is a common friend of the two.
If that isn't enough, the two have only recently been cast opposite each other in Neeraj Vora's Run Bhola Run, also starring Govinda and Ameesha Patel.
When quizzed, Tusshar diplomatically remarked, "Celina's a lovely girl and we got along really well on the sets of Golmaal Returns. Why just Celina? I got along very well with everyone on the sets. The unit of Golmaal Returns was a happy and fun family, which is very evident when you watch the film!"
On her part, said Celina, "Tusshar and I aren't opposite each other in Golmaal Returns but we had a great time on the sets. He's a great co-star and friend but there's nothing more to our relationship if that's what people are trying to imply."
Golmaal Returns is the year's most keenly anticipated comedy with Ajay Devgan, Tusshar Kapoor and Arshad Warsi reprising their roles and Shreyas Talpade reprising the role originally played by Sharman Joshi. Kareena Kapoor, Amrita Arora, Celina Jaitly and Anjana Sukhani (Salaam-e-Ishq) are new additions to the cast.
It releases worldwide on Wednesday, October 29 by Indian Films - Studio 18.
First Published: October 15, 2008, 13:36 IST
Next Story