BollyBuzz: Hangover to be remade in Hindi
Hollywood hit Hangover may get a Hindi twist to it.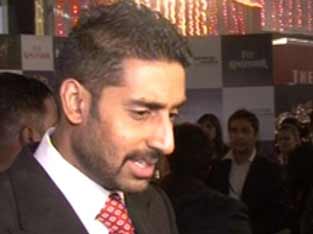 Hollywood hit Hangover may get a Hindi twist to it.
New Delhi: Will Delhi 6 be the only film in the race as India's entry for the Oscars? Did you know that Shweta Tiwari has packed her bags and left the jungle, quitting Iss Jungle Se Mujhe Bachao? And Hollywood hit Hangover may get a Hindi twist to it.
REMAKE OF HANGOVER
We all loved Hangover, but producer Firoz Nadiadwala loved it so much that he wants to remake it in Hindi. Though that might sound exciting, Anees Bazmee is directing the film. Also the suggested cast doesn't look so inspiring - Abhishek Bachchan, Sanjay Dutt, Riteish Deshmukh and Paresh Rawal.
ONLY ONE ENTRY FOR OSCARS - DELHI 6
News is that the Indian Motion Pictures Producers Association (IMPPA) has so far received only one request to recommend their film to the Film Federation of India as India's entry to the Oscars. Rakeysh Om Prakash Mehra's Delhi 6 is reportedly the only film that has approached the association for an Oscar entry. For a country which produces the highest number of feature films in the world, this is a new low.
NANDITA DAS IS CHAIRPERSON
After the likes of Hema Malini and Jaya Bachchan, actress and filmmaker Nandita Das will now take over as the chairperson of the Children's Film Society of India. While the I&B Ministry has confirmed that the actress has agreed to take up the position, Nandita who is currently in Durban for a film festival, was unavailable for comment.
SHWETA TIWARI OUT
While Nandita Das is in, Shweta Tiwari is out. According to reports, the television actress has quit the reality show Iss Jungle Se Mujhe Bachao to be back in Mumbai with her daughter. Shweta didn't want to continue living in the unhygienic conditions in the jungle and also found it a scary place. Is that a cue for the rest of the participants to stage a walk out? We will just have to wait and watch.
KATRINA MOST SEARCHED ON NET
According to the latest data gathered by Google, Katrina Kaif continues to be the most searched actress on the Internet in India. Kat is followed by Aishwarya Rai, Sania Mirza, Priyanka Chopra and Sachin Tendulkar. Surprisingly the Badshah of Bollywood, Shah Rukh Khan ranks 10th on the list. Stars like Hrithik Roshan, Aamir Khan and Amitabh Bachchan rank ahead of SRK.
Get the best of News18 delivered to your inbox - subscribe to News18 Daybreak. Follow News18.com on Twitter, Instagram, Facebook, Telegram, TikTok and on YouTube, and stay in the know with what's happening in the world around you – in real time.
Read full article