Deepika, Priyanka, Bebo to do action stunts
Bollywood babes perform their own stunts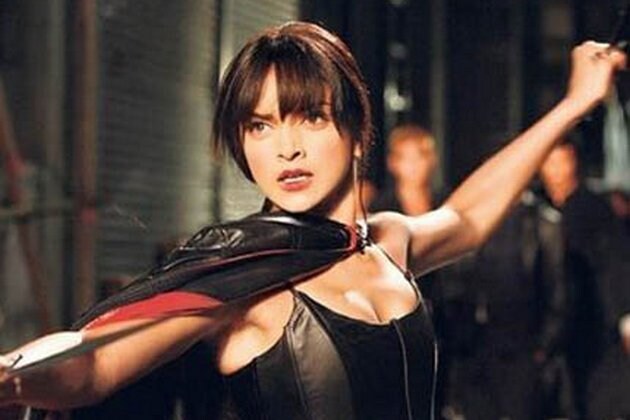 Bollywood babes perform their own stunts
For centuries, actors (read heroes) have been associated with action, fights and stunts. And everyone would agree that Akshay Kumar by far rules the roost in this genre. However, lately we have noticed that many Bollywood babes who predominantly used to sing and dance around trees and show skin have entered the action field and have no qualms about doing the stunts themselves without even using a body double. Take a look at some of the hot B'wood babes who've managed to ace this.
Deepika Padukone
The sports lover, Deepika Padukone may seem all coy and delicate but the truth is far from one's imagination. The actress, in fact, is currently shooting action sequences for her upcoming film, Lafangey Parindey a Yash Raj Films production, starring Neil Nitin Mukesh opposite her. Deepika apparently plays a tomboy wearing leather jackets, jumping high walls, doing somersaults and riding bikes as well. News is that she trained and did most of the stunts by herself without actually using a double. Now that's indeed action. She had also learnt the basics of Kung Fu for her film, Chandni Chowk to China opposite Akshay Kumar.
Priyanka Chopra
The daring babe, Priyanka Chopra has done action sequences and trained really hard for them in a couple of films now. Sports and action keeps her adrenalin running. Her action sequence in Drona was spectacular. In case you haven't seen the film, you shouldn't miss the scene where Priyanka does a fight atop a running train moving at 70 kmph. Wow! She even did somersaults from one bogey to the other. Priyanka she will soon be seen in Farhan Akhtar's Don 2 where she is rumoured to be doing more action sequences.
Kareena Kapoor
Saifeena are coming together in a film produced by Saif Ali Khan himself, titled Agent Vinod. The film has Kareena playing a secret agent. In an interview, Saif had said that Kareena would be doing hard core action sequences in the film. Darling Bebo has already done action in Asoka where she learnt how to sword fight. Now that is indeed commendable.
Aishwarya Rai Bachchan
Aishwarya had done small-time action sequences in Yash Raj's Dhoom 2 although most of the parts were done by a stunt double. In Ashutosh Gowarikar's Jodha Akbar, Ash apparently learnt sword fighting, and had managed to master it even before Hrithik Roshan and Sonu Sood could imagine. Ash is a known face worldwide and has done a couple of Hollywood films. In The Last Legion where Aishwarya plays a Byzantine warrior, she has performed some bold action stunts which have been really commendable, state her co-actors in various interviews.
Shruti Haasan
Like father like daughter. Shruti Haasan looks like she is following her father Kamal Haasan's footsteps. The one-film-old Shruti has managed to get great comments about her daredevil stunts in Luck. She learnt and performed karate and other martial arts for the film. In addition to that, in one of the sequences she jumped off a flying plane straight into the sea. Mind blowing!
Nandana Sen, Neeru Singh, and Aruna Shields
The action thriller, Prince starring Vivek Oberoi as the main lead will face tough competition with his co-stars doing equally tough action sequences. All three, Nandana, Neeru and Aruna play the character of Maya in Vivek Oberoi's life but only one of them is saying the truth. Each one of them has a unique style of approach and their appearance and style depict that. But whether this works or not only time can tell.
Till then, all the best to all these daring ladies performing stunts.
PHOTO GALLERY: Bollywood Films with Best Stunts
Get the best of News18 delivered to your inbox - subscribe to News18 Daybreak. Follow News18.com on Twitter, Instagram, Facebook, Telegram, TikTok and on YouTube, and stay in the know with what's happening in the world around you – in real time.
Read full article