Bolt times 19.66 to take Diamond League 200m
Bolt playfully shivered for the television cameras at the starting line, then timed the fastest half-lap race ever seen in Zurich.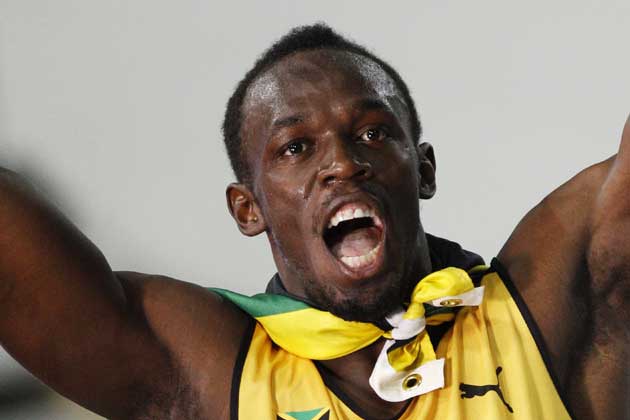 Bolt playfully shivered for the television cameras at the starting line, then timed the fastest half-lap race ever seen in Zurich.
Zurich: Usain Bolt and Yohan Blake both set Weltklasse meeting records despite rain and cold winds at the Diamond League event on Thursday.
The hottest star attractions in athletics continued to fulfill their post-London Olympics plan of dividing the glamor sprints between them — and making fast times seem routine.
Bolt playfully shivered for the television cameras at the 200 meters starting line, then timed 19.66 seconds in the fastest half-lap race ever seen in Zurich.
"Running after the Olympics is much more fun, it is less stress. The fans make me enjoy it," Bolt said.
Earlier in the 100, fellow Jamaican Blake blazed to a dominating victory in 9.76, after Tyson Gay of the United States was disqualified for a false start.
There was a major surprise in the 800 as Olympic champion David Rudisha was beaten by Mohammed Aman of Ethiopia. Rudisha was targeting the world record he set at the London Games but said he was unsettled by the poor weather.
Bolt is no lover of the cooler European climate, yet still set a record for the high-class Weltklasse meeting which has long called itself "the Olympics in two hours."
The triple Olympic gold medalist was only a meter clear of Nickel Ashmeade in the final straight then muscled through to widen the gap.
"I paced myself in the curve. I'm happy to achieve a sub-20 time but I did not want to push my body," Bolt said.
Bolt's 19.66, without a following wind, was .13 faster than Wallace Spearmon of the U.S. ran here two years ago. He also pulled through Ashmeade — who could not even make the Jamaican Olympic team at 200 — to a personal best of 19.85.
Blake ran perhaps a technically better race than Bolt, and used a chilling 1.4 meter per second wind to accelerate clear of Olympic relay teammate Nesta Carter, who finished second in 9.95.
"Bad weather cannot stop me. Next year, I can be even better," said Blake, who will defend his 100-meter world title in Moscow next August.
The 22-year-old Blake ran .01 faster than Asafa Powell here in 2006, which was good enough then to equal Powell's own world record.
Bolt will complete his season over 100 next Thursday when Brussels hosts the second half of the Diamond League finals. Blake goes in the 200 there.
Rudisha arrived at Zurich with the stated aim of lowering the 1 minute 40.91 world mark he set on a warm London evening three weeks ago.
In swirling winds and steady rain, Rudisha was paced through the first lap but could not distance Aman on the back straight and was headed coming off the final bend.
"My legs felt tired and I cannot run good if the weather is not good," Rudisha said. "The race was good, really. It was the rain that stopped me."
The Ethiopian winner timed 1:42.53 to take two-thirds of a second off his personal best set when placing sixth in the Olympic final.
"Hopefully next year I will beat the world record," Aman said.
In the women's 100, two-time Olympic champion Shelly-Ann Fraser-Pryce of Jamaica reasserted her authority over Carmelita Jeter following two defeats to her American rival in the past week. Fraser-Pryce was fast out of the blocks and never looked troubled as she crossed the line in 10.83, with Jeter timing 10.97.
Olympic 400 champion Sanya Richards-Ross of the U.S. extended her season-ending good form, winning in 50.21, and Dawn Harper crossed in 12.59 to lead an American podium sweep in the 100 hurdles.
Long jump gold medalist Brittney Reese retired after two attempts on injuring her left ankle, and will stop for the season.
"I had a stress fracture and it aggravated here. Now I am just ready to go home and rest," Reese said.
A final-round triple jump of 17.29 meters lifted Fabrizio Donato of Italy past Olympic champion Christian Taylor of the U.S. by 13 centimeters.
American Angelo Taylor won the 400 hurdles, with Olympic gold medalist Felix Sanchez of the Dominican Republic in fourth. Frenchman Renaud Lavillenie won the pole vault
The Weltklasse meet began Wednesday with shot put events at the main rail station in downtown Zurich, won by Reese Hoffa of the U.S. and Olympic champion Valerie Adams of New Zealand. Adams set a meet record of 20.81 meters, beating the old mark set by disgraced Belarus athlete Nadezhda Ostapchuk who was stripped of the London Games gold medal for doping.
Get the best of News18 delivered to your inbox - subscribe to News18 Daybreak. Follow News18.com on Twitter, Instagram, Facebook, Telegram, TikTok and on YouTube, and stay in the know with what's happening in the world around you – in real time.
Read full article