Boney Kapoor: It was love at first sight with Sridevi
Boney met Sridevi for the first time on the sets of 'Mr India' and it was like a dream come true moment for him.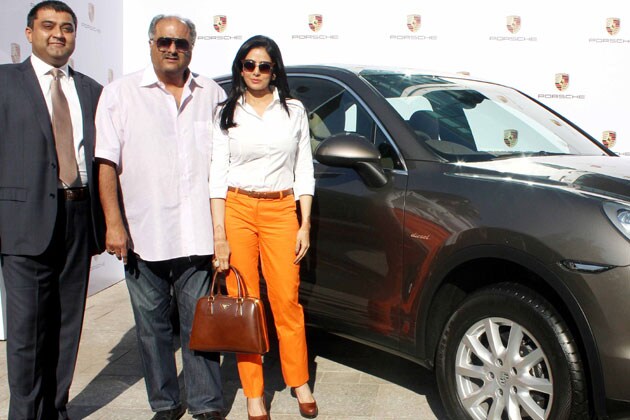 Boney met Sridevi for the first time on the sets of 'Mr India' and it was like a dream come true moment for him.
New Delhi: For Boney Kapoor it was love at first sight when he saw Sridevi on-screen and his dream moment came on the sets of 'Mr India' when she spoke to him in her 'broken Hindi and English'.
The couple tied the knot in 1996, almost a decade after the much-acclaimed superhero film was released.
Recalling his romance with the screen diva, Boney, 57, said at the India Today Woman summit and awards event here that he still enjoys talking about his love story.
"This is something which I enjoy talking about but she does not allow me to do. I relive the moments of falling in love with her by sharing this story."
"First time I saw her on-screen was in late 70s in a Tamil film and I decided to cast her in my next film. We were planning a film with Rishi Kapoor those days. Since, Rishi didn't have time, I thought I should check with the actress once and travelled all the way to Chennai."
"I got to know that she was shooting in Singapore but she never got off my mind," Boney told the curious gathering, as Sridevi blushed and tried to interrupt him for 'sharing too many details'.
"I met her for the first time on the sets of 'Mr India' and it was almost like a dream come true moment for me. The few words that she spoke in broken Hindi and English they touched me. I got more curious about her. I used to take care of her on the sets and ensure that she gets the best service like the best make-up room and costumes."
He also recalled that the 'English Vinglish' star was one of the highest paid actresses of Indian cinema and shared how he inked the deal with her mother to get Sridevi on board for 'Mr India'.
"I again travelled to Chennai to meet her mother because that time Sridevi's commercial decisions were taken by her. She quoted Rs 10 lakh for her daughter but since I was bowled over by her beauty that I fixed the deal at Rs 11 lakh. Her mother must have thought I am a mad producer from Bombay," he said.
It was a tough moment for Boney because he was already married to Mona, who died last year due to cancer.
"With every meeting I was more and more affected by her. I was married then and confessed to my wife that I am in love with her. I couldn't hold myself back. Every given opportunity I got I made sure that she feels there is somebody who is concern about every bit of thing she desired and asked for," he said.
Sridevi, 49, and Boney have two daughters, Jhanvi and Khushi.
Get the best of News18 delivered to your inbox - subscribe to News18 Daybreak. Follow News18.com on Twitter, Instagram, Facebook, Telegram, TikTok and on YouTube, and stay in the know with what's happening in the world around you – in real time.
Read full article