Border Situation Worse Than 90s, Say Uri Locals as Shelling Continues to Pound LoC Villages
The Army said that around a dozen villages along the LoC in Uri have been targeted by Pakistani shelling since Thursday, forcing many families to flee. Villagers say, the Indian Army is "effectively retaliating" the firing.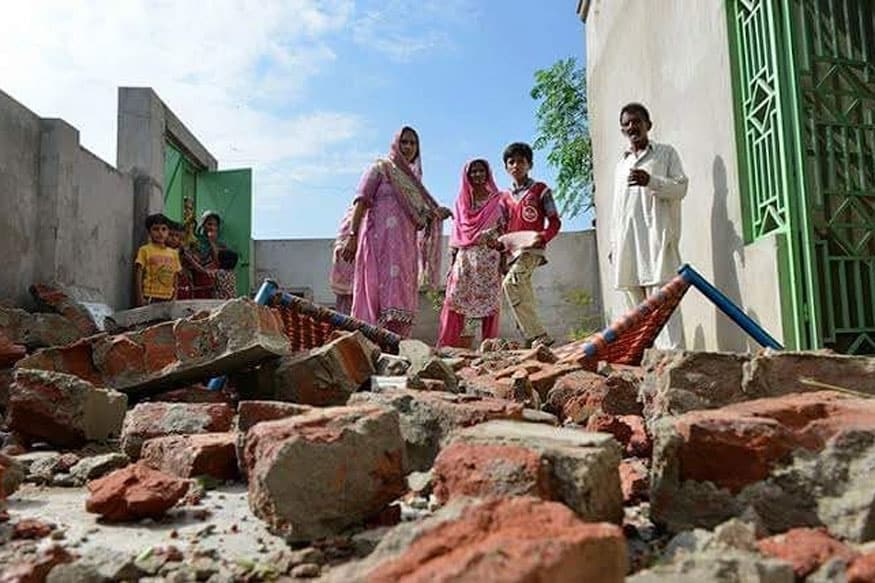 A destroyed house near the LoC after heavy shelling from the Pakistani side of the border. (File Image: News18)
Uri: It took a while for Mohammad Irshad, a middle-aged man, to realise that the continuous roaring noise in his village Silikote, near the LoC, was that of gunshots. He had dismissed the first few shots like an everyday affair but when the firing continued and became intense, it dawned on him that perhaps the pre-ceasefire era had returned to torment the border villages of Uri.
His fears soon turned true as villagers of seven LoC hamlets soon had to abandon their houses and take shelter in a school building in Uri's main town and it's already been five days since then.
Irshad said the firing on Thursday morning was unexpected. There has been a ceasefire in the Hajipir Mountains since November 2003 when the Indian and Pakistani armies decided to give "peace" a chance in these border areas where Kashmir has been divided into two.
He said he could not move when the firing intensified in his village Silikote. It soon spread to the neighbourhoods of Balakote, Hatlanga, Shoura, Tilawari and Churanda. Irshad told News18 that the firing started at 8am on Thursday when he, along with his wife and children, was preparing for the 'noon chia' (salted pink tea).
"It was raining heavily but we rushed out of the house and hid ourselves behind the boulders. We remained there for half an hour and then reached Uri town," he recalled, adding that some of the other villagers could not even wait to wear slippers.
"Lag raha tha qayamat barpa ho rahi hai (it seemed like it was the doomsday)," he said. "But thank God everyone is alive. But I have not been able to find out what happened to the cattle as the firing continued. Today, there was some lull," Irshad added.
Irshad and his family of six are putting up at a government higher secondary school in Uri, where hundreds of displaced villagers have joined them. Authorities and philanthropic organizations are providing food to these villagers.
Gas heaters, blankets, quilts and mattresses have also been laid out in the rooms to accommodate the women and children who look tired and petrified.
"Villagers told us that there are hundreds of people who could not come out of their homes because they did not get the time. I guess hundreds are still trapped in Hatlanga, Balkote and Shoura, but now they have moved to safer places behind the mountains. Even the Army has taken shelter in some homes," the sheltered villagers said.
"The LoC have been fenced by the Army in such a way at places that some residents have been left outside and they will have to cross a gate that is manned by the Army. These people are at a disadvantage to move to safety when there is firing," a villager said.
Mohammad Yousuf of Balkote village said inmates from the 12 houses outside the fence were trapped and could not move due to non-stop firing.
"We tried to bring them out on Saturday when some villagers from here went up to feed the cattle, but the Pakistani troops fired several rounds and the villagers are still struck," Yousuf said. He even displayed a piece of shell and a few bullets to officials.
"However, this is for the first time that have I noticed Pakistani troops using loud speakers to warn civilians to get out of the villages. The situation is very bad this time. It is much worse than in the early 90s," said Lal Hassan Kohli of Churanda village.
The Army said that around a dozen villages along the LoC in Uri have been targeted by Pakistani shelling since Thursday, forcing many families to flee. He said that the Indian Army is "effectively retaliating" the firing.
Brigadier YS Ahlawat of the 12 Indian Infantry Brigade told mediapersons in Uri that the Pakistani Army has been continuously violating the ceasefire and has been indiscriminately using shelling to target civilians.
Barring a few incidents of fidayeen attacks and the Army going after infiltrators over the last few years, Uri has remained largely peaceful with Indian and Pakistani troops restraining themselves. As compared to Uri, the border areas in Poonch and Rajouri on the other hand have faced more pounding on both sides, almost every day. The international border (IB) in the Jammu plains also sees a lot of action.
Last year, the Union Home Ministry said that close to 900 ceasefire violations had been recorded along the LoC and IB while within the first 45 days of 2018, ceasefire has been violated by Pakistani troops on 220 occasions. The Indian Army has said that the unprovoked firing is mostly to provide cover to the infiltrating militants who move along the LoC.
Get the best of News18 delivered to your inbox - subscribe to News18 Daybreak. Follow News18.com on Twitter, Instagram, Facebook, Telegram, TikTok and on YouTube, and stay in the know with what's happening in the world around you – in real time.
| Edited by: Sanchari Chatterjee
Read full article