Boss: 3 credit sequences, 2 supermen, 1 messed up father
Aditi Rao Hydari's dripping red bikini is the only moment she captures the audience's attention.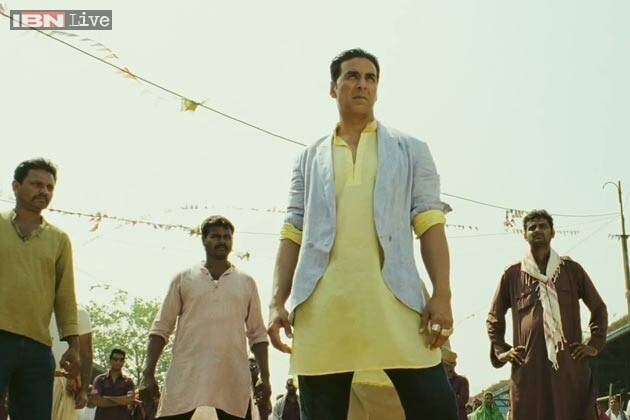 Aditi Rao Hydari's dripping red bikini is the only moment she captures the audience's attention.
New Delhi: The 'shehanshah' of six-pack abs is back on the screen with 'Boss' or at least the makers claim so. It's a film that thrives both on Akshay Kumar's action hero image and his recent success in comedy films. Director Anthony D'Souza has given Akshay Kumar a free hand to interpret his role in whichever way he wants and this results in something quite interesting.
Very rarely we see a film with two credit sequences, especially in recent times when filmmaking has improved technically. However, too much jazz inside the director's mind has given birth to an extra credit sequence, the third one in this film.
Minutes into the film the audience accepts Akshay as the boss, so what exactly was the need of bombarding them with knuckle punches? You of course know what I mean. I should warn you that there could be some spoilers ahead, so proceed at your own will.
What Akshay Kumar says to Shiv Pandit in one of the laughter worthy scenes is actually true for other departments of the film as well. Akshay to Shiv: "Tum newcomers ki yahi problem hai. Dialogue bol nahi paate aur hero ban ne chahte ho," or something to the effect. Shiv Pandit probably took this too seriously and managed to pass the litmus test but the same can't be said about other actors. Even veterans like Sanjay Mishra and Parikshit Sahni looked helpless in absence of a good storyline. But, if there is one person who is at the maximum loss in 'Boss', it's our very own Mithunda.
Mithun Chakraborty has been turned into a caricature in 'Boss' as a father who loathes his son's criminal liaisons without realising that the sweet little son is trying to protect him. In Danny's words, 'Wo tumhara beta nahi baap hai.' Come on, Mithun deserved something better than this AK Hangal-ish character. As if the role itself was not challenging enough, D'Souza introduces dialogues like 'Beta behra, baap langda,' and you guessed it right, Mithun is made to fall on the ground which ironically doesn't generate any empathy.
You remember the time when Mithun used to do at least two films in a month, Akshay is a modern version of that Mithun. Doing similar films after every third month always has the risk of being repetitive but who seems to care? If 'Rowdy Rathore' can work then this film should also work. Especially, when Prabhudeva has made a guest appearance in it. Boss, let me tell you something, you are not always right. If the audience has really become smart, as you say in a very matter of fact tone in your interviews, then they will demand more films like 'OMG' and 'Hera Pheri'. Box-office pressure is understandable but how can one be sure of a film's success which is a mash-up of several films. The same thumping shoes, aerial stunts and frozen cameras. It's really high time to try something new.
Ronit Roy doesn't project his voice like every second actor in 'Boss' and that saves him. In fact, he is the one to look out for in the film for all the simplicity and straight forward dialogue delivery. However, the writers Sajid-Farhad have left no stone unturned in transforming Roy into a superman. An ACP who aspires to be the commissioner and thus doesn't hesitate in arm-twisting the home minister, played by none other than Govind Namdev. This must be his 100th mantri role.
Anyway, Ronit Roy and Akshay Kumar fight in a huge barren land with swagger where each of them comes from under the water surface to flaunt their tattoos and combat skills. The villain is so convincing that it seems the hero is made to win the battle.
Aditi Rao Hydari's dripping red bikini is the only moment she captures the audience's attention. If this was the purpose of her character then she should have been made to do this at least twice. And then there are jokes such as this: What would you call a truck gifted to you by your sister? Answer: 'Behan Ki Lorry'.
It is also quite a sight to watch Yo Yo Honey Singh dancing with a girl on his shoulder.
All these things together make the life difficult for the audience. They had to say, Boss, bhagwan ke liye maaf kar do please, and he would just laugh in his typical way, haan, haan haaannn.
####
Get the best of News18 delivered to your inbox - subscribe to News18 Daybreak. Follow News18.com on Twitter, Instagram, Facebook, Telegram, TikTok and on YouTube, and stay in the know with what's happening in the world around you – in real time.
Read full article