Boxer Darren Sutherland found dead at home
Sutherland had won a bronze medal for Ireland at the Beijing Olympics.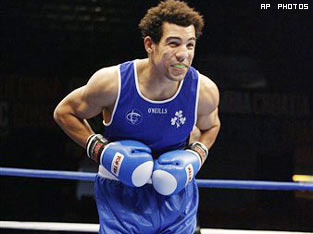 Sutherland had won a bronze medal for Ireland at the Beijing Olympics.
London: Darren Sutherland, a boxer who won a bronze medal for Ireland at the Beijing Olympics, was found hanged at his home. He was 27.
Frank Maloney, his manager, discovered the body of the fighter on Monday and was so unnerved he was admitted to a hospital.
Sutherland was unbeaten in his first four pro fights and was to have appeared with Maloney at a news conference on Tuesday to talk about his next bout on October 16.
The Metropolitan Police said Sutherland was pronounced dead in the mid-afternoon. Police said his death was not being treated as suspicious, a suggestion that no one else was involved.
Maloney, who once managed former heavyweight champion Lennox Lewis, was taken to a hospital. Tests revealed the 55-year-old manager had a heart attack, but it was not clear if the attack happened before Monday's events. He was expected to remain in the hospital for a few days, and doctors are allowing him to work on his laptop.
Olympic middleweight champion James DeGale, who beat Sutherland in Beijing, paid tribute to his former rival.
"He had an Olympic bronze medal and his whole life to look forward to," the Englishman said. "He had a great future and my heart goes out to everyone who knew him."
Barry McGuigan, a former featherweight champion from Ireland, said Sutherland had the ability to win a world title.
"It is an absolute tragedy," he said on Tuesday. "I would describe Darren as a phenomenal talent. He represented his country with pride as an amateur and I believe he would have become a world champion in the professional ranks one day."
Sutherland's death is the latest blow to boxing, with three former champions all dying violently in July: Alexis Arguello, Arturo Gatti and Vernon Forrest.
Arguello, the 57-year-old mayor of Managua, died in his Nicaragua home and police suspect he shot himself in the chest. Gatti, 37, was found dead at a Brazilian resort in what police ruled a suicide by hanging. Forrest, 38, was shot to death in Atlanta after he chased a man who robbed him.
Read full article