BR desecration: Cops fire at protest
Desecration of a statue of BR Ambedkar in Marathwada region has sparked off fresh protest and violence.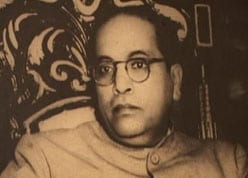 Desecration of a statue of BR Ambedkar in Marathwada region has sparked off fresh protest and violence.
Mumbai: At least 12 people were injured in police action when the cops used force and opened fire to disperse a group of protesters who were demonstrating against the alleged desecration of a statue of BR Ambedkar at Kanhaiya Nagar in Jalna city of Marathwada region on Tuesday.
Three of the injured suffered bullet injuries in the police firing. Curfew has been clamped in the areas after the incident. The police claim they were still trying to identify those responsible for the alleged vandalisation of the statue.
The protests began early in the morning when the locals in Kanhaiya Nagar discovered that the statue of Ambedkar had been garlanded with chappals. Activists of various Dalit groups immediately came out on the streets to protest against the alleged desecration.
Police used batons and opened fire to disperse the crowd, resulting in injuries to at least 12 people. Curfew was imposed in Kanhaiya Nagar area since 0830 hours, Jalna's Superintendent of Police Chiranjeevi Prasad said. The situation in the area is peaceful, he said.
Two of those who suffered bullet injuries were taken to a hospital in Aurangabad while the third person is recuperating in Jalna. The condition all three is stated to be stable. A company of State Reserve Police was deployed in the area to maintain law and order.
"We are confident of identifying those who were behind the mischief," Prasad said. The police also firmed up security arrangements in Aurangabad following the desecration of the statue in Jalna.
Earlier in December 2006, similar protests and violence had erupted in Aurangabad over the alleged desecration of an Ambedkar statue in Kanpur.
(With agency inputs)
Get the best of News18 delivered to your inbox - subscribe to News18 Daybreak. Follow News18.com on Twitter, Instagram, Facebook, Telegram, TikTok and on YouTube, and stay in the know with what's happening in the world around you – in real time.
Read full article