Bribery case hangs over Formula One boss Ecclestone
A German bribery trial that opens next month in Munich will decide the fate of Bernie Ecclestone.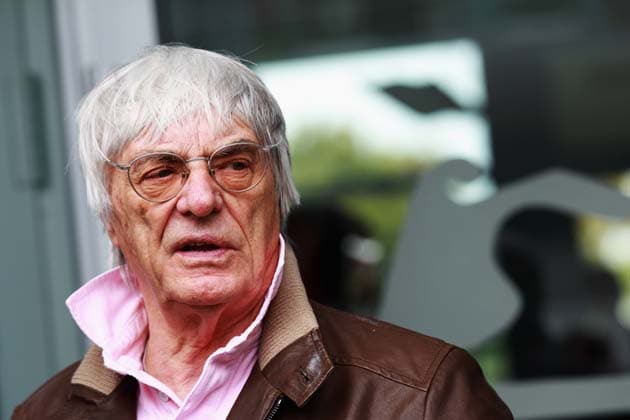 A German bribery trial that opens next month in Munich will decide the fate of Bernie Ecclestone.
London: A German bribery trial that opens next month in Munich will decide the fate of Bernie Ecclestone, the 83-year-old Briton who has turned Formula One into a huge global business over the last three decades.
The looming trial and the damning conclusions of a British judge in a damages case last month have sparked a fresh bout of speculation that Ecclestone's long reign is drawing to a close.
The billionaire has sent out mixed messages. He told Reuters last month that it was business as usual but struck a more downbeat note with the Financial Times this week when he conceded that the German trial would divert his attention and talked of grooming a successor.
Private equity group CVC, the largest shareholder in Formula One with a stake of 35 percent, has said it will fire Ecclestone if he is found guilty of wrongdoing. Ecclestone says he will fight to clear his name in the German case which stems from a deal eight years ago when CVC bought into Formula One.
Despite his age and legal problems, there is no obvious successor to Ecclestone and his departure would almost certainly lead to a change in structure with power more evenly spread across a broader executive team.
Red Bull boss Christian Horner is seen as the most likely replacement but he has played down the speculation. Premier League chief executive Richard Scudamore and outgoing Sainsbury boss Justin King are other people who have been linked with the role.
A former used car salesman and team owner, Ecclestone will be a tough act to follow when he does step aside. The sport has a unique business model, with the rights owner earning fees from circuit owners, television deals and sponsors for annual revenues of around $1.5 billion.
Ecclestone has been adept at tapping into emerging markets like China, the Middle East and Russia - the latter due to join the calendar this season with a race in Sochi. Although Ecclestone remains in day-to-day charge of Formula One, he has stepped down as a director pending the outcome of the German trial which is expected to last until September, with the court sitting two days each week.
He also faces closer supervision from leading figures on the Formula One board who must now sign off on major contracts. The bribery trial has its roots in a deal in 2005 when private equity group CVC bought a 47 percent stake in Formula One from German bank BayernLB BAYLB.UL.
Ecclestone is accused of bribing former BayernLB chief risk officer Gerhard Gribkowsky to steer the sale towards CVC which wanted to keep him on as chief executive. Gribkowsky has been jailed for taking a $44 million payment from Ecclestone and his family trust.
Ecclestone says he paid Gribkowsky because the banker was threatening to make false claims about his tax status. A British judge last month dismissed a $100 million damages claim brought against Ecclestone by a German media firm over the CVC deal.
Although he won the case, Ecclestone did not emerge completely unscathed. Judge Guy Newey said he was part of a "corrupt agreement" with Gribkowsky and that he could not be regarded as a reliable or truthful witness.
The uncertainty over Ecclestone's future makes it hard to revisit stalled efforts for a stock market listing of the business. With that exit route for CVC closed, media reports last month said U.S. groups Liberty Global and Discovery Communications had approached it about buying a major stake.
Get the best of News18 delivered to your inbox - subscribe to News18 Daybreak. Follow News18.com on Twitter, Instagram, Facebook, TikTok and on YouTube, and stay in the know with what's happening in the world around you – in real time.
Read full article