Britain refuses Assange safe passage to Ecuador
British Foreign Secretary William Hague said UK will continue to seek Julian Assange's extradition to Sweden.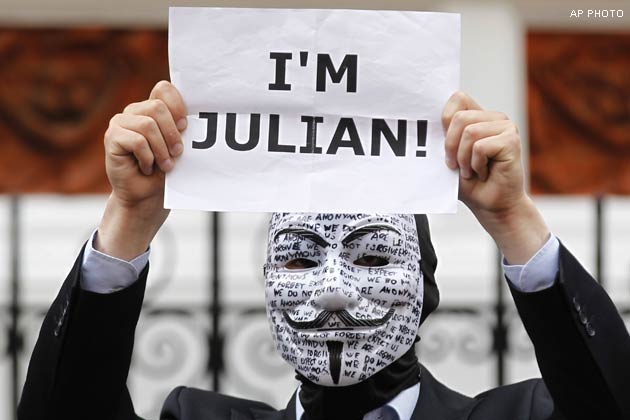 British Foreign Secretary William Hague said UK will continue to seek Julian Assange's extradition to Sweden.
London: Britain will not allow Julian Assange safe passage out of the country, Foreign Secretary William Hague said after Ecuador granted the Wikileaks founder political asylum.
British authorities will continue to seek Assange's extradition to Sweden, Hague said on Thursday.
"Assange having exhausted all options of appeal, the British authorities are under a binding obligation to extradite him, Xinhua quoted the foreign secretary as saying.
"We must carry out that obligation and, of course, we fully intend to do so," Hague said at a press conference.
"We will not allow Assange safe passage out of the UK, nor is there any legal basis for us to do so," Hague added.
He argued that Britain is not a party to any legal instruments that require it to recognize the grant of diplomatic asylum by a foreign embassy in the country.
The British Foreign Office expressed disappointment after Ecuador announced its decision to grant Assange political asylum earlier Thursday.
Ecuadorian Foreign Minister Ricardo Patino said the country believed Assange's fears of receiving unfair trial and eventually being extradited to the US are legitimate.
Hague said Britain does not accept the principle of diplomatic asylum and has "painstakingly explained the extensive human rights safeguards built into our law".
"It is important to understand that this is not about Assange's activities at Wikileaks or the attitude of the United States of America.
"He is wanted in Sweden to answer allegations of serious sexual offences," Hague said.
Britain's Supreme Court dismissed Assange's appeal on May 30, paving the way for his extradition to Sweden over alleged sex crimes.
Assange took refuge at the Ecuadorian embassy since June 19 to avoid extradition.
The 41-year-old Australian who founded the Wikileaks website has embarrassed several governments, including the US, by publishing secret diplomatic cables on the internet.
Since his arrest in Britain in December 2010, Assange fought a lengthy legal battle against extradition.
He fears that his return to Sweden would eventually lead to his extradition to the US to face the anger of the authorities over his publishing of the diplomatic cables.
Get the best of News18 delivered to your inbox - subscribe to News18 Daybreak. Follow News18.com on Twitter, Instagram, Facebook, Telegram, TikTok and on YouTube, and stay in the know with what's happening in the world around you – in real time.
Read full article