Broke for 1.5 Years Now, Say Insiders as Cash-Strapped HAL Borrows Rs 1,000 Crore to Pay Salaries
Sources in Hindustan Aeronautics Limited say the amount borrowed is unlikely to last more than a month or two, after which the PSU might have to borrow money again.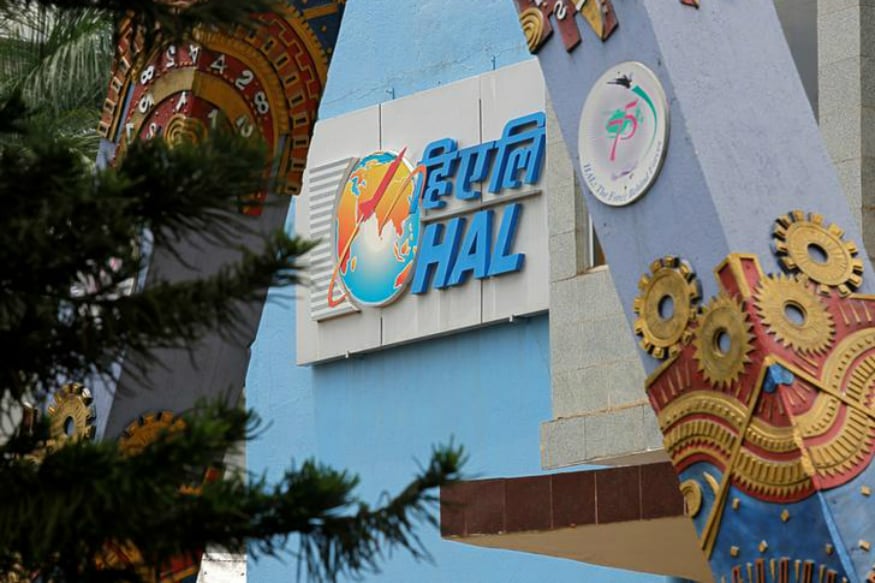 The logo of Hindustan Aeronautics Limited (HAL) is seen on the facade of the company's heritage centre in Bengaluru. (Reuters)
New Delhi: A news report published on Saturday highlighted how the defence PSU Hindustan Aeronautics Limited (HAL) has had to borrow money for the first time in last 20 years to pay for salaries and meet some urgent expenses.
The report quoted HAL CMD R Madhavan saying, "Our cash in hand is in the negative, we've had to borrow close to Rs 1,000 crore as an overdraft (OD). By March 31, we'll have minus of Rs 6,000 crore, which becomes unsustainable. We can borrow for day-to-day work, but not for project purchases."
Confirming the same, sources in the HAL told News18 that "the situation has been deteriorating for the last one-and-a-half years."
A source also added that the amount of Rs 1,000 crore borrowed is unlikely to last them more than a month or two, after which it might have to borrow money yet again. This would be unprecedented in HAL's history.
A highly placed source told News18 that HAL had brought, more than once, the issue of rapidly depleting financial resources of HAL "before the highest authorities" but nothing had been done to help the PSU whose account books are turning red.
"HAL's financial reports are in the public domain, so we understand that everyone was taking note of the situation, but the matter was still brought before the highest authorities in a recent meeting," said a source.
One of the biggest reasons for HAL's rapid decline is that its biggest customer — the Indian Air Force — hasn't paid up outstanding dues of Rs 14,500 crore. The total pending dues to HAL are likely to go up to Rs 20,000 crore by March 31. Apart from the Air Force, Coast Guard, Navy and Army are other clients of the HAL.
"These are for the orders we have already delivered. This is not an advance or anything, just to be clear," the source told News18.
The amount of Rs 1,000 crore borrowed by HAL will be used to pay for the salaries of its employees (Rs 358 crore), and for some procurement of some equipment that HAL needs to make on an urgent basis.
"We received an amount of Rs 2,000 crore from the Air Force recently. But this isn't enough to meet our requirements. This is a very small amount compared to the size we operate on. So yes, unless some more money comes to us, we will be forced to borrow money again," said the source.
That the Indian Air Force is severely cash strapped is not news. Last year, the Standing Committee of Parliament on defence noted that Air Force, which had asked for Rs 1,14,526, had been allocated only Rs 65,891. So severely were its finances hit by the meagre amount allocated in the budget that in its submission to the Standing Committee, the Air Force had said that it "may not be able to make tranche payments (akin to EMIs) for its past purchases in fiscal 2018-19, as adequate resources haven't been allotted by the finance ministry," according to one news report.
In his deposition to the Parliamentary Standing Committee on Defence, the Vice Chief of Army Staff Lt General Sarath Chand was quoted saying that the "budget of 2018-2019 has dashed our hopes and most of what has been achieved has actually received a little setback".
Get the best of News18 delivered to your inbox - subscribe to News18 Daybreak. Follow News18.com on Twitter, Instagram, Facebook, Telegram, TikTok and on YouTube, and stay in the know with what's happening in the world around you – in real time.
| Edited by: Nitya Thirumalai
Read full article