Bru Repatriation: MBDPF Pull Out of Agreement Even as Mizoram Prepares for Homecoming
Mizoram government says it is unfortunate of the Bru people to be making 'demands after demands', some of which are impossible to align with.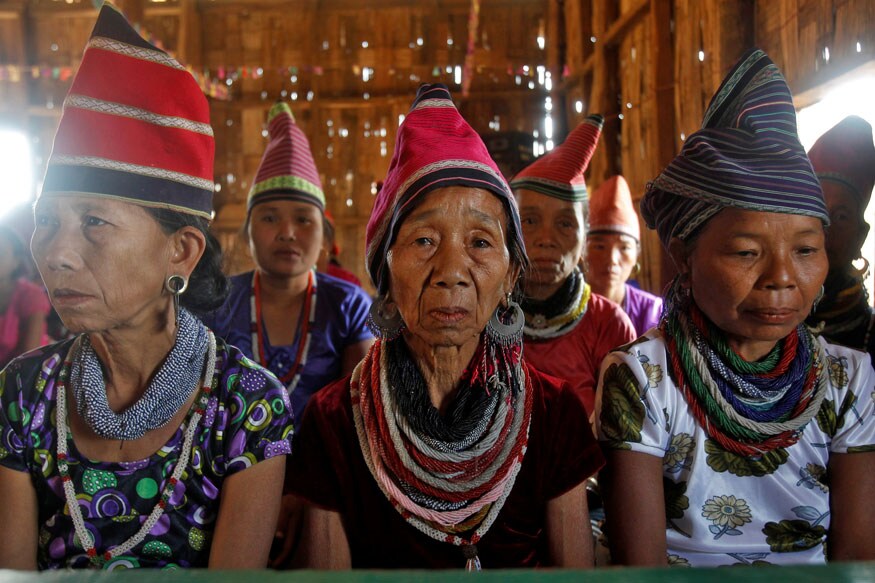 Bru tribal women attend a prayer meeting inside a temple at Naisingpara refugee camp. (REUTERS)
Guwahati: When a long ordeal was finally set to be over, the Mizoram Bru Displaced Peoples' Forum (MBDPF), a committee of Bru refugees and one of the signatories to the Four Corner Agreement with Centre on repatriation, pulled out of the pact on Monday, stating 'dissatisfaction' and pressure from disgruntled refugees.
However, the Mizoram government has left the decision to the Centre, and is continuing with preparations to take responsibility for thousands of refugees and secure their return home.
Speaking to News 18, MBDPF secretary Bruno Msha said that due to lack of satisfactory policy the refugees were dissatisfied with the Four Corner Agreement, forcing them to withdraw it.
On July 3, the repatriation agreement was signed in New Delhi between Centre, the state governments of Mizoram, Tripura and MBDPF to repatriate thousands of Brus living in Tripura since 1997 before September 30, 2018.
"Our people are totally dissatisfied with the agreement. They have certain demands to be fulfilled – allotment of 5 hectare land to each repatriated family, formation of cluster and grouping of villages for development, preservation of language and culture of Bru people, central security force for protection of Bru Hindus and an Area Development Council for economic development of the people," said Msha.
The Bru Hindus constitute 60% of the population of refugees in Tripura.
On the other hand, Additional Secretary of Home Department of Mizoram, Lalbiakzama said that it is unfortunate of the Brus to be making 'demands after demands', some of which are impossible to align with.
"I am sorry to hear that the Bru people have come up with different demands – demands after demands, some of them are even impossible. It's up to them now. The state government has nothing to say on this. On our part, preparation is going on in full swing. I believe the ball is in Union Home ministry's court," said Lalbikazama.
Meanwhile, the MBDPF has decided to convene a meeting on Wednesday in the Naisingpara, Khapchang and adjoining border camps in North Tripura to discuss the future course of action.
"We will observe the sentiments of the people and study the situation before deciding what to do. The MHA has been informed already," said Bruno Msha.
Msha added that the refugees have been long protesting the harsh living conditions in the refugee camps.
"They have been living in harsh conditions since past 21 years. There is no drinking water facility, sanitation, no electricity, no proper education system for children, and not even basic healthcare facilities."
Over 32,000 Bru people have been living in six temporary camps in North Tripura district since 1997 after they were forced to flee ethic violence in Mizoram.
(With inputs from Embassy Lawbei)
| Edited by: Puja Menon
Read full article