2 President's bodyguards get life-term for rape
The other two bodyguards have been sentenced to 10 years each.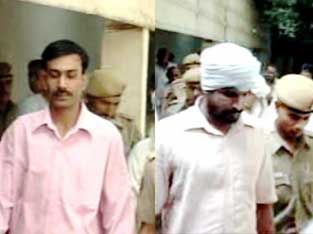 The other two bodyguards have been sentenced to 10 years each.
New Delhi: The Patiala house court on Saturday sentenced two guards accused in the sensational Buddha Jayanti Park gangarape case of 2003 to life term in prison, while two more bodyguards have been sentenced to 10 years each in jail for robbery and abduction.
Harpreet Singh, Satender Singh, Kuldeep Singh and Manish Kumar - belonging to cavalier security guards of the elite President's Bodyguard - were booked under various provisions of the Indian Penal Code (IPC), dealing with gangrape, abduction and attempt to commit robbery.
Satender and Harpeet were convicted of gangrape, abduction and robbery, while the other two - Kuldeep and Manish - were acquitted of the gangrape charge but convicted for abduction and robbery.
The defense counsel for the accused said it will be appealing in a higher court.
"We are going to file an appeal in a higher court. Such kind of judgement is rare, perhaps due to media pressure," said defence lawyer Ranvir Sharma.
The defense had asked for a lenient appreciation, saying that the accused should be let off because all four have families to support and are the sole bread earners.
Meanwhile, the prosecution said court needs to take serious note because the accused were men in uniform, who are supposed to protect people and that the victim was a minor.
The prosecution examined 25 witnesses to establish the rape charge.
The victim, 17, a student of a Delhi University, had gone with her friend to the park - which is situated near Rashtrapati Bhavan - on October 6, 2003. It was here that she was raped by Harpreet and Satender while the other two accused, Kuldeep and Manish, kept guard.
The four first roughed up the girl's friend and then took her to a secluded place inside the park where they raped her, the prosecution had maintained.
When the four men were convicted under various charges on August 17, Satender's grandfather, Ganpat Singh had said he would accept the court's judgment. "If the court has deemed him guilty then he is guilty. I don't feel bad about this at all," he said.
However, Manish's lawyer, Maninder Singh claims the case against his client was full of discrepancies.
"There were lots of discrepancies in the case. As far as Manish is concerned the boyfriend failed to identify him also the blood test and serum reports were negative," he said.
The sensational incident shocked the Capital six years ago and the four security guards of the President's Bodyguards Group were booked for gangrape and abduction in the case.
Read full article