Burhan Wani's Group Photo Had 11 Militants. Two Yrs On, It's 8 Down
It was instantly downloaded on phones across the Valley and talked about on television channels for days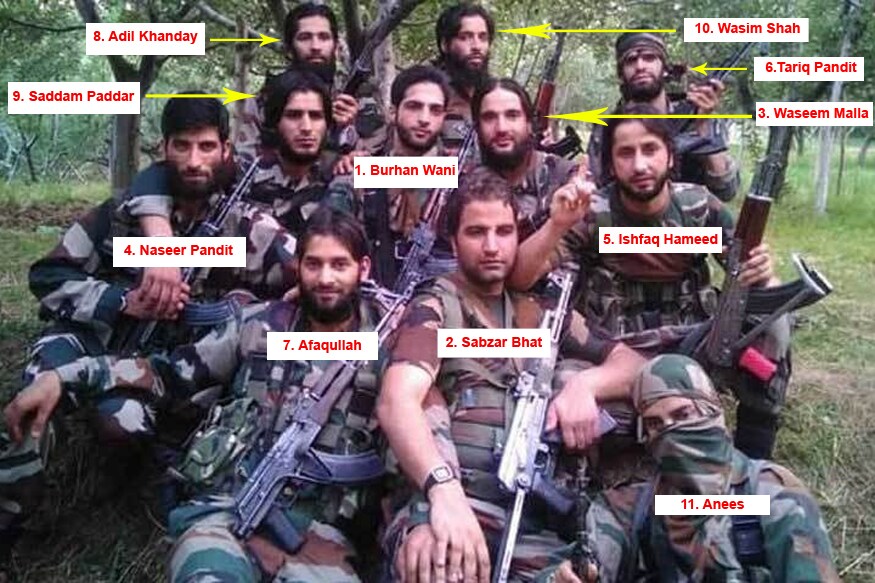 The Hizbul Mujahideen group photo.
New Delhi: Sometime in late June 2015, Hizbul Mujahideen commander Burhan Wani released a photograph of himself seated with 10 other militants, all armed and dressed in army fatigues. The photo of the young local militants, all from South Kashmir, was meant to impart the-boy-next-door image to the ongoing militancy.
It was instantly downloaded on phones across the Valley and talked about on television channels for days.
Wani's propaganda worked to the extent that huge crowds turned up for his funeral and funeral of several other militants who posed for this photograph. It has been about two years since the photograph was clicked, except one who's been captured alive, three militants remain at large.
Below, we give you a lowdown on all the individuals in the photograph:
1. Burhan Wani
Age 22
From Sharifabad, Tral
Joined militancy in October 2010
Outfit: HM
Killed in July 2016
Joined Hizbul Mujahideen at the age of 15 after his brother was allegedly assaulted by security forces in 2010. He was said to be a class topper and an aspiring cricketer. He was from a well-off family in Tral and had built a large following through his photos and videos.
He was widely acknowledged to be a bigger threat in death than he was in life. In protests that started from his death in an encounter on July 9 last year, 98 people died and thousands were severely injured.
2. Sabzar Ahmad Bhat
Age 26
From Rathsuna, Tral
Joined militancy in April 2015
Outfit: HM​
Killed in May 2017
After Wani's death, replaced him as Hizb's Tral commander. Sabzar is said to have been one of the choices before the outfit, which last year finally named Zakir Rashid nicknamed Zakir Musa, as its chief of Kashmir operations.
Sabzar was a close confidante and friend of Wani. Joined militancy in 2015 when Wani's brother Khalid was killed by security forces while he was trying to meet Wani in Tral.
While Hizbul had officially not named him as its chief commander in the valley, Zakir Musa's exit had made him de-facto chief of HM in the valley. Is the most high profile militant of over 50 militants that have been killed in J&K this year.
3. Waseem Malla
Age 27
From Pehlipora Village, Shopian
Joined Militancy in October 2012
Outfit: HM​
Killed in April 2015
Malla alias Inam-ul-Haq was put by Kashmir security agencies in the most wanted category. Just like Burhan and Sabzar he was rated A++ level dangerous at the time of his death. He was a second year Bachelor of Arts student and son of an orchard owner.
Malla, a district commander of HM, was said to be behind killing of three policemen in Shopian in April 2015. He was first arrested in 2010 for carrying out an IED blast and released six months later. Two years later he became an active militant. He was killed in an encounter along with Naseer Ahmad Pandit in Shopian on April 7, 2015.
4. Naseer Ahmad Pandit
Age 29
From Karimabad, Pulwama
Joined Militancy in March 2015
Outfit: HM​
Killed in April 2016
Joined police as a constable in 2006 and was deputed as a guard at the residence of former Roads and Buildings Minister, Syed Altaf Bukhari. In April 2015, Pandit escaped along with two rifles from Bukhari's house and joined Burhan's group with a close friend and cousin, Tariq Pandit and a friend Aafaq Ahmad Bhat – both are part of this group. He was killed in April 2016 in Vihil village in South Kashmir's Shopian district.
5. Ishfaq Hameed
Age 23
From Sangam, Anantnag
Joined Militancy in February 2015
Outfit: HM
Killed in May 2016
Ishfaq Hameed came from a well-to-do family in Sangam, Anantnag, the place known to produce the finest cricket bats in the country. His father was also known to own a bat-manufacturing business. Ishfaq joined militancy in February 2015 and was killed on May 8, 2016.
6. Tariq Ahmad Pandit
Age 25
From Karimabad, Pulwama
Joined Militancy in March 2015
Outfit: HM
Still alive
The only person from this group who was nabbed alive. Pandit's arrest was a big blow to Burhan's group. Soon after Tariq Pandit's arrest, one-after-one many hideouts were busted, many militants killed and huge cache of arms seized. Many in Kashmir still express doubts about the circumstances in which Pandit was arrested.
A college dropout, Tariq Pandit used to drive public transport vehicles. He left home in March 2015 along with his friend and cousin, the policeman-turned-militant Naseer Ahmad Pandit, and Aafaq Ahmad Bhat.
He is alleged to have been part of a group that murdered several policemen and a village sarpanch.
Confusion over his capture was created when some police officers themselves claimed that the Hizbul militant had surrendered. But these officers later changed their stand and went quiet.
7. Afaaqullah Bhat
Age 25
From Karimabad, Pulwama
Joined Militancy in April 2015
Outfit: HM
Killed in October 2015
Afaaqullah was the tech face of this group. A MTech degree holder, he handled most of the online operations of Wani's group. Together with Tariq Pandit and Naseer Pandit, he joined militancy in April 2015. He was killed in an encounter on October 28 2015 in Drabgam Pulwama.
8. Adil Ahmad Khanday
Age 20
From Imam Sahib, Shopian
Joined Militancy in Mid-2012
Outfit: HM
Killed in October 2015
Khanday was category A militant when he was killed in an encounter on October 22, 2015 in Manzimpora, Shopian. He worked as a driver at a local private school and had joined militant ranks in mid 2012. He was alleged to have threatened some villagers and panchayat members.
These are the eight militants killed or, in one case nabbed alive, by security forces over the last two years. Apart from these eight, three more are believed to be still on the run. Not much is known about them except their age and the outfit to which they belong.
9. Saddam Padder
Age 23
From Shopian
Outfit: HM
Not much is known about Padder, except the fact that Hizbul thinks highly of him. With Sabzar dead and Zakir Musa having parted ways with the outfit, chances of him being appointed as its chief in Kashmir are highly likely.
10. Waseem Ahmad Shah
Age 24
From Shopian
Outfit: LeT
11. Anees
No information available about him.
Get the best of News18 delivered to your inbox - subscribe to News18 Daybreak. Follow News18.com on Twitter, Instagram, Facebook, Telegram, TikTok and on YouTube, and stay in the know with what's happening in the world around you – in real time.
| Edited by: Aditya Nair
Read full article