Bush seeks better ties in Latin America
To overcome anti-American sentiment in Latin America George Bush has pledged goodwill and a fairer immigration policy.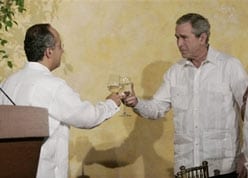 To overcome anti-American sentiment in Latin America George Bush has pledged goodwill and a fairer immigration policy.
Merida (Mexico): President Bush, ending his five-nation trip to Latin America, sought to overcome rising anti-American sentiment by pledging goodwill and a fairer immigration policy.
"One of the best things America can do is help people realise their dreams," Bush said Wednesday morning as he met with participants in a US-Mexico educational exchange program.
Bush is directing his messages to the Mexican people and their newly elected president, Felipe Calderon.
But he's hoping his words also would be heard 1,400 miles away on Capitol Hill, where his immigration proposal has been blocked.
Bush returns to Washington on Wednesday after his second day of meetings in Mexico, where tension has been high.
Hundreds of demonstrators marched to the US Embassy in Mexico City on Tuesday, attacking riot police with concrete blocks, metal bars and firecrackers and tearing down barricades to protest Bush's visit. In Merida, about 100 protesters marched to Bush's hotel for the second night in a row carrying Mexican flags and calling Bush a "murderer."
The president also had other problems back in Washington, where Attorney General Alberto Gonzales bore the brunt of Democratic criticism over how the Justice Department and White House handled the firing of eight federal prosecutors.
Gonzales acknowledged that mistakes had been made but stood by the firings and rejected calls for his own resignation.
The president could not promise Mexico that Congress will pass his guest worker program. He could only promise to work hard to make it law.
"President Calderon holds deep convictions on the matter of migration, and so do I," Bush said Tuesday night in a toast to Calderon on the breezy verandah of a manicured hacienda where the two dined on fresh shrimp ceviche and duck.
"Our nations share a 2,000-mile border, and that should be a source of unity, not division," Bush said.
"So we're working together to keep both sides of the border open to tourism and trade, and closed to criminals and drug dealers and smugglers and terrorists and gun runners."
With those words, Bush closed a warm, sunny day of meetings, hacienda hopping and sightseeing at Mayan ruins with Calderon, who heralded the meeting as a "new stage in bilateral relations."
Just before the Sept. 11, 2001, attacks, Bush stressed the importance of the U.S. relationship with Mexico.
The war in Iraq, which Mexico did not support, and in Afghanistan shifted Bush's focus to the Middle East and Mexicans felt neglected.
The anti-American sentiment rose when Bush signed a bill to install hundreds of miles of new fencing, vehicle barriers and infrared cameras along the border. A critic of U.S. immigration policy, Calderon denounced the fence with gentle but firm rhetoric.
"We do consider, in a respectful way, that we may truly stop the migration by building a kilometer of highway in Michoacan or Zacatecas than 10 kilometers of walls in the border," said Calderon, who believes that jobs in Mexico, not barriers on the border, will stem migration.
Mexicans view the fence as an insult that has aggravated already strained relations with their powerful northern neighbor.
Bush worked to allay their concerns, saying the barrier and stepped up enforcement along the border were only the first steps in a comprehensive immigration law overhaul that he hoped would include a guest worker program.
Bush's trip to Brazil, Uruguay, Colombia, Guatemala and Mexico served as a counterweight to Venezuela's Hugo Chavez, who is leading the leftward political shift in Latin America.
Besides shoring up relations in Latin America, Bush's trip could help reach Hispanics, who make up the fastest-growing minority group in the United States. And it helps Bush, who has waning political clout, push his immigration agenda through Congress.
Mexico, which for years has been urging changes in US immigration policy, plans to begin an aggressive lobbying effort to get a deal. With the clock ticking on his presidency, Bush said he hoped legislation would be completed by August.
Bush's proposed guest worker program, which Congress has not embraced, would allow Mexicans to seek temporary work visas to work in the United States.
He says his proposal would not grant automatic citizenship, but would provide a path toward that end. Some members of Bush's own party say providing a path to citizenship amounts to giving amnesty to those who have immigrated illegally.
The president says his administration is spending a lot of time trying to forge a cohesive Republican block of support on the issue in the Senate.
"If we don't have enough consensus, nothing is going to move out of the Senate," Bush said Monday in Guatemala. "And if nothing moves out of the Senate, nothing is going to happen in the House."
Get the best of News18 delivered to your inbox - subscribe to News18 Daybreak. Follow News18.com on Twitter, Instagram, Facebook, Telegram, TikTok and on YouTube, and stay in the know with what's happening in the world around you – in real time.
Read full article