Can Sabarimala Verdict be Reviewed or Would it be Ismail Faruqui 2.0?
The Nair Service Society (NSS), a body consisting of members of the Nair society, an influential society in Kerala, said that it will file a review petition in the Supreme Court against its verdict.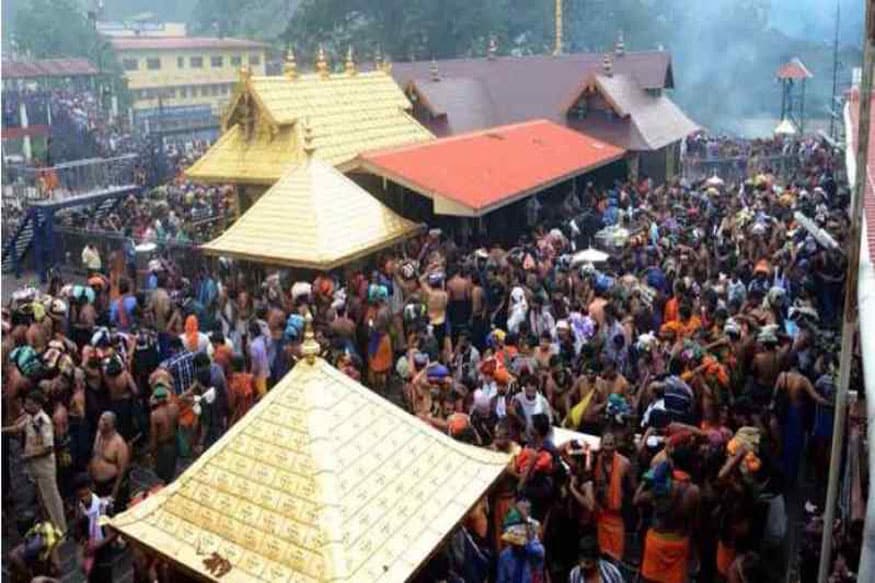 Image for representation.
New Delhi: Observing that religious practices cannot discriminate between men and women, a Chief Justice of India-led five judge Constitution bench lifted the ban on entry of women into the famous Sabarimala temple in Kerala.
Chief Justice Dipak Misra, Justice Rohinton Fali Nariman, Justice AM Khanwilkar, and Justice DY Chandrachud observed that Article 25, the Right to practice religion, is applicable to both men and women. However, the lone female judge on the bench, Justice Indu Malhotra, dissented as she held that courts should not ordinarily interfere in matters of deep religious sentiments.
Since then, anger has been simmering among certain sections against the verdict. The Nair Service Society (NSS), a body consisting of members of the Nair society, an influential society in Kerala, said that it will file a review petition in the Supreme Court against its verdict.
This is not all, even activist Rahul Easwar has stated that he would file a review petition in the case as he believed that the verdict would "destabilize Lord Lord Ayyappa's soul".
But how easy is a judicial review of a verdict delivered by a five-judge constitution bench. Precedents of a five-judge bench verdict being judicially reviewed are none to be cited. However, senior advocate Raman Pillai believes that such a review, which pertains to the verdict of a temple, is "very much possible."
It is Article 137 of the Constitution which enables the Supreme Court to review its own judgments.
But a review cannot be carried out if the court does not think that either discovery of new important matters of evidence has not taken place, or there has been a mistake or error on the face of the record or that there exists any other sufficient reason.
In this case, the primary argument of the people who want to review of the Supreme Court verdict is that the practice of not allowing menstruating women between the ages of 10 to 50 inside the temple has its root in maintaining the sanctity of Lord Ayyappa's character.
But given the premise that a Constitution bench has not been reviewed till date, the possibility of such a review in this case is indeed a challenge.
But what are the steps for review of judgment? Does it have to be reviewed by a larger bench or is it only after a same strength bench would refer it to a larger bench for reconsideration?
Since the Sabarimala verdict has been delivered by a five-judge bench, in case a review petition is filed, it would be first heard by a five judge bench and if the judges see merit in the review petition, it is only then that the case would be referred to a seven of nine judge bench. Arguments in such a case would be heard afresh.
If the 5 judge bench sees no merit, then the case for review ends there.
There has also been a case that when a bench of a similar strength to that which delivers a verdict hears the plea for review, the bench itself modifies the earlier verdict without referring it to a larger bench.
A similar issue of reviewing a verdict also came up while the appeals in the Babri title suit were being heard.
The issue of reconsidering the Ismail Faruqui verdict of 1994 had cropped where the question was whether mosque is integral to Islam or not and whether state can acquire such a property.
But the top court again declined to review its own 1994 judgment that said mosques aren't integral to Islam. It said the case, linked to the Babri Masjid demolition, needn't be referred to a five-judge Constitution bench.
Then Chief Justice Dipak Misra and Justice Ashok Bhushan delivered the majority judgment. Justice Abdul Nazeer dissented, and said the issue of whether mosques are an integral part of Islam needs to be considered by a Constitution bench.
But cases of the court reviewing it's decision is also not new. In 2012, Govt of India filed a review petition in Supreme Court seeking partial review of the court's be which had quashed 122 licenses.
The government questioned Supreme Court's authority over ruling against the first-come first-served policy but stayed away from challenging the cancellation of 122 licences issued during the tenure of A Raja as Telecom Minister. The Supreme Court on 4 April 2012 accepted Government's review petition on limited grounds and dismissed all other 10 review petitions.
Even in the Mayawati disproportionate assets case, it was a review petition that led the apex court to review its own verdict.
The case dated back to 2003 when CBI filed a case against Mayawati for owning assets disproportionate to her known sources of income. Mayawati described the CBI investigation against her as illegal. The assets case was finally quashed on 6 July 2012—nine years later—by the Supreme Cour after it found that the case was unwarranted.
But none of these reviews were of a constitution bench verdict and hence any decision in the Sabarimala case would be a watershed moment of the Indian judiciary.
Closest to such a review was the NEET case where a three judge bench decision was reviewed and overruled. Later a Constitution bench upheld the validity of NEET. However, the decision of the Constitution bench remained final.
On 18 July 2013, a three-judge division bench of the SC by a 2:1 majority verdict had quashed National Eligibility Cum Entrance Test for admission to MBBS/BDS courses.
The government of India subsequently filed a review petition.The Supreme Court agreed to hear the review petition on 23 October 2013. It recalled the 18 July order on 11 April 2016 and allowed the government to conduct NEET for admission to MBBS/BDS courses. It decided to hear afresh on the validity of NEET. A five-judge constitution bench of the Supreme Court later upheld NEET.
Get the best of News18 delivered to your inbox - subscribe to News18 Daybreak. Follow News18.com on Twitter, Instagram, Facebook, TikTok and on YouTube, and stay in the know with what's happening in the world around you – in real time.
Subscribe to Moneycontrol Pro and gain access to curated markets data, trading recommendations, equity analysis, investment ideas, insights from market gurus and much more. Get Moneycontrol PRO for 1 year at price of 3 months. Use code FREEDOM.
Read full article