Can Sunny Leone ever be accepted as a mainstream heroine?
There is a belief that Sunny Leone has a specific brand equity which would automatically vanish in normal roles.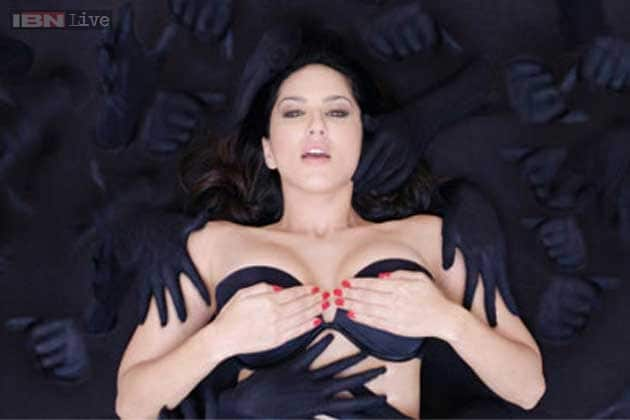 There is a belief that Sunny Leone has a specific brand equity which would automatically vanish in normal roles.
Hopes, dreams, aspirations, desires, ambitions- however audacious and flighty - are the birthright of every creature of the almighty. Why should an Ontario-born young lass named Karenjit Kaur Vohra - who once worked in a bakery and a tax firm and was later studying to be a pediatric nurse, enjoyed watching the Discovery Channel and adored the TV programme 'The Simpsons' - be any different? Yup, we are talking about the West's hottest import of Indian origin, Sunny Leone, who has in the brief time she's hit B-town, zonked her (male) audiences by exhibiting her ample sexual charms in a way unprecedented in the annals of Bollywood history! Today, the hormonal-rush - hurricane after two disappointing films ['Jism 2', her debut flash and later the abysmal 'Jackpot'] strikes it big with a horrex [Horror plus sex!] movie, a sequel, 'Ragini MMS 2'! This version showcases "pixilated nudity, sex, titillating shower scenes, teasing camera angles, even a nod to lesbianism, showcasing cleverly Leone's down n' dirty porn star appeal. Further, she plays a porn-star called Sunny, consciously blurring the reel-real divide" according to Film critic Namrata Joshi. This success has prompted Leone to articulate something she dared not earlier: her desperate desire "to be in the mainstream; to do good films with good film-makers". Can it ever happen?
Maxim India Editor Vivek Pareek believes "it could probably take extensive training along with developing a new skill set, but the new-age movie-goer is not straight-jacketed. There actually could be room for someone with her particular appeal". However, Film critic Saibal Chatterjee vehemently disagrees. "Sunny Leone is an ex Penhouse Pet & Porn Star of renown in the USA to audiences who follow this brand of adult entertainment. The Big Boss guys here invited her - as they earlier did Pamela Anderson - because she was super hot ... and super cool about it! Mahesh Bhatt's sensational entry into the show to offer her a role in 'Jism 2' was not exactly a salute to her histrionics but sure-fire publicity stunt! The Leone persona is a gasp-pant promise of Sunny days & sensational nights to a male adult audience constituency, ready and willing to shamelessly exhibit their silly boy aspect, the repressed part that hasn't grown up or got over the frenzied flash! Can this creature ever be taken seriously in even a semi-serious, non-sexy/glamorous role?" Bhatt agrees. Her films, he insists, are more about gratification than edification and if it doesn't communicate that very special & popular brand value/promise, it will only confuse the viewers. "Hers has been the erotic route to acceptability and converting to another constituency doesn't happen easily. She can't delink herself from Brand Jism overnight, without seriously wooing peril".
Film Analysts believe that Sunny Leone should milk this opportunity and ride this sex symbol horse at full gallop! For good reasons. Seldom has there been a better time for heroines to shine in the public spotlight winning both critical & commercial acclaim. 'Queen', 'Gulab Gang' & 'Highway' have all struck a chord - in their own ways - proving that well-scripted, crafted & cast, heroine-oriented films do have a market and audiences are ready to view them without any bias or hang-ups. More importantly, there is life beyond the Khans, Ranbir, Hrithik, Ranveer, Ajay & Akshay. Sunny Leone's 'Ragini MMS 2' for example, stormed the box office, because it was cleverly put together, adroitly fusing sex & horror in an intoxicating, titillating manner designed to be audience-friendly...and the hero factor be damned! Another reason attributed is the timing of Leone's entry into B-town - a time when adult movies are actually viewed and perceived as adult fare & not placed either in the pssst-nudge-wink space or slung surreptitiously to morning-show slots in sleazy, down market theatres in vague corners of our cities. There is also a general belief that Sunny Leone has a specific brand equity which would automatically vanish in normal roles. They point out to the fact of how a Pamela Anderson or our very own Zeenat Aman & Bipasha Basu - despite a Raj Kapoor or Rituparno Ghosh project - could never really move away from their erotic sexy image. "Leone is also different from the sleazy bimbo/dolls like Poonam Pandey or Sherlyn Chopra because she doesn't have to try so desperately to play the sex rebel. It comes naturally and her cool, comfort level shows that she is happy n' secure in her skin. Besides, her confidence and international status creates value. She is classy, not tacky" says Sailesh Kapoor, CEO, Ormax media.
Riding on the success of Ragini, luscious Lone is all set to unleash her next, 'Tina & Lolo' depicting two females on the run. While there will be the usual trademark Leone stuff [bold scenes et al] "its really a cute film where I have attempted comedy for the first time!" A sex symbol hitting the comic button offers interesting possibilities for connoisseurs, recalling La Monroe's amazing turn in Billy Wilder's classic Some like it Hot ... Hey, c'mon guys, give the hottie a chance! Restless, driven, over-sexed, a supple body striking languorous poses, a voluptuous display of ooomph inviting and attracting vicarious viewer participation ... now, with a little comic spice? Wow! Get set to sample Sunny Leone's baring a whole new side of her incredible body of talent!
Get the best of News18 delivered to your inbox - subscribe to News18 Daybreak. Follow News18.com on Twitter, Instagram, Facebook, Telegram, TikTok and on YouTube, and stay in the know with what's happening in the world around you – in real time.
Read full article