GET Stock

Quotes


Canada vows tougher laws as citizens worry in face of attacks
Police said both assailants had been through a radicalization, a term the government uses to refer to Canadians who become supporters of militant Islamic groups.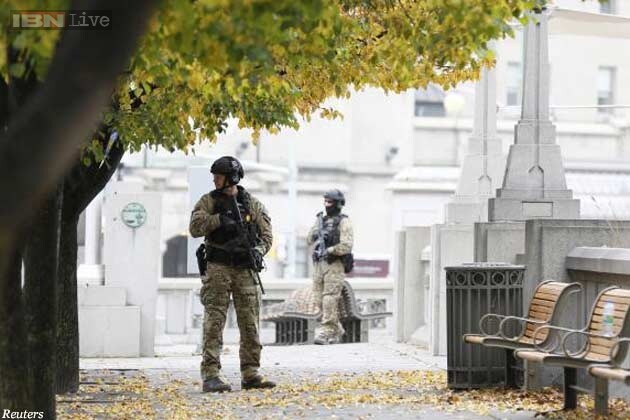 Police said both assailants had been through a radicalization, a term the government uses to refer to Canadians who become supporters of militant Islamic groups.
Ottawa: Canada vowed on Friday to toughen laws against terrorism as an opinion poll showed a majority of Canadians lacked confidence in their security services' ability to deter homegrown radicals who struck twice in the past week.
Investigators said there was no apparent link between the two attackers, who killed a soldier each in Quebec and the capital Ottawa, but Canadians worried about the parallels.
Police said both assailants had been through a radicalization, a term the government uses to refer to Canadians who become supporters of militant Islamic groups. Both attackers were shot dead.
Justice Minister Peter MacKay said the government would act swiftly and go beyond the terms of a bill already planned that would strengthen the powers of the Canadian Security Intelligence Service spy agency.
"We're looking ... to see if there is a way in fact to improve or build on those elements of the criminal code that allow for pre-emptive action, specifically in the area of terrorism," MacKay told reporters in Brampton, Ontario.
"This has been an incredible motivational experience to say the least, in light of what took place this week," he said.
Canadians mourning the two soldiers adjusted to a tighter security cordon in Ottawa, where Wednesday's attacker was shot dead inside the parliament building near where Prime Minister Stephen Harper was meeting with lawmakers.
In Istanbul, packets of an unidentified yellow powder were sent to the Canadian, US, Belgian and German consulates, prompting security alerts. One Canadian consulate employee came directly into contact with a suspicious package and six others had indirect exposure, Turkey's disaster management agency AFAD said. Nine people were hospitalised as a precaution.
OPINION POLL
An opinion poll by the Angus Reid Institute found that some 55 percent of Canadians were not confident in the police's ability to thwart attacks by homegrown radicals.
Some 66 percent of the 1,491 people polled online from Oct. 21-23 said they would prefer authorities to focus on securing the nation's borders and dealing with homegrown threats, rather than prioritizing foreign military intervention or foreign aid.
The poll had a margin of error of 2.5 percentage points.
Meanwhile, Canadians flocked to the national war memorial in Ottawa where Corporal Nathan Cirillo, 24, was shot dead at the start of a daylight attack by a man police identified as Michael Zehaf-Bibeau, a 32-year-old Canadian citizen.
"There's so much going on right now and it's very scary. I really feel for these soldiers wearing their uniforms because obviously they have a target on their back and it's so not fair," said Judy Daley, a visitor to the memorial.
Police believe that Zehaf-Bibeau acted alone and independently of Martin Rouleau, 25, who on Monday drove over two soldiers in Quebec, killing one of them, Patrice Vincent, a 53-year-old warrant officer.
After the attacks Harper said Canada would not be deterred from taking part in air strikes against Islamic State militants in the Middle East. Two long-range patrol aircraft were due to depart Nova Scotia on Friday.
The SITE Intelligence Group on Oct. 7 said an alleged Islamic State fighter had used Twitter to call for attacks on Canada. It named the man as Abu Khalid Al-Kanadi, a name that indicates he comes from Canada.
Police said Zehaf-Bibeau had traveled to Ottawa seeking a passport and intended to travel to Syria, a hot spot of Islamic State activity. Zehaf-Bibeau, who was born in Montreal, had lived in Calgary for a period, police said.
'TREMENDOUS SADNESS'
Police in Ottawa on Friday lowered many of the metal barriers that had blocked public access to the area around the war memorial, moving the capital a bit closer to normalcy. But officers continued to surround the Parliament buildings that Zehaf-Bibeau ran into after shooting the soldier.
"I feel tremendous sadness," said April Hall, 43, a doctor from London, Ontario, as she sat near the monument wiping tears from her eyes. "This is a memorial to those who sacrificed their lives for Canada, and there was a sacrifice right here on the spot."
Bouquets of flowers were stuck into the gate's scrollwork, as workers and visitors adapted to the tighter security restrictions in a city normally proud of its openness.
Officials planned to move Cirillo's body from Ottawa to his hometown of Hamilton, Ontario, on Friday, along a 500 kilometer (310 mile) stretch of highway called the "Highway of Heroes" in honor of soldiers.
Royal Canadian Mounted Police Commissioner Bob Paulson on Thursday said investigators had linked Zehaf-Bibeau to someone charged with what he called a terrorist-related offence. He did not give details other than saying Zehaf-Bibeau's email was found in the hard drive of that person.
Later on Friday in Calgary, the Islamic Supreme Council of Canada and Muslims Against Terrorism plan to hold a memorial for the two slain soldiers.
Also Watch
Read full article