Karti Chidambaram Says Not a 'Hindustan Leaver' Like Others, Sent to One-Day CBI Custody
CBI argued that Karti's frequent foreign visit were hampering the investigation, but Karti's lawyer Abhishek Manu Singhvi said not a single summons had been issued since August last year.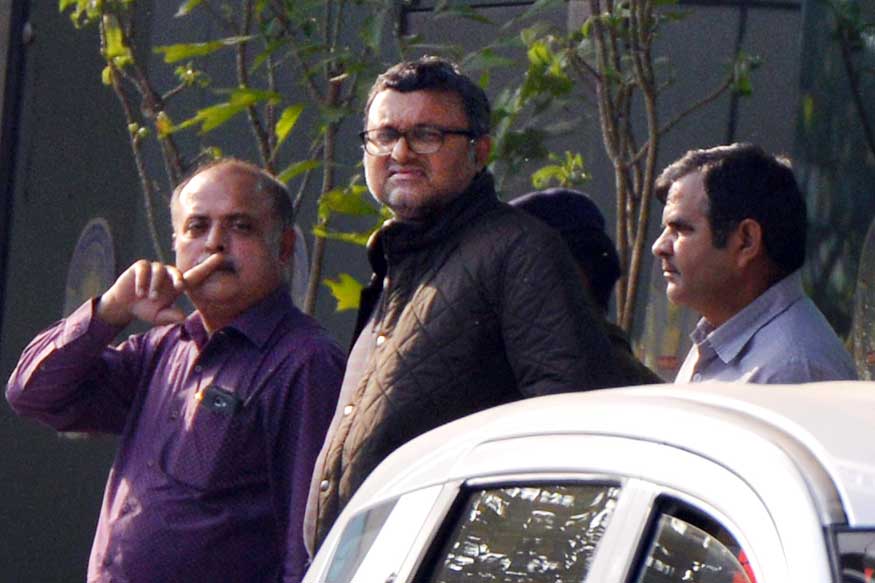 Karti Chidambaram, son of former union minister P Chidambaram, leaves from CBI Headquarters to Patiala House court in New Delhi on Wednesday. (Image: PTI)
New Delhi:
A Delhi court on Tuesday sent former finance minister P Chidambaram's son Karti Chidambaram to one day CBI custody for interrogation for his alleged involvement in the INX media money laundering case. The CBI had sought 15-day custody.
The order was passed after a bitter legal battle between Karti's lawyer and the CBI counsel. While the CBI maintained that Karti was arrested for not cooperating with the investigation, Karti's lawyer Abhishek Manu Singhvi called the case against him "motivated" and "bizarre".
Arguing before Judge Sumeet Anand, the CBI said that Karti's custody was important as his frequent absence from the country was hampering the investigation.
"Karti was arrested for not cooperating with investigations. There are many things which we cannot disclose in the open court. We need 15 days of remand of Karti Chidambaram. He was not cooperating and frequently visiting abroad," said CBI's counsel.
Singhvi rubbished the charge and said there was no question of not cooperating with the probe as not a single summons had been issued in the last six months. "Karti has no connection with Advantage Strategic Consulting (P) Limited, the company that had allegedly received kickbacks," said Singhvi.
Karti was picked up from the Chennai airport on Wednesday morning just after he arrived on a flight from London. The CBI has alleged that firms with links to Karti had influenced FIPB approval for Rs 305 crore irregular investment in INX media. This took place in 2007 when his father was the Finance Minister. The FIR has been registered against Karti, INX Media along with eight others and unknown officials of the finance ministry.
The primary reasons for which the CBI demanded the custody of Chidambaram was to investigate the entire conspiracy, discover the payments made overseas and payments received by Chidambaram and to understand how the probe against INX media got hampered.
However Karti maintained that he had "nothing to fear as he has nothing to hide." "I have gone abroad but I have come back also. Don't use power of arrest. I will surrender my passport and will take any condition and I will appear whenever summoned," Karti told the court.
He also questioned why the CBI was apprehensive about his frequent foreign visits. "Am I flight safety risk?" asked Karti. "I am not a Hindustan leaver like others. I am a Hindustan returner," he added.
However, CBI said that Karti has only appeared in India after the SC order and that he "did not provide details of his foreign visits." "Karti has not produced the itinerary of his foreign visits. Karti left country without complying with directions. The matter is pending before HC. He didn't inform us when he left the country," said CBI.
CBI also stated that Karti had met a person at Mumbai's Hyatt Hotel on February 17 to arrange one million dollars to settle the INX Media case, among other set of allegations.
Karti called it a "distortion of facts". "I went abroad only after getting permission from the Supreme Court. Forget remand, it is not a case of even arrest. Not even a single official has been questioned over FIPB clearance to INX," he said.
"My client has not been given a single summon in the last 6 months. How can the CBI submit that Karti is not cooperating when no summon has been issued after August, 2017," his lawyer Singhvi argued.
| Edited by: ---
Read full article
Next Story
Next Story
Also Watch

India Will 'Stop' Flow of Our Share of Water to Pakistan, Says Nitin Gadkari
Countdown To
Elections Results
To Assembly Elections 2018 Results