Municipal Corporations

9/10

TRS

8

INC

0

BJP

1

AIMIM

0

OTH

0
MUNICIPALITIES

114/120

TRS

96

INC

9

BJP

3

AIMIM

2

OTH

4
Refresh Data
CBI Visits Mukul Roy's Office, Takes ex-IPS Officer for Face-to-face Questioning in Narada Tapes Scandal
CBI officer Ranjit Kumar said the CBI team visited Roy's office based on SMH Mirza's (arrested police officer) statement that money was exchanged here in return for favours.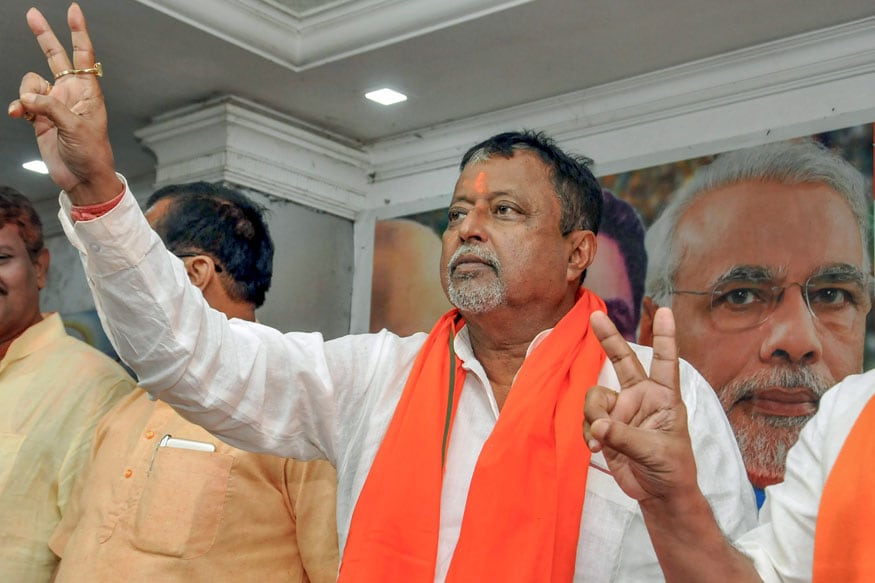 File photo of BJP leader Mukul Roy.
Kolkata: A day after interrogating senior BJP leader Mukul Roy in the Narada sting operation conducted against functionaries of the ruling Trinamool Congress in Bengal, a team of CBI officers on Sunday visited Roy's 'office' in south Kolkata where cash allegedly changed hands in 2016 in return for favours.
CBI officer Ranjit Kumar, who led the team to Roy's posh Elgin Road office, said, "We came here based on SMH Mirza's (arrested police officer) statement that money was exchanged here. We video graphed the place. Nothing much can be revealed now as both Roy and Mirza are co-operating with us in the investigation."
The former IPS officer, who was apprehended earlier this week in the case, was taken to the BJP leader's south Kolkata residence by the agency officials, sources said. The entire "face-to-face interrogation" has been videographed by the sleuths of the agency.
Roy had deserted the Trinamool Congress following a tussle with party supremo Mamata Banerjee when his name surfaced in the Saradha chit fund and Narada tape scams.
Roy, who was then a TMP MP, was purportedly shown talking to Mathew Samuel, the Narada News boss who had posed as a businessman to carry out the sting operation. Mirza was seen accepting Rs 5 lakh in cash from a businessman in one of the footages. The former Burdwan SP had apparently claimed in the video that he was receiving the cash on Roy's instructions.
News18 has a copy of the CBI FIR (RC 0102017 A0010) dated April 16, 2017, that read, "During the course of preliminary inquiry, the suspect public servants have been identified, who were shown to have either accepted money in cash given by the representative of Chennai-based company (sting operator Mathew Samuel, who had introduced himself as a representative of M/s Impex Consultancy) or asked him to handover the money to someone else on their behalf. In some of the files, they were also shown to have asked for money for themselves and others."
It further read, "Based on inquiry, it was revealed that (besides others), Mukul Roy was shown (in tapes) to have assured to support the sting operator in his business proposals and asked him by gesture to come after April 24, 2014, with the full amount of money (the amount is not specified in the conversation). The sting operator was heard saying that he had brought 'five' and promised to bring 'ten' more on 24th. In another file (tape), he was shown to have told the sting operator that he had asked SMH Mirza, the then SP of Burdwan, about the interest of his company. He was also shown to have told the sting operator to handover the money to SMH Mirza, which he had brought for him (Roy)."
"In another file, he (Mukul Roy) was shown to have told the sting operator that he would not accept the money himself and he advised him to go to his office at 6A Elgin Road after an hour and hand over the money to the staff there. He was also shown to have assured the sting operator that he would also reach his office by that time," it read.
On Saturday, Roy appeared before the CBI at its Nizam Palace office for questioning in the case. He has alleged that a section of people were conspiring against him in the case and as a law-abiding citizen he would co-operate with the probe agency.
The sting operation case was conducted by Narada News in West Bengal over a period of two to expose alleged corrupt practices of ministers in Banerjee's government. The videos that sent ripples across the political fraternity were released only days ahead of the Assembly elections in the state in 2016. The tapes showed 13 Trinamool Congress ministers and leaders accepting bribes in return for alleged favours or misuse of official positions.
The Narada case had come at a time when the TMC supremo and her leaders were already under severe criticism from Opposition parties for their alleged involvement in the Saradha ponzi scam. After setting up a fictitious company, Samuel's team members had approached several TMC ministers seeking favours in return for money.
On March 17, 2017, the Calcutta High Court ordered a preliminary probe to be conducted by the CBI. The court also directed the CBI to register an FIR against those who were involved in the case, if required.
On April 17, the CBI has filed charge sheet against 13 ministers and other TMC leaders in the case. All of them were booked under Section 120 B of IPC (criminal conspiracy), Section 13 (2), 13 (1D) and Section of 7 of Prevention of Corruption Act.
Get the best of News18 delivered to your inbox - subscribe to News18 Daybreak. Follow News18.com on Twitter, Instagram, Facebook, Telegram, TikTok and on YouTube, and stay in the know with what's happening in the world around you – in real time.
Read full article