Feuding CBI Chief, Deputy Divested of All Charges; Joint Director Nageshwar Rao Takes Over for Now
The offices of CBI director Alok Verma and special director Rakesh Asthana will remain sealed while the case is pending, say sources.
New Delhi: CBI director Alok Verma and special director Rakesh Asthana have been divested of all charges in the midst of an internal rift over bribery allegations against the latter. As per a government order, CBI joint director Nageshwar Rao will take interim charge of the investigation agency.
According to an order by the Department of Personnel and Training, Rao shall "look after the duties and functions of Director CBI and shall take over the duties and functions with immediate effect."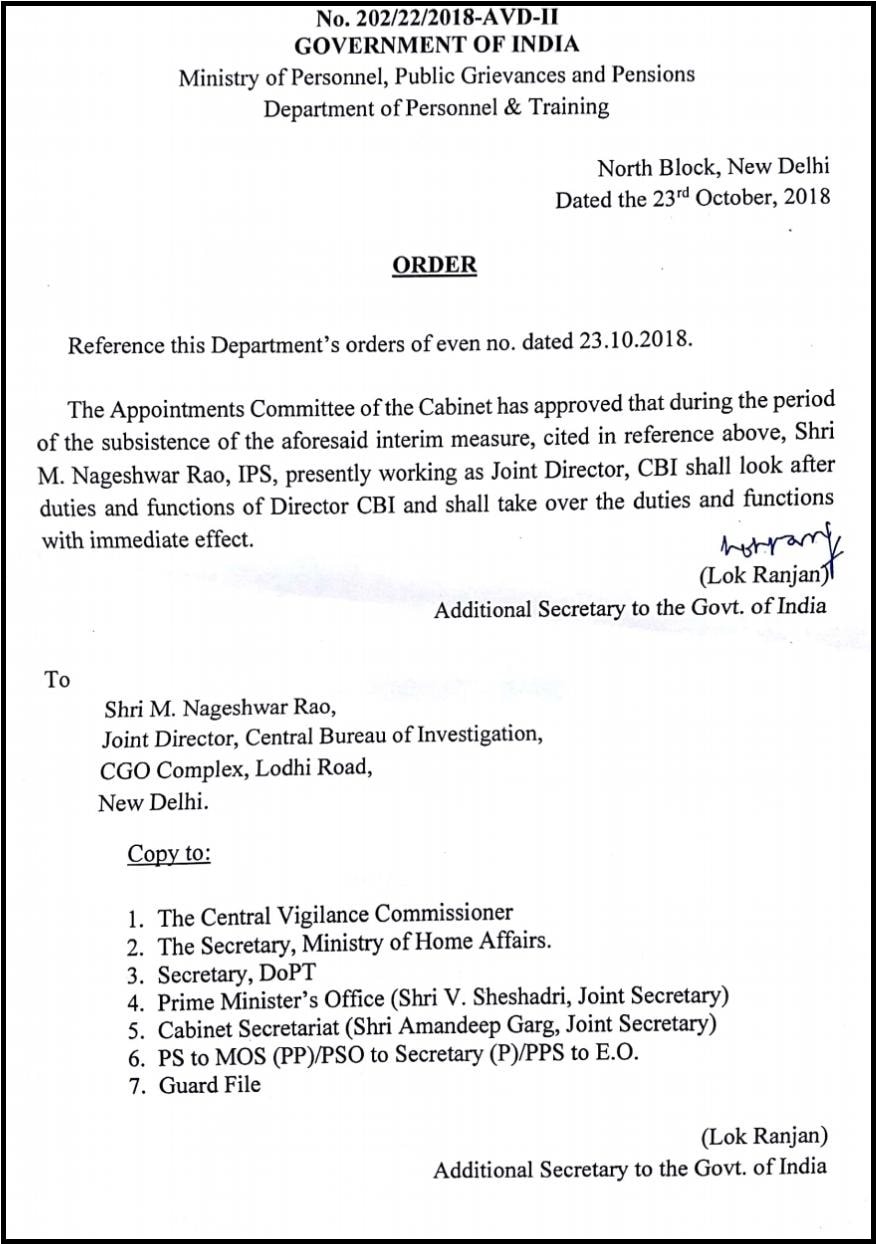 The order implies that the government has sidelined all the three additional directors number three in the agency's hierarchy, including A K Sharma, whose name had figured in the complaint by Asthana, PTI reported. Sources told News18 that the offices of Alok Verma and Rakesh Asthana will remain sealed while the case is pending.
Speaking to CNN-News18 on the rift within the probe agency, former CBI chief DR Karthikeyan said, "The government must have taken into consideration all facts, perhaps action could have been taken much earlier. This disaster could have been prevented by action on time."
Rao, who hails from Warangal district in Telangana, is from the 1986 batch of Orissa cadre.
The Delhi High Court on Tuesday directed the CBI to maintain status quo on the criminal proceedings initiated against Asthana, who has challenged the FIR lodged against him on bribery allegations.
The case emanates from a statement recorded by a Hyderabad-based real estate agent Sathish Sana whose role was being investigated by a team led by Asthana in a bribery case allegedly involving meat exporter Moin Qureshi.
It was alleged that Sana had paid Rs 50 lakh as bribe to Qureshi, which was shown as investment in his company, to get relief in a bribery case.
A Special Investigation Team led by Rakesh Asthana was probing the matter and was repeatedly questioning Sana in this regard as it suspected him of lying in the matter.
A lookout notice was also issued against him by the investigation which prevented him from leaving the country on September 25, 2018, Sana had said in his statement which is part of the FIR.
The team also submitted a proposal to arrest him as it felt the need for custodial interrogation on October 20, 2018 before the director which was not cleared and sent for the opinion of Directorate of Prosecution.
"The arrest is ordered only when certain parameters are fulfilled. The sanctioning authority satisfies itself whether arrest is warranted or not. The due procedure was followed," CBI spokesperson said on the question of Asthana's claims.
Asthana in his complaint to the Cabinet Secretary on August 24 had alleged that CBI Director Alok Verma had received a bribe of Rs 2 crore from Sana to help him get relief from repeated questioning.
He had also alleged that Verma had called him over phone in February to not call Sana for questioning.
In a surprising and unprecedented move on October 15, the CBI booked Asthana and investigation officer of the case on the charges of receiving bribe from Sana through middlemen Manoj Prasad and Somesh Prasad.
The CBI has arrested Devender Kumar, the Deputy SP and investigation officer, alleging that he had fabricated the statement of Sana purportedly claiming that a Rajya Sabha MP had met Verma on his pending case and assured him of relief and a clean chit.
(With PTI inputs)
Get the best of News18 delivered to your inbox - subscribe to News18 Daybreak. Follow News18.com on Twitter, Instagram, Facebook, Telegram, TikTok and on YouTube, and stay in the know with what's happening in the world around you – in real time.
| Edited by: Nitya Thirumalai
Read full article