New Delhi:
The leak of
Class 10 Mathematics and Class 12 Economics exam papers
has left the CBSE and HRD ministry red-faced, and the students with a hectic calendar before competitive tests. Though fresh dates for both re-examinations have been announced, students have taken to the streets, while the opposition Congress has demanded the sacking of minister Prakash Javadekar and CBSE chief Anita Karwal.
Here are the top 10 developments on the issue:
1.
9 detained in Jharkhand:
According to a report, Jharkhand police have detained nine minors in connection with the paper leaks. The minors will be produced before the Juvenile Justice Board. "Three people have been arrested under provisions of Indian Penal Code while nine, who are underage, have been detained under Juvenile Act. Probe by our SIT is still underway," news agency ANI quoted Superintendent of Police in Chatra district as saying.
Three people have been arrested under provisions of IPC; Nine who are underage have been detained under Juvenile Act. Probe by our SIT is still underway: Superintendent of Police Chatra, #Jharkhand on #CBSEPaperLeak pic.twitter.com/gAg1TrmALP

— ANI (@ANI) March 31, 2018
2.
Protests in Delhi:
Angry students protested against the leaks in Delhi's Preet Vihar and blocked traffic in the area on Saturday. A day earlier, school children and Congress youth leaders held protests in several parts of the national capital against CBSE board papers being leaked.
3.
CBSE denies reports of another paper leak:
CBSE has issued a clarification about rumours of another paper leak. In a press release, it said that rumours of leak of Class XII Hindi (Elective) were false. The papers being circulated on WhatsApp or YouTube were either last year's or fake, the press release added.
4.
Papers leaked on 10 WhatsApp groups, 60 people questioned:
Till now, police have questioned over 60 people in connection with the case, including the administrators of over 10 WhatsApp groups on which the leaked question papers were shared, as the investigators seek to trace the origin of the leak.
5.
Delhi Police seeks reply from Google:
The Delhi Police's crime branch has also sought a reply from Google about an email with images of handwritten questions papers that was sent to the CBSE chairperson. The email was sent from a Gmail ID.
6.
'Maths paper leaked only in Delhi, Haryana':
The education secretary said that the leak of the Maths paper was restricted to only Delhi and Haryana, but a retest, if conducted, would not be held before July.
6.
Prakash Javadekar on paper leak:
In the wake of the incident, Union Human Resource Development (HRD) Minister Prakash Javadekar on Friday asked engineering students to devise solutions for making exams "leak-proof".
8.
Parents' Association to file petition:
The All India Parents Association said it would file a petition in the Delhi High Court on Monday seeking a court-monitored probe into the matter.
9.
Opposition on CBSE papers leak:
Maharashtra Navnirman Sena (MNS) chief Raj Thackeray asked students and parents to boycott re-examination and said that it was government's mistake and they should pay for it, not the students. Rahul Gandhi had earlier attacked the PM, saying that he is a "weak watchman" as there were leaks in everything.
10.
Manish Sisodia writes to Javadekar:
Delhi's deputy CM and education minister Manish Sisodia has written a letter to HRD minister Prakash Javadekar, demanding that education ministers from all over the country hold a meeting to brainstorm how to strengthen the examination system to prevent any future leaks.
11.
SSC candidates also protest:
Scores of enraged aspirants protested at Delhi's Parliament Street on Saturday against Staff Selection Commission paper leak.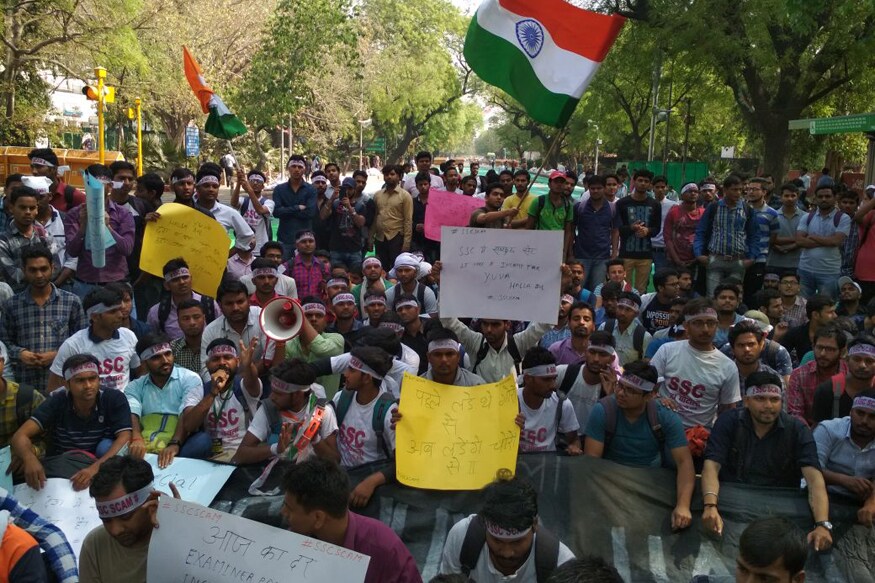 Aspirants protest at Parliament Street (Photo: Ishwar Deyal/News18 Network)