CBSE UGC NET 2017: Exam Time Schedule & Marking Scheme for Nov 5th 2017, Sunday Exam
CBSE is organizing the UGC NET November 2017 exam at 91 Cities in India for 84 subjects.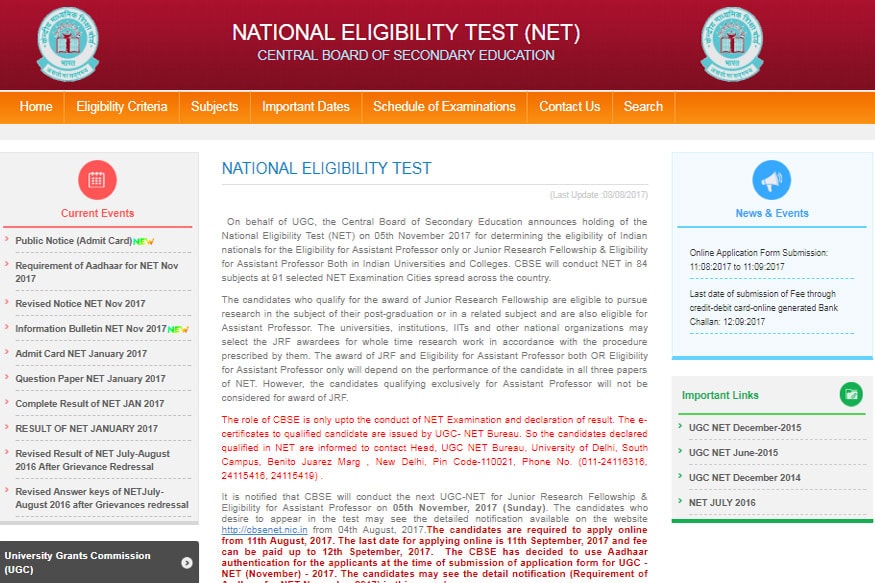 Paper-I, II and III are scheduled for Sunday, November 5th 2017 in three session.
CBSE UGC NET November 2017 exam will be held on November 5th 2017, the upcoming Sunday and CBSE has released the Time Schedule in an information bulletin on its official website -
http://cbsenet.nic.in.
CBSE will conduct the University Grants Commission National Eligibility Test for the posts of Assistant Professor only, or Junior Research Fellow & Eligibility for Assistant Professor both.
CBSE is organizing the UGC NET November 2017 exam at 91 Cities in India for 84 subjects. Paper-I, II and III are scheduled for Sunday, November 5th 2017 in three sessions and details of the time schedule and scheme are as follows:
Paper – I: 100 Marks – 50 Questions – 1¼ Hours (09:30 A.M. to 10:45 A.M.)

1. Entry in the Examination Hall – 07.00 AM (IST)
2. Distribution of Test Booklet – 09.15 AM (IST)
3. Seal of the Test Booklet to be Opened – 09.25 AM (IST)
4. Last Entry in the Examination Hall – 09.30 AM (IST)
5. Test Start Time – 09.30 AM (IST)
6. Test End Time – 10.45 AM (IST)
Paper – II: 100 Marks – 50 Questions – 1¼ Hours (11:15 A.M. to 12:30 P.M.)
1. Entry in the Examination Hall – 10.45 AM (IST)
2. Distribution of Test Booklet – 11.05 AM (IST)
3. Seal of the Test Booklet to be Opened – 11.10 AM (IST)
4. Last Entry in the Examination Hall – 11.15 AM (IST)
5. Test Start Time – 11.15 AM (IST)
6. Test End Time – 12.30 PM(IST)
Paper – III: 150 Marks – 75 Questions – 2½ Hours (02:00 P.M. to 04:30 P.M.)
1. Entry in the Examination Hall – 01.30 PM (IST)
2. Distribution of Test Booklet – 01.50 PM (IST)
3. Seal of the Test Booklet to be Opened – 01.55 PM (IST)
4. Last Entry in the Examination Hall – 02.00 PM (IST)
5. Test Start Time – 02.00 PM (IST)
6. Test End Time – 04.30 PM (IST)
All questions are necessary to be attempted. Candidates can read through the Information Bulletin here:
h
ttp://cbsenet.nic.in/CMS/Handler/FileHandler.ashx?i=File&ii=59&iii=Y
Read full article
Countdown To
Elections Results
To Assembly Elections 2018 Results