Mumbai slum dances in joy at Slumdog's Oscar glory
The movie won eight Oscar Awards at the 81st Academy Awards.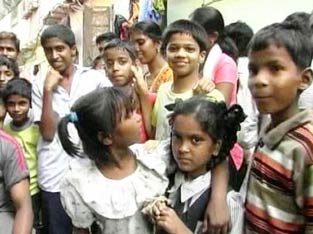 The movie won eight Oscar Awards at the 81st Academy Awards.
Mumbai: Dharavi erupted in joy and hundreds of its slum dwellers woke before dawn and stayed glued to handful of TV sets on Monday as Slumdog Millionaire scooped eight Oscar awards.
As one entered the filthy and cramped 535-acre slum where lakhs lived in a square kilometre area in its narrow lanes, every face sported a smile inviting every visitor to join their celebrations though in reflected glory.
"We plan to celebrate the win. There will be a party tonight. In fact, people are already in a celebratory mood," said Azhar Shaikh, who has been living for the past decade in the teeming slum which stood on prime building land in the country's financial capital.
The family of Rubina, who essayed the role of little Latika in the film, is readying to greet her after she returns from the Oscars ceremony in Los Angeles.
"We will all be there at the airport when she returns," Rubina's father Rafique said.
His neighbours are also happy that the film, which had projected scenes from the slum onto cinema screens around the world, has stormed the Oscar awards for its rags-to-riches theme.
As the awards were announced, the neighbours of 10-year-old Azharuddin Mohammed Ismail, one of the real slum children who appeared in the film and was also flown to Los Angeles for the glitzy Oscar ceremony, cheered every win for Slumdog Millionaire as they gathered around a television set up next to Ismail's home.
Hordes of reporters descended on Dharavi's neighborhood and TV tripods straddled the thin stream of sewage outside Rubina's home to capture every moment of the celebrations.
The film had received mixed response across India as some slum dwellers found it offensive, with some critics even labelling it as 'poverty porn.'
Some like Bollywood actress Sushmita Sen said the movie shows reality.
"When I see Slumdog, I say Mercedes as well as a bullock cart run on the streets of my country," she said.
Get the best of News18 delivered to your inbox - subscribe to News18 Daybreak. Follow News18.com on Twitter, Instagram, Facebook, Telegram, TikTok and on YouTube, and stay in the know with what's happening in the world around you – in real time.
Read full article