GET Stock

Quotes


Powered by



Army Prepared For Doklam Redux, Says Army Chief Gen Bipin Rawat
The Army Chief, however, assured that non-military options were also being deployed to ease tensions with China.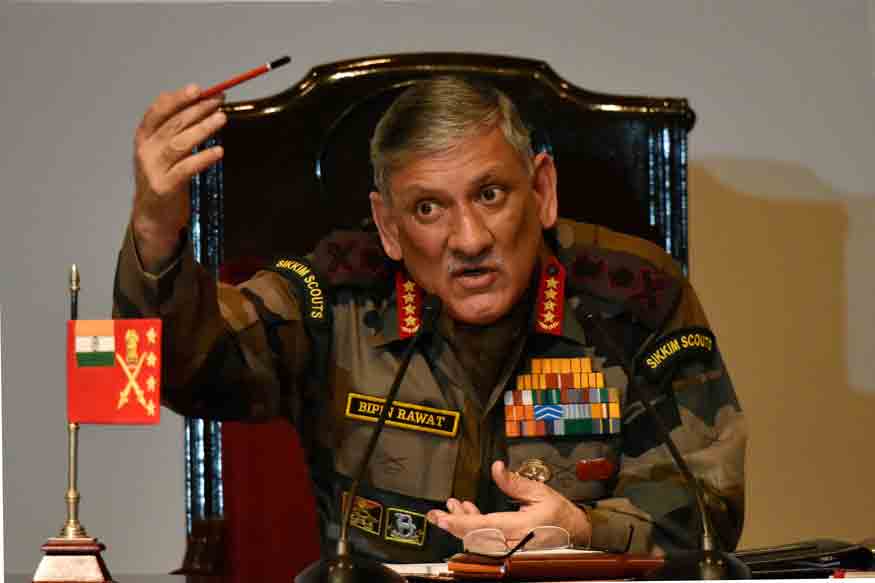 File photo of Army Chief General Bipin Rawat. (Getty Images)
New Delhi:
New Delhi: In June 2017, the Indian Army and China's People's Liberation Army (PLA) came face-to-face in a military standoff over road construction in Bhutan's Doklam Plateau. The standoff, which continued for over two months, had raised tensions on both sides. While a full-blown war was averted after careful negotiations, is a redux of the Doklam standoff possible? Chief of Army Staff (COAS) Bipin Rawat says that in the event of another stalemate, the Indian Army would be prepared.
"We recognise that China is a powerful nation, but let us not forget we are not a weak nation either," the Army Chief said, while addressing reporters at the Indian Army's annual press conference on Friday. Talking about the situation on the plateau now, the Army chief did not count out the possibility of another standoff in the Himalayan nation-state of Bhutan. "There used to be some minor construction activity in North Doklam earlier, but this year (2017) we saw a large amount of equipment and people supported by the PLA coming in. We felt that it was a change in status quo," he said.
The Army, he said, was prepared. "They (The Chinese) have withdrawn from the site of the stalemate but beyond that, they have continued to maintain their position. The Chinese are still there in North Doklam, but the equipment has gone back. The equipment (is no longer there) and construction activities we saw in July are no longer happening. Temporary structures are still there but there is a reduction in manpower. However, there could be some movement once the winter months are over. So we have to be prepared, but the diplomatic efforts are still on," General Rawat said.
The Chief, however, assured that non-military options were also being deployed to ease tensions with China. "Diplomatic engagement is happening with China rather well. We are also seeking the help of other counties in the region to ensure that we are not isolated. We also have to be prepared militarily. Too long we have focused on the western border, now it is time to build infrastructure on the Northern Border. We are also sincerely looking to increase our cyber security capabilities. We cannot allow our neighbours, Nepal, Bhutan, Sri Lanka, Bangladesh and Afghanistan, to drift away from us. On a military level, our engagement is of the highest order."
He added that India had increased patrolling along its Northern border. "We have increased our patrolling intensity, so has the adversary (China). Sometimes a patrol goes through without clashes, sometimes when territory overlaps there may be clashes. But we have mechanisms in place with China to defuse any such incidents."
Recalling the months of the standoff, General Rawat said that it was decided that to ensure unity of message during the Doklam standoff, India's spokesperson on the confrontation would be the MEA (Ministry of External Affairs) spokesperson.
Also Watch
| Edited by: Ananya Chakraborty
Read full article