'Circumstantial Evidence Not Enough to Declare Guilty': Kharge's Dissenting Note on Alok Verma
Kharge said that out of 10 allegations levelled against Verma, six are unsubstantiated, four are found to be in need of further investigation.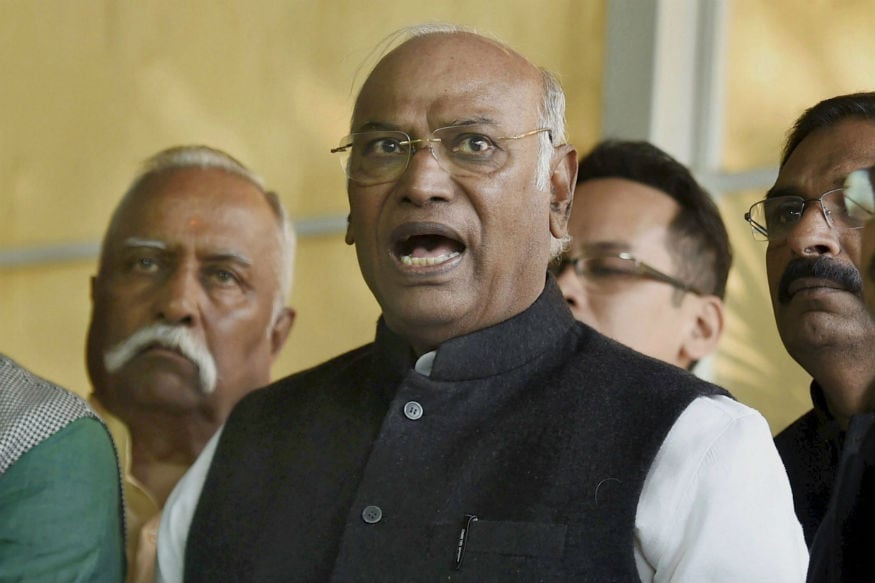 File photo of Congress leader Mallikarjun Kharge.
New Delhi: The only dissenting note in the three-member selection committee that in a majority vote of 2:1 removed Alok Verma out of CBI chief's chair was that of the Leader of Congress in the Lok Sabha Mallikarjun Kharge.
In a six-page note, Kharge detailed four reasons for restoring full authority and powers to Alok Verma.
Kharge argued that the CVC does not have an air-tight case to prove Verma's misconduct and that the committee should not arrive at a conclusion without hearing Verma. He said the allegations against Verma, which were investigated by the office of the Chief Vigilance Commissioner, were based on circumstantial evidence which "cannot be the basis of finding a person guilty"
He says that out of 10 allegations levelled against Verma, six are unsubstantiated, four are found to be in need of further investigation, and four are found to be prima facie substantiated on basis of circumstantial evidence.
"In the four cases where the CVC returns unflattering conclusions, even they admit that there is no proof of any pecuniary benefit, no unimpeachable witnesses corroborating the story and the conclusion is arrived at on the basis of circumstantial evidence."
The four allegations against Verma that the CVC, based on circumstantial evidence, found to be substantiated, partially substantiated or correct were:
1) Exclusion of a suspect from being named as accused in IRCTC case.
2) 'Inordinate delay' in finalising investigation report in a bank fraud case.
3) 'Failure to take action' in gold smuggling case at IGI airport
4) Attempts to "induct tainted officers" into the CBI
'In light of the above, it would be grossly unfair not to restore Shri Alok Verma to the full extent of the authority enjoyed by the office of the Director, CBI, and compensate him by extending his term appropriately to accommodate for the loss of 77 days caused by the illegal orders of the CVC and DoPT dated October 23, 2018,' Kharge recommends.
He also recommends that a 'High-powered committee must order an investigation into the events of the early hours of October 23, 2018'.
The Congress leader alleges that the procedure that led to the removal of Alok Verma as the chief of CBI, by sending him on forced leave, and replacing him with Nageshwar Rao, was the "conclusion of a conspiracy conceived and orchestrated at the highest levels of the government."
Get the best of News18 delivered to your inbox - subscribe to News18 Daybreak. Follow News18.com on Twitter, Instagram, Facebook, Telegram, TikTok and on YouTube, and stay in the know with what's happening in the world around you – in real time.
Read full article